Singapore is one of the world's most prosperous and developed nations and home to many highly skilled local and international professionals. For anyone interested in hiring top talent in this Southeast Asian powerhouse, working with an employer of record in Singapore could be your best bet.
An employer of record (EOR) in Singapore will hire professionals for you through its own local legal entity, and will have an established local recruitment network to help identify outystanding local talent, in turn allowing you to quickly establish a presence in this affluent city-state. 
As well as helping to find and hire those professionals, an EOR in Singapore will also handle their onboarding, payroll and other ongoing administration, as well as eventual offboarding, all in full compliance with local laws, so that you don't have to worry about dealing with unfamiliar regulations.  
SEE ALSO: Call center outsourcing: 5 great destinations to consider
That leaves you to focus in-house resources on other areas of your business, while enjoying the benefits of international hiring, including cost-savings, increased diversity, access to new ideas, and an expanded global presence.
When looking for an employer of record in Singapore, it is worth keeping in mind that some EOR providers may refer to themselves as an international professional employer organization (PEO) and advertise their services as international PEO. 
Contact us if you want to hire top talent in Southeast Asia quickly and compliantly.
Employer of record in Singapore: country facts
Singapore comprises a central island and 63 satellite islands located south of the Malaysian peninsula and north of the Riau archipelago (Indonesia). Together, they cover 720 square kilometers, making this nation the smallest in Southeast Asia.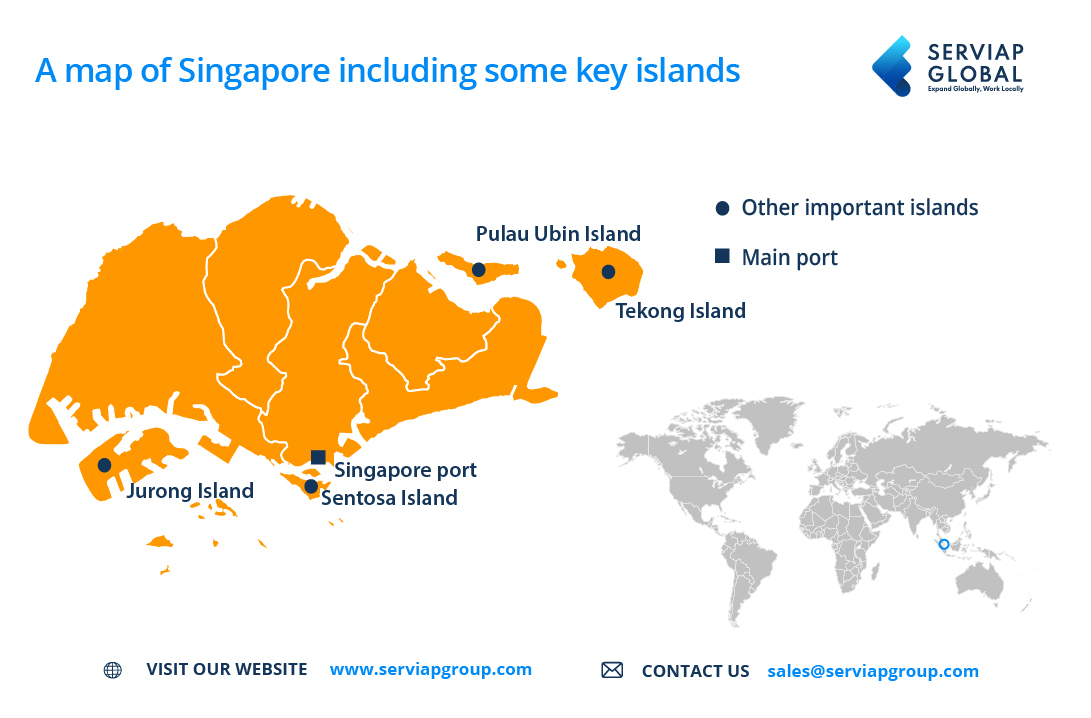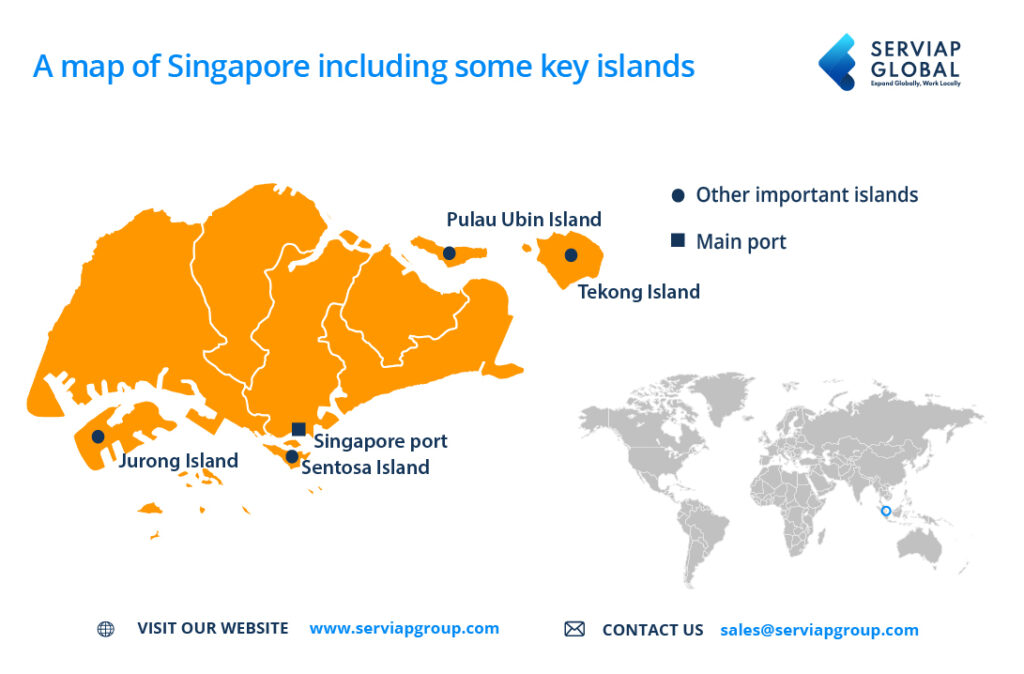 Although modest in size, nearly six million people live in Singapore, which is divided into five community development councils. English is and official language and widely used in business, with the country only sitting behind the Netherlands on 2022 edition of the the EF English Proficiency Index. There are three other official languages: Malay, Mandarin and Tamil. 
Education is compulsory until the age of 12, and students excel in areas such as reading, mathematics, and science, topping the world rankings after China according to the most recent report of the OECD's Programme for International Student Assessment (PISA Report).  
In terms of higher education, Singapore has four universities focusing on technology, business development, business administration, and design, as well as offering training in fine arts. So it is not difficult to find highly skilled professionals to hire through an employer of record in Singapore.  
Multiculturalism is a way of life in Singapore, which retains many Western cultural traits even though it gained independence from the United Kingdom in the 1960s. China and Malaysia also heavily influence the country, due to their proximity, and the most widely practiced religion is Buddhism.  
This all contributes to Singapore being one of the most cosmopolitan nations in the world, as well as an important center for international business, and globally famous for its rapid development and growth. 
Of the five cities that make up this territory, the Central City is the largest and best known, and is home tomost government buildings. That also makes it one of the most likely place to find an EOR in Singapore.
Singapore's market features
Singapore is one of the most developed economies in the world thanks to, among other things, its stable political environment, openness to foreign investment, and famed success in cracking down on corruption in the 20th Century.  
That was part of a series of social and economic policies, known worldwide as the Singapore model, which were implemented after gaining independence and helped the country quickly move from being a developing country to one of the world's most prosperous nations.  
Today, Singapore an international benchmark for education, health, housing, human capital, safety, and life expectancy.  
Local companies such as Singapore Airlines, ST Engineering, and MediaCorp play an essential role in the national economy, as do exports, mainly of electronics, chemicals, and services, as well as the purchase and refining of raw materials.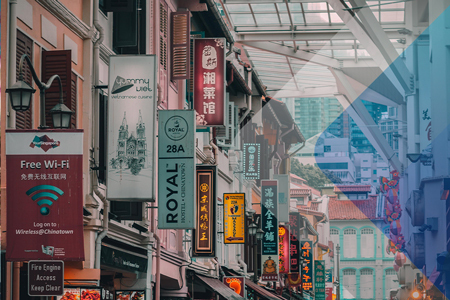 Its privileged location in Southeast Asia facilitates international trade. Besides, Singapore is home to the second busiest port in the world in terms of container traffic throughput, after Shanghai in China.  
The local currency is the Singapore dollar (SGD), highly regarded in the region for its value and stability, which only fluctuated at a rate of between 1.45 and 1.31 to the US dollar in the five years up to September 2023.
Due to the limited land for agriculture and livestock, the primary and secondary sectors are dwarfed by the teritary sector in terms of the proportion of GDP they generate — although a range of foreign manufacturing companies have a presence in the country.  
Within the tertiary sector, the country's financial services industry is enormous, with Singapore being one of the world's leading trading centers, with a dynamic stock market and more than 150 banks maintaining a presence.  
Working with an employer of record in Singapore 
There are many reasons to hire professionals through an EOR in Singapore, a key one being that companies looking for personnel in this territory will not have to open a legal entity, which demands time and resources.  
Using its established recruitment network, an employer of record in Singapore finds, hires, and manages professionals on behalf of its clients, always in compliance with local regulations.  
Thus, by working with an EOR, expanding firms save on resources that they can use in other aspects of their business, plus they can enter and exit a new market in a streamlined and hassle-free manner.  
An employer of record in Singapore can offer various services, such as visa and work permit processing, international independent contractors sourcing, and global talent acquisition for direct hire, depending on its clients' recruitment needs and budget. 
Whatever arrangement is established with an EOR, it will offer competent candidate selection, extensive knowledge of the local market, and minimize any legal issues related to hiring foreign professionals. 
In addition, as part of its services, the employer of record in Singapore will handle the administration of the companies' human resources, such as contracts, payroll, benefits, work permits, and termination procedures.
Regulations an EOR in Singapore will take care of 
Working with an employer of record in Singapore will minimize any risks related to the hiring of foreign personnel, as the legal employer will take care of, among other legal matters, the following regulations: 
Contracts: according to the Employment Act 1968, contracts for local and foreign employees can be fixed-term or indefinite, with a probationary period of three months.  
Working hours: working hours may not exceed 44 hours per week and nine hours per day. In case of overtime, the worker is entitled to time-and-half. 
Minimum wage: according to the Labor Law, there is no minimum salary in this country, so wage rates will have to be agreed directly between the employer and the employee through a written contract.
Vacations: an employee is entitled to seven days of paid vacation after one year of service in an organization. These will increase gradually for each year of service. After eight years in the same company, the employee will enjoy 14 days of vacation.
Holidays: in Singapore, employees have 11 public holidays. They must receive additional pay or compensation if their services are required during these days. 
Medical leave: after six months of service with the same company, an employee can take 14 to 60 days of medical leave due to illness or hospitalization. Maternity leave is 16 weeks, provided both mother and child are Singapore citizens. Fathers, in turn, are entitled to two weeks of paternity leave.  
Payroll taxes: in this country, employers do not have to pay any payroll taxes but are obliged to contribute 17% of their employees' salaries to the Central Provident Fund (CPF); employees, for their part, must contribute 20% of their income to this social security fund. Income tax depends on the employee's salary; ranging from 2% to 22%.
Employer of record in Singapore: 5 steps to recruit top professionals
Anyone looking to quickly and compliantly hire outstanding team members via an employer of record in Singapore will need to follow these key steps:
1) Define employee requirements
Sourcing global talent requires clarity on what kind of professionals and how many you need to add to your team. With this in mind, finding an EOR in Singapore that understands your needs, fits your budget, and helps you find the personnel you require will be easier. Thus, by working with this legal employer, you will complete defining the profile of the most suitable employees according to your expansion objectives.
2) Complete preliminary screening
By defining the roles, experience, and skills of the workers you need in South Asian territory, the employer of record in Singapore will share the vacancies on its recruitment networks. It will pre-select the best profiles as soon as it receives job applications and resumes. 
3) Undertake interviews 
Candidates who meet the requirements indicated in the vacancies will be selected for a round of interviews, both those that serve as a first filter and those that help to check if they have the necessary knowledge and skills to be part of the company. These interviews can be conducted by the employer of record in Singapore or by your organization's recruitment team. 
4) Send job offers
The EOR in Singapore will be in charge of sending job offers to the candidates selected to fill the vacancies available in your company, negotiating salaries and benefits if necessary, and signing contracts with the professionals you have chosen. As a legal employer and expert in local regulations, it will minimize any risk of non-compliance related to recruiting personnel from abroad.
5) Initiate employee onboarding
As part of their services, an employer of record in Singapore will handle the administrative tasks involved in international recruitment, such as payroll. So, while this employer manages your human resources, you can start onboarding new workers, training them, and assigning the first tasks.
Alternatives to an employer of record in Singapore
Companies that want to hire staff without the assistance of an employer of record in Singapore have other options for adding the best local talent to their international pools.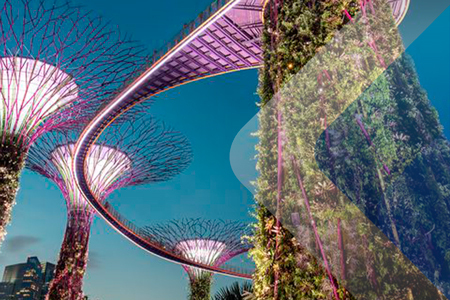 For example, if they have a budget that allows them to establish themselves in this Southeast Asian territory on a long-term basis and also require a considerable number of employees, a good option could be to open a legal entity.  
Even if this is the path chose, companies may find that working with an EOR in Singapore can act as a good stop-gap while they are going through the process of setting up the entity, allowing them to quickly hire local professionals, who will later be transferred over as direct employees of the entity.
Another option companies can can consider is seeking out and hiring contractors or other freelance professionals to hire directly. However, this involves the challenge of getting to grips with an unfamiliar job market if done without assistance.  
For firms looking to hire personnel for a specific project or period, working with a provider that will help with hiring international contractors abroad could be a more efficient choice, and one that an employer of record in Singapore will also generally be able to assist with.  
While contractors may charge a premium for their services, compared to professionals hired directly for similar roles, that is in part due to the fact they are not entitled to a range of benefits that direct hires do receive. An EOR in Singapore will be able to advise you on what those benefits are and whether contractor hiring is your most suitable choice.
Serviap Global can assist you with hiring in Singapore 
At Serviap Global, we assist companies with global hiring solutions in over 100 countries worldwide, including Singapore.
Our portfolio of services includes international PEO / EOR services, contractor hiring, and global talent acquisition to help identify candidates to hire directly.
Having started out in Mexico, we have grown during more than a decade of operations to establish a global presence, in the process earning a reputation as experts on hiring in emerging markets.
Contact us to learn more about how we can assist you.  
Contact us