Thanks to the growth of this Souteast Asian nation and its expanding pool of highly qualified professionals available at competitive rates, more and more companies are showing interest in hiring remote workers in the Philippines.
For companies looking to access the best Filipino talent, a number of options are available, including employing them through an employer of record, hiring international independent contractors, or setting up a local entity and recruiting them directly.
SEE ALSO: Call center outsourcing: 5 great destinations to consider
Each option offers its own benefits and drawbacks, and deciding which is most suitable for you will depend on things such as how soon you wish to have professionals in place and how permanent a presence you intend to establish in the market.
Contact us to learn how we can help you in hiring remote workers in the Philippines.
Philippine market
More than 7,000 islands compose the Philippines, a Southeast Asian country rich in natural resources, with a population that exceeds 110 million inhabitants and which has seen significant growth in its economy since the turn of the century mainly thanks to its service sector.
Manila, the capital, is the country's political center, while Quezon City, in the same metropolitan area, is the wealthiest urban zone in the Philippines thanks to its commercial locations and districts such as Cubao, Libis, and Novaliches. The latest is home to several SMEs specializing in software development, online shopping, and sales.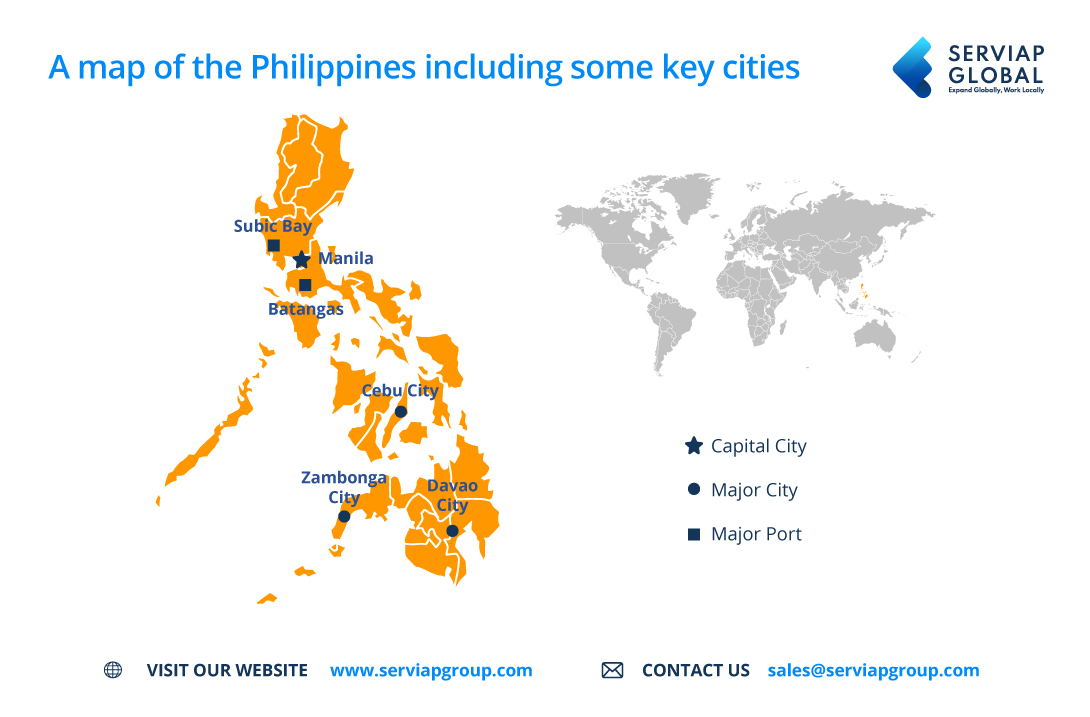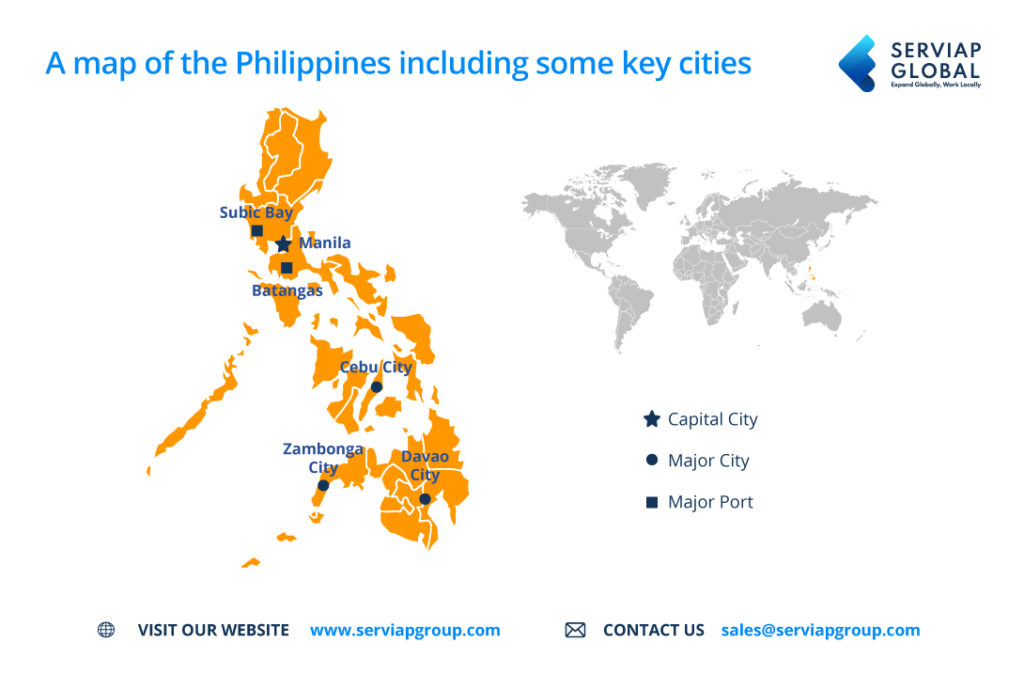 The country is home to many ethnicities and cultures, meaning that more than 170 languages are spoken. However, only two are official: Tagalog and English, taught officially from elementary school.  This means English levels are high, a boon for companies hiring remote workers in the Philippines.
Services dominate the economy, especially tourism, but the agricultural sector is vital since this nation stands out for its production of coconut oil, sugar, and rice, to mention the most exported goods. 
Doing business in this territory is made all the easier by the government's proactive efforts to encourage investment, including initiatives such as temporarily exempting the payment of taxes in specific industries.
Benefits of hiring remote workers in the Philippines
One of the biggest benefits of hiring remote workers in the Philippines is the highly competitive rates at which skilled professionals can be secured. While salaries will range depending on the industry and level of seniority, for context the minimum wage was set at 610 Philipinne pesos per day in 2023 — or around US $11 at time of publication.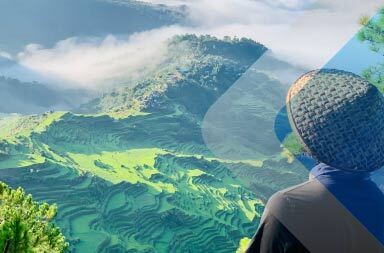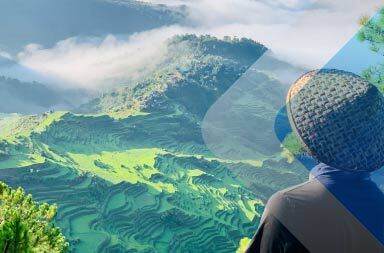 By hiring remote workers in the Philippines, companies will also be able to develop its understanding of the local market and consumption habits, as well as potentially using the country as a stepping stone to recruiting elsewhere in Southeast Asia. 
In addition, the fact that universities and colleges turning out increasing numbers of computing graduates, makes the country increasingly attractive as a source of IT progessionals.
High levels of English also make the country a popular destination for employing people for customer-facing roles, and the Philippines is one of the world's hottewst destinations for call center outsourcing.
3 options for hiring remote workers in the Philippines
1) Through an EOR
Hiring remote workers in the Philippines is easier and faster when you do it through an employer of record (EOR). This third party sources and manages staff on your behalf, in compliance with local regulations and following your budget and expansion plan. 
An EOR in the Philippines has extensive knowledge of the local market, as well as a robust recruitment network allowing local talent to be rapidly sourced and quickly incorporated into your international team. 
When you acquire the services of an EOR in the Philippines, you don't have to worry about opening a subsidiary or office in this territory. You'll also save time and money, and can take advantage of these resources to expand your business. 
By becoming your legal employer, the EOR assumes responsibility for payroll, tax payments, benefits and deductions, work schedules, insurance, and the eventual departure of professionals, ensuring compliance with local labor laws.
The EOR, sometimes known as a professional employer organization (PEO or international PEO) for its co-employment services, will charge a percentage of the payroll of each employee hired, which it will agree upon when signing an initial contract with its clients. 
Working with an EOR has many advantages, such as quick entry and exit from a market, so it is worth comparing and choosing the provider that best understands your needs and is responsible for hiring remote workers in the Philippines.
An EOR will help you define the employee profiles you need when hiring remote workers in the Philippines. They can review resumes, interview qualified candidates, make job offers, sign contracts, and manage the human resources of the hired applicants. 
While the registered employer handles administrative tasks and compliance with labor and tax regulations, the employer will manage the relationship with their new team members, who will report directly to them.
2) As international contractors
Hiring remote workers in the Philippines can also be done as international independent contractors, experienced individuals, or groups operating for their own company, which offers its services to foreign employers. 
Although they can function as full-time employees, independent contractors work for a specific period or project, for a couple of weeks, months, or longer, depending on what their client or clients are looking for.  International contractors, as freelancers, are flexible, determine their schedules, and generally have their own tools to perform the activities for which they are hired.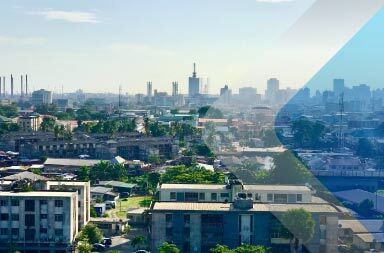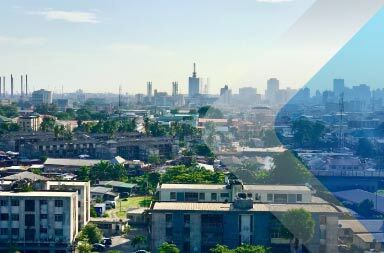 Not being on the company payroll, a contractor is paid on a per-project basis, a rate that may be slightly higher than that of a full-time employee. However, they do not usually require the same level of benefits. It is crucial to classify them correctly as independent workers, not employees to avoid legal problems such as financial penalties or barriers to future recruitment in the country. 
Hiring remote workers in the Philippines as independent contractors is more manageable through an EOR, which, thanks to its recruitment networks, can find the most competent freelancers in weeks to work on a specific project. 
The EOR, as a legal employer, will ensure that international contractors are correctly classified in the Philippines and that working with them complies with local labor and tax regulations.
3) Directly
Finally, hiring remote workers in the Philippines directly will require establishing a foreign entity, subsidiary, or representative office in this country, which can be time-consuming, costly, and bureaucratic. 
However, having a legal entity in the Philippines is a good option if you plan to remain in this market indefinitely and hire many remote employees in the future.
Either way, while you sort out the legal formalities of opening your representative office and look for a comfortable and functional space to set it up, an EOR can help you acquire local talent thanks to its recruitment networks.
Once you have your staff in place, the EOR can also support you with human resources management, so relying on these third parties facilitates entry into a new market and minimizes the risks involved in working with staff away from home.
Generally, an EOR helping you with direct hires will also facilitate the processing of work permits and visas, so consider finding the one that offers the best services at the best price and understands your hiring and international expansion needs.
Serviap Global can help you hire remote workers in the Philippines
At Serviap Global our portfolio includes international PEO / EOR services, contractor hiring, and global talent acquisition to support direct recruitment, so we assist you with hiring remote workers in the Philippines via any of the three options mentioned in this article.
Having started out in Mexico in 2010, we have expanded internationally so that today we are able to assist companies in over 100 countries worldwide, including many destinations in Southeast Asia. 
Contact us