The rise of remote work has revolutionized the way businesses operate, offering flexibility and access to international talent pools. While this trend offers many advantages, there are still some challenges of managing remote teams that leaders must overcome in order to make sure they are getting the best out of global hiring.
Managing a global workforce demands some significant adjustments compared to office-based management, especially when it comes to organizing workloads and communicating within teams. But successful adaptation offers companies major opportunities to expand their international presence and improve output.
SEE ALSO: Call center outsourcing: 5 great destinations to consider
Key to a successful shift to remote working is the creation of a supportive and validating professional culture, in which trust and self-sufficiency are fostered among colleagues. By succeeding in this regard, the challenges of managing remote teams can quickly be turned into advantages.
Contact us for more information on how we can assist you with global hiring.
Challenges of managing remote teams: 7 considerations
Adoption of remote work has exploded in recent years, with the global pandemic supercharging an already established trend. However, there are a number of challenges of managing remote teams that must be overcome, seven of which are outlines below.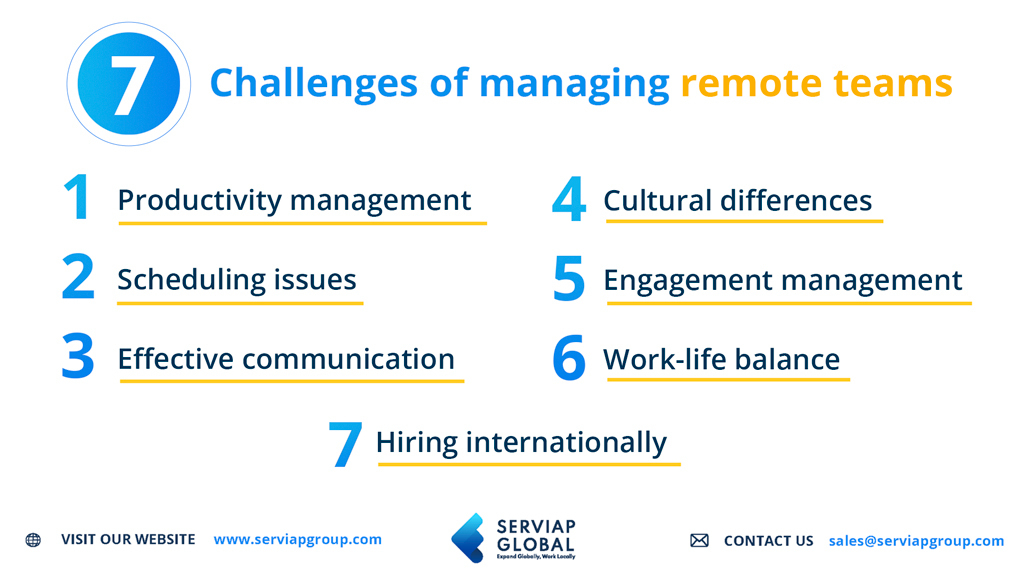 1) Productivity management
Dealing with productivity levels is one of the most talked about challenges of managing remote teams. Many leaders fear that a distributed workforce makes it complicated to monitor their employees' work. However, the benefits of working from home, such as flexibility and cost-efficiency, can improve productivity instead of lowering it.
In such cases, adaptation is a crucial step to maintaining work rate levels high. Managers should focus on a results-oriented culture, establishing clear boundaries, but leaving space for flexibility and autonomy to team members. Also, it's important to lead by example and demonstrate a strong work ethic, as well as offering training and resources to help colleagues improve their skills.
2) Scheduling issues
Time zone differences can lead to scheduling conflicts and delayed responses. Additionally, online colleagues may take a little longer to reply than in traditional offices, where you can just get up and reach someone working at their desk. Learning how to make the most of asynchronous working will help you deal with the challenges of managing remote teams.
It's advisable to have flexible work hours to accommodate the different time zones. To solve scheduling conflicts related to meetings and deadlines, you can use shared calendars and scheduling tools to help team members. Also, this can easily become an advantage when you foster an appreciation for diverse time zones, meaning your team will be able to cover unusual hours and facilitate deliveries.
3) Effective communication
Effective communication can be one of the major challenges of managing remote teams when members are spread across different locations.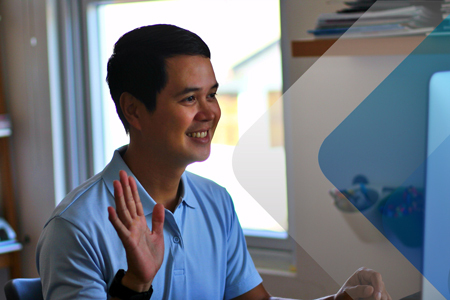 Not only you may face various time zones, but also languages. This can create room for misunderstandings in daily work life, leading to a breakdown in collaboration and productivity.
Try to employ a variety of communication tools, such as video conferencing, instant messaging, and email. Encourage team members to use the most appropriate channels for each case. Set clear expectations on response times and languages to be used, embracing translation platforms if needed. Overall, create direct channels for open communication where everyone feels heard and valued.
4) Cultural differences
Working with team members from various cultures means you may deal with different work styles or even cultural expectations. This can be an issue if you're not open to embracing diversity as a benefit to be brought to your organization. Remember that a big advantage of a culturally diverse workforce is the different viewpoints, networks, and approaches that can be merged within your team.
People with distinct backgrounds can help you solve problems in new, innovative ways. Furthermore, diversity management is commonly linked to diminishing turnover rates, according to a report in the Journal of Business Economics and Management. To cultivate a diverse workforce, it's essential to conduct research and develop targeted programs to support diverse talent in the company.
5) Engagement management
Assuring engagement management is fundamental for maintaining job satisfaction and all-around team cohesion. For remote teams, colleagues can start feeling disperse, as it may be harder to identify their purpose in the company's processes. Sometimes, people can even find it difficult to recognize their professional growth when working remotely, which could make frustrated team members.
So, as with many other challenges of managing remote teams, direct communication is vital for enganging colleagues and bringing them closer to their intentions. Managers can improve that with regular check-ins and practices of feedback and appreciation. Another valuable action is to offer opportunities for professional development, including support, mentoring, and digital networking.
6) Work-life balance
One hot topic from the challenges of managing remote teams involves physical and mental health in the workplace. When people work from home or are isolated from their team, they can feel lonely, anxious, and burned out. That's why the relationship between remote work and mental health is something to pay close attention to.
Managers of distributed workforce can support team building activities to reduce the distance between colleagues, as well as encourage the team to take breaks and maintain healthy limits related to their demands and work hours. The promotion of emotional wellness and clear boundaries between work and personal life is necessary for a productive and focused remote team.
7) Hiring internationally
Some companies still shy away from the opportunities of international remote work due to the belief that hiring foreign team members will be a complicated process with little advantage. Regardless, hiring internationally is a unique chance to tap into a global talent pool. If you're employing from emerging markets, for instance, you can reach highly skilled professionals at very competitive rates.
Although international recruiting can involve a range of different regulations, there are ways to streamline the process. Any business can enter international markets by setting up a legal entity in a foreign country and hiring employees directly, but they can also outsource this service to employers of record, or collaborate with independent contractors who offer freelance work through simpler and shorter contracts.
An employer of record can help you manage remote teams
One great option for overcoming the challenges of managing remote teams is collaborating with an Employer of Record. An EOR is a third-party services provider that can assist you from all stages of selection and hiring, up until managing payroll, ensuring legal compliance, and HR management.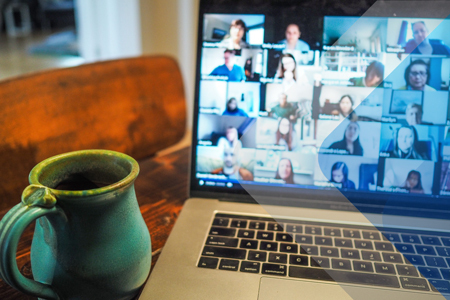 The EOR can assume a wide range of roles on behalf of your company, with the added capability of arranging physical workspaces if a collaborator's position isn't conducive to remote work. Their services encompass talent acquisition, onboarding, and ensuring local regulatory compliance for professionals who respond directly to your organization.
Many times, hiring international workers is more cost-effective than local hires. Still, you will have to deal with plenty of distinctions in work laws and permits, which can be very time-consuming for companies with little to no experience in such areas. With established legal entities overseas, an EOR can make agile solutions in your global talent acquisition strategy.
EORs are great for remote teams as they can adapt to changing workforce needs quickly. Whether you need to fill short-term or long-term positions, EORs can help scale your team up or down as needed. They can provide HR support, including performance management, to ensure that remote team members are engaged in the organization effectively.
Serviap Global helps companies build international teams
Serviap Global assists companies with hiring internationally, helping them to recruit and manage remote professionals without needing to set up local entities or worrying about unfamiliar regulations wherever those team members are based.
Our portfolio includes international PEO / EOR services, contractor hiring, and global talent acquisition to assist companies with finding direct hires, and we are able to assist companies with hiring in over 100 countries worldwide.
Contact us to find out how we can assist you.
If you were interested in this article about overcoming the challenges of managing remote teams, read more of our coverage.
Contact us