The exponential rise of remote working seen in recent years has offered companies of all sizes the opportunity to consider hiring internationally. But one of thing that holds many back from getting started is the challenge of managing a global workforce.
Because, while there are many advantages associated with global hiring, tapping into international talent pools, communicating with a dispersed team and dealing with unfamiliar regulations can be daunting.
SEE ALSO: Call center outsourcing: 5 great destinations to consider 
However, thanks to the evolution of new technologies and the emergence of providers offering international recruitment solutions, companies that are interested in seeking out overseas talent have an increasing number of options available to make the process much easier.
One such solution is employer of record (EOR) services, by which a provider hires international professionals on behalf of another company, taking care of local compliance as part of the service, and also assisting with sourcing and onboarding talent if needed.
Contact us if you are looking for a reliable partner to help with setting up and managing a global workforce.
4 advantages of building a global workforce
Managing a global workforce can seem a big challenge for companies, especially for those not yet aware of just how easy global recruiting is today. The many advantages of working with professionals across borders include, but are not limited to: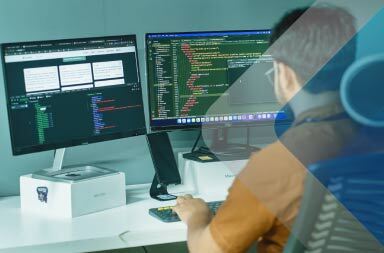 1) Access to global talent pools
The most successful companies tend to be adept at finding great talent, which in today's competitive world of business can mean looking further afield.
By casting an international net when recruiting, firms can source highly skilled and experienced people, who often bring innovative ideas from the locations where they are based that can bolster efforts to achieve goals.
2) Cost benefits
Hiring internationally often comes with the major advantage that skilled professionals are available at highly competitive rates compared to in the job markets where hiring companies are based. So even when you factor in the cost of working with a provider, you can still make significant savings.
Coupled with efforts seen among emerging economies in recent years to promote the study of tech and other IT-based professions, many countries in the likes of Africa, Latin America, and Southeast Asia are home to growing pools of strong candidates for a range of in-demand professions.
3) Increased diversity
Another major benefit of hiring internationally is the fact that by hiring and managing a global team, increased diversity is naturally built into the process. That is something that is increasingly important in today's world of business, not least because of the advantages that greater diversity offers.
Because when your team includes a wide range of nationalities, cultures, and beliefs, you are able to tap into new ways of thinking and doing business that can can have a major enriching effect on your company culture and its understanding of different markets.
4) International presence
Establishing an international presence offers a range of benefits beyond the simple fact that it provides insights into new cultures and markets that could be beneficial to the business in the future. Not least is the fact that it offers a greater level of authority to the company.
Beyond that, it provides the business with the opportunity to be more responsive to broader geograpical range of customers and potential customers, because when you have an international team, that means you have people working in different time zones able to quickly cater to the needs of clients operating in a similar time zone to them.
Managing a global workforce: challenges and solutions
While there are many advantages to managing a global workforce, there are also some challenges that must be effectively overcome in order to reap the greatest rewards possible.
Perhaps the two biggest challenges are being effective in recruiting top international talent, and guaranteeing compliance with unfamiliar regulations in the locations they are based.
Recruitment
The natural precursor to managing a global workforce is building that international team, and also deciding under what conditions to hire them.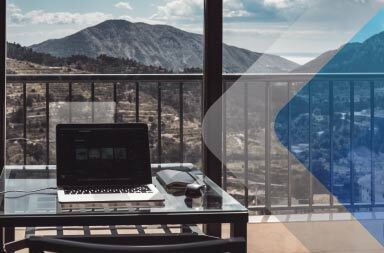 When it comes to recruiting, working with a provider with an established recruitment network and a sound understanding of the local job market is key. That can be a dedicated recruitment company, or it could be a provider such as an employer of record, which in many cases will offer standalone recruitment services to assist companies with sourcing candidates to hire directly.
Of course, hiring directly will require you to have a local entity set up or go through that process before you can onboard professionals, representing a significant commitment to that market. This can be a good option if your expansion plans are long-term, involve hiring a significant number of employees, and you have the resources to operate an overseas office.  
However, opening an entity, subsidiary, or representative office takes more time and does not guarantee success when expanding a business. In addition, it is complicated, especially when organizations are unfamiliar with the local market and the requirements for operating a business in that territory.  
The second option is managing a global workforce via direct contracting, without intermediaries or entities of their own abroad. To achieve this, companies must search on their own and with the help of digital platforms or social media for professionals to offer their services. 
Although it may seem attractive, firms must guarantee that these workers enjoy the benefits indicated by local regulations according to the type of contract established with them. Failure to provide such benefits could result in legal problems and the payment of unnecessary fines. 
On the other hand, international independent contractors are professionals who offer their services for a specific period or project. They usually have specialized knowledge in a particular area, are flexible in their schedules, and use their own tools to operate. 
These experts can work full-time, although they usually collaborate for more than one company simultaneously, so monitoring their work may be more challenging than with regular employees. Also, they have a much greater deal of independence in their operation.
Compliance
Even if expanding companies decide to establish an entity or subsidiary, managing a global workforce means they must deal with local labor and tax regulations ranging from a minimum number of employees, federal registrations, bank accounts, and other basic operating requirements. 
When hiring direct employees, organizations will need to ensure that they enjoy all the benefits agreed upon in their contracts. It is also vital that these workers have their papers updated to offer services to international clients. 
Regarding working with international independent contractors, employers will need to be careful how they classify them when managing a global workforce, as they operate for their own organization, which provides services to the employers. 
In addition, contractors are not part of the payroll, but they have special rights, obligations, and benefits that their employers must grant them to avoid fines and even termination of operations. 
Communication
Effective and fluid communication is vital to managing a global workforce successfully. For this reason, team leaders must use common communication channels with all their collaborators to share ideas, organize meetings, and exchange files that facilitate their work together. 
By having team members from different parts of the world, employers and managers will need to define a common language so everyone can express themselves clearly, both in writing and orally.
Delegation and review of tasks
In addition to remote communication, delegating tasks and reviewing them may be challenging for team managers, especially when temporary workers, like independent contractors, cannot be supervised like full-time employees. 
Using calendars and virtual task management platforms may be an intelligent solution: the employer can assign projects, follow up on them, see the chain of command, know which tasks are the most urgent, and if the workload is equitable between the staff.
Time zones
To make the variety of time zones less of an issue, employers should organize their delivery schedules in advance, set meetings at a time that works for everyone, and understand that often, they will not get an immediate response to their requests, as is the case with asynchronous working.  
While this time disparity can be a problem for companies in some areas, they can also take advantage of it, such as extending their service hours to their international clients through their distributed employees or developing simultaneous projects.
Cultural differences
The social and cultural characteristics of the global workforce can be a determining factor when collaborating as a team, from actions that may have a different meaning in a context to ways of expressing themselves that may be offensive to others.
However, understanding and embracing differences can lead to richer conversations, more innovative conflict resolution, and first-hand knowledge of other markets for potential business expansion.
Lack of commitment
Although telecommuting is becoming increasingly normalized, some employees may feel they need more motivation to work from home because they are used to going to an office and interacting with their colleagues. Or they are simply not happy with the work they do. 
In this situation, employers must have more specialized recruitment processes to hire committed staff. They must also motivate employees by being flexible, encouraging work-life balance, and offering additional incentives to reward their performance.
The important thing is that, even if the staff do not come to a physical office, they must be sure they are part of an organization and that their work matters.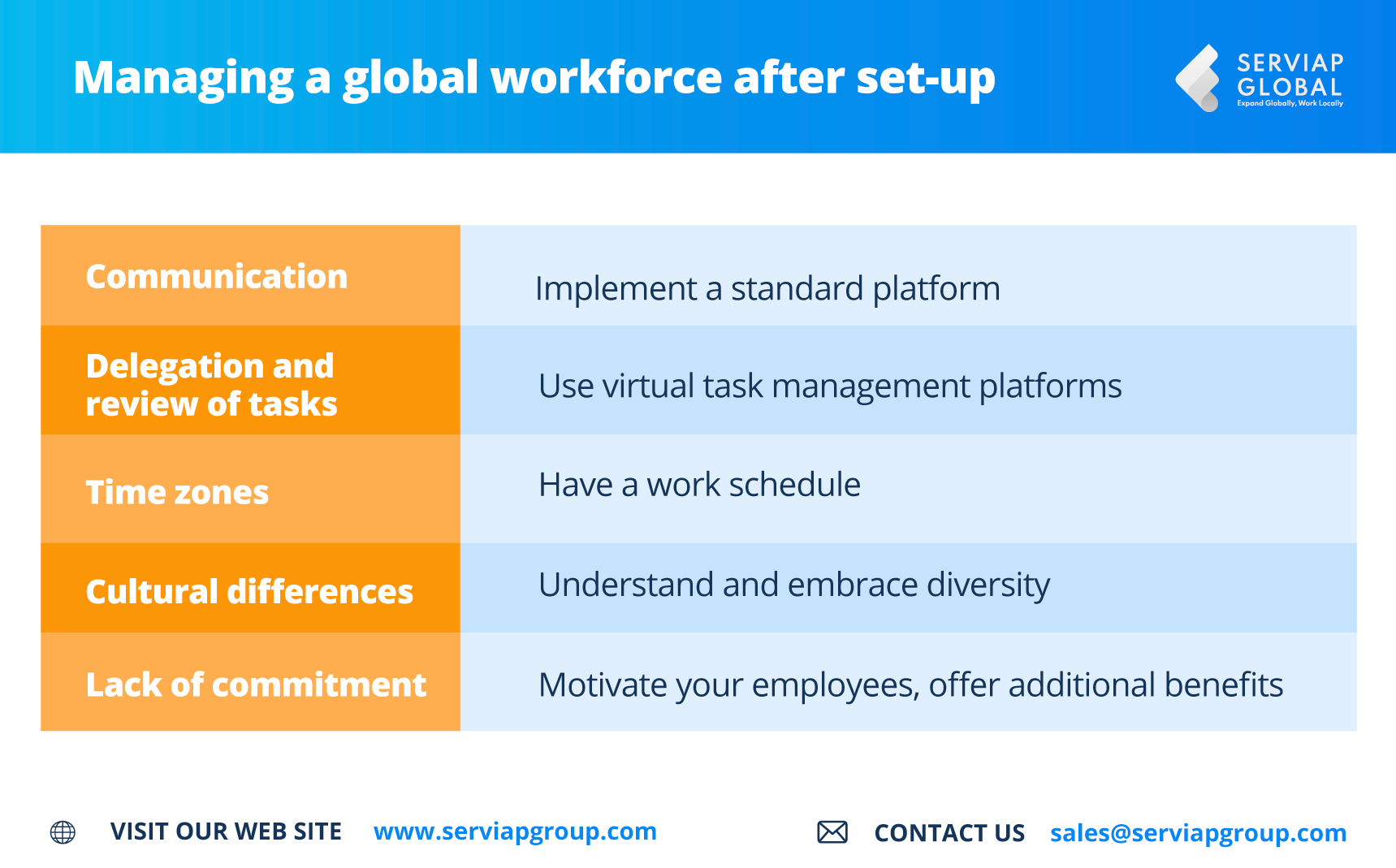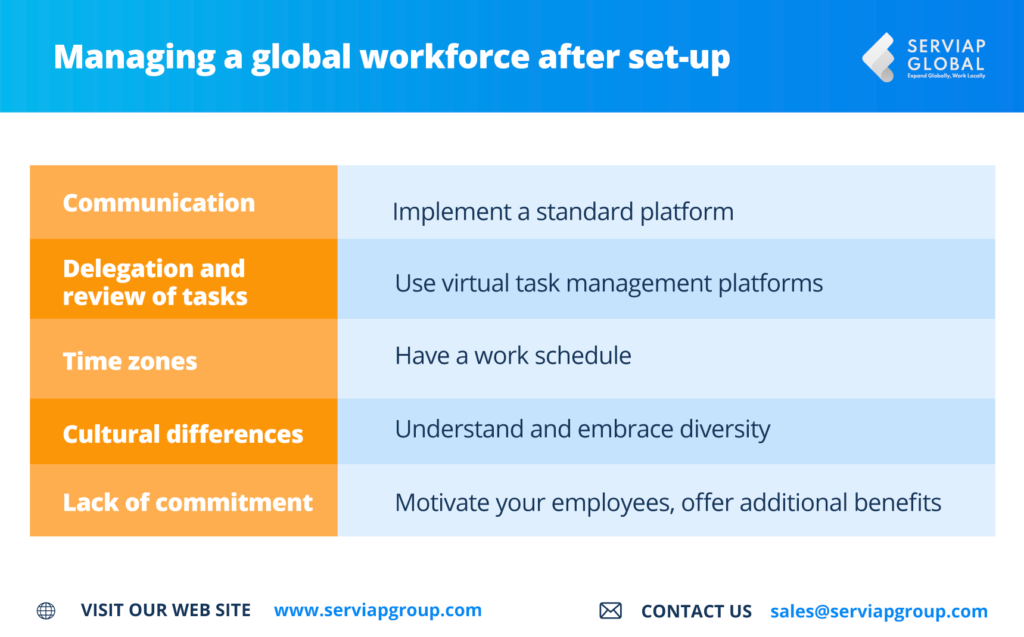 Managing a global workforce is easier with an EOR
Managing a global workforce is easier when working with an employer of record. These third parties will not only be able to help you find outstanding professionals for your team but will take care of regulatory compliance by working as your legal employer. 
Their legal entities in each territory are knowledgeable and experienced in local regulations, which avoids legal problems or fines related to non-compliance, from respecting work schedules and wages to providing legally mandated benefits and classifying employees correctly. 
In addition, their recruitment networks make it easy to build workforces as well as managing a global workforce, whether with full-time employees, international independent contractors, or global talent for direct hire. 
They can also provide vital insights into local culture, traditions, and work habits. They have identified markets with specialized service workforces to find the right professionals for the best cost.  These companies are well equipped to work across borders and fully used to the complexities of cultural interchange.
An EOR works collaboratively with its clients, wherever they are located, understands their needs, and accompanies them through the entire process from recruitment to onboarding as well as eventual offboarding if that becomes necessary.
The legal employer will charge a monthly fee per employee hired, usually a percentage of each worker's salary. Determining the most appropriate arrangement depends on each company's expansion project and budget and the scope of the EOR's capabilities and coverage. 
Whatever type of contracting is done through the services of an EOR, they will answer to the company for which they were hired and not to the legal employer since the latter will only assume the legal and human resources management responsibilities. 
Note that some EORs refer to what they do as international professional employer organization services, or international PEO. 
Serviap Global can help you with international hiring 
At Serviap Global, helping companies with setting up and managing a global workforce is what we do, with our reach extending to over 100 countries worldwide.
Our services include international PEO / EOR services, contractor hiring, and global talent acquisition to help source direct hires. 
Contact us to find out more about how we can help you.  
Contact us