If you are keen to enter the massive and fast-growing Indian market, hiring staff through a professional employer organization (PEO) could be your best choice. Because a PEO services provider in India will hire staff on your behalf, meaning you will not need a local entity and can get to work as soon as you have found the right talent – something your India PEO will also be able to help with.
Once hired, those staff will report directly to you, while your PEO services provider in India will take care of their onboarding, payroll, and eventual offboarding, as well as guaranteeing adherence to all relevant regulations. Meaning that you will not have to worry about some of the major compliance and administrative headaches associated with entering a new and unfamiliar market.
For many investors, using PEO services in India allows them to get to know the market before going through company formation and bringing staff members in-house. Meanwhile, for those who are only planning a short- or medium-term project, an Indian PEO provides a convenient and agile solution to meet their needs.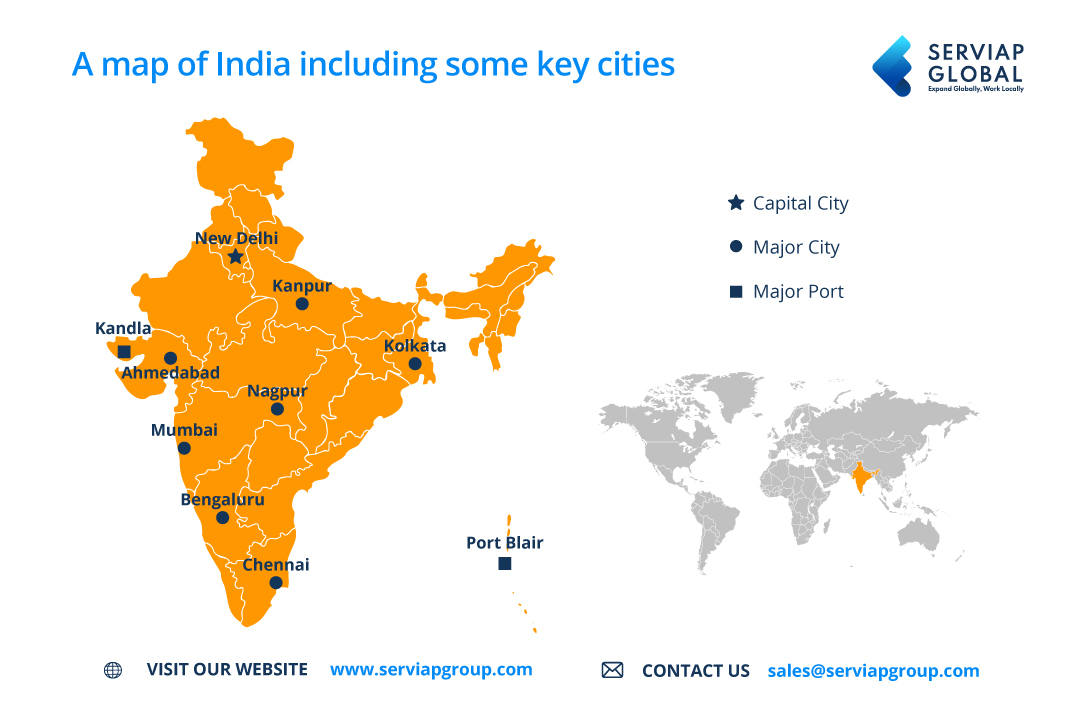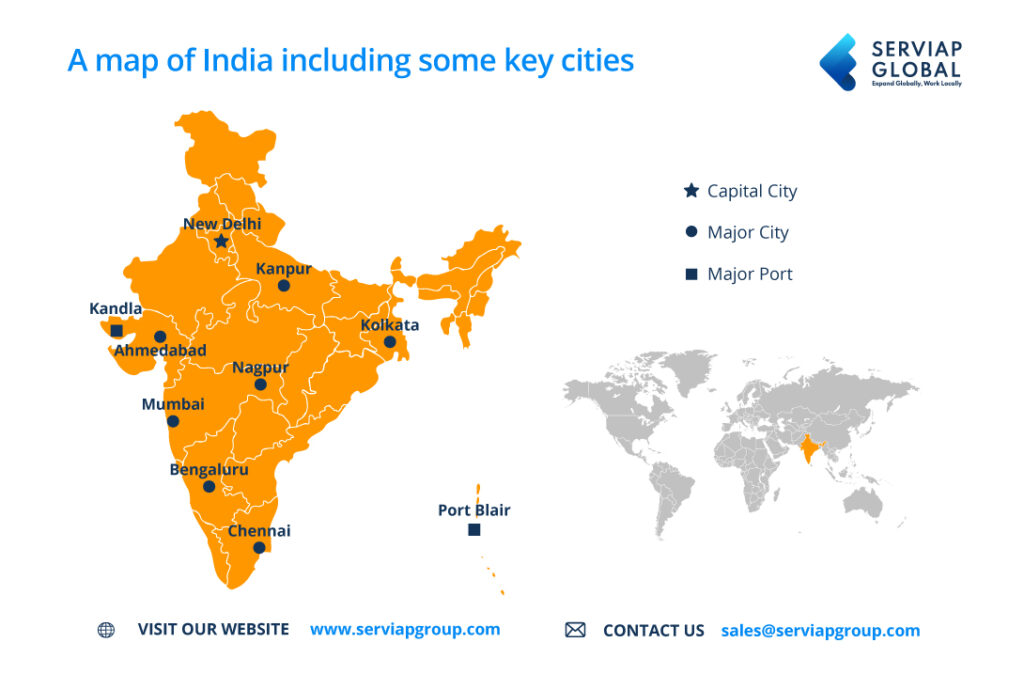 With a population of approximately 1.41 billion people in 2022, India is the second-most populous country in the world, and expected to overtake China to become the most populous by 2030. It is also among the top five economies in the world based on GDP, having risen to overtake the UK economy in 2022.
India's economic growth has been exponential since the turn of the century, with GDP increasing almost 700% between 2000 and 2021, and only registering annual declines during the global financial crisis in 2008 and COVID-19 pandemic of 2020.
The country has a mixed economy, with agriculture contributing almost 17% of GDP, while industry accounts for close to 26%. The services sector, meanwhile, has become increasingly important over recent years and in 2021 generated almost 48% of GDP.
The country also benefits from major deposits of natural resources, with petroleum and diamonds among its most valuable exports, along with jewellery, medicines, and rice. Notably, India is the world's biggest exporter of diamonds, rice, shellfish, raw cotton, and pepper.
In terms of services, recent years have seen the Indian IT sector grow to become particularly important to the economy, with the sector encompassing general IT services, IT-enabled services (ITES), and e-commerce, as well as software and hardware product development.
SEE ALSO: Best alternatives to hiring US tech workers
Today India's IT sector has a global reputation, with the country turning out large numbers of skilled professionals. The fact that English is widely spoken in India, especially among IT and other professionals, makes it a particularly attractive source of talent for businesses seeking workers overseas.
What will a PEO services provider in India do for you?
Providing a service that is sometimes referred to as employee leasing or employer of record (EOR) services, an India PEO will hire staff on your behalf .
In the event you do not have staff lined up for them to employ, a PEO services provider in India will have an established recruitment network that you will be able to harness in order to find the talent you need.
That will include expert knowledge of the best educational institutions and an understanding of the profiles to seek out, to guarantee that you are presented with high calibre candidates to quickly fill the roles you need.
As part of the services agreement you sign, your India PEO will guarantee that all relevant regulations are implemented, while also managing the payroll and other aspects of administration of those staff.
For many investors, navigating complicated and unfamiliar laws is a barrier to overseas expansion, as well as a major compliance concern. So by partnering up with a PEO services provider in India, you eliminate a significant source of risk.
Working with an India PEO will obviously come at a cost – usually based on a monthly fee per-employee – however, that cost will generally be significantly less than the outlay involved in setting up and running your own entity.
Moreover, it provides a great deal more convenience, offering you rapid exit from the market, as well as quick entry.
Even if you later decide to establish an entity and begin hiring staff directly, an India PEO will still potentially be of use.
Because a PEO services provider in India will often also offer standalone recruitment services for direct hires, as well as support with visas and immigration for overseas workers. Meaning the India PEO you initially partner up with to hire staff on your behalf could continue to assist you even when that service is no longer needed.
Moreover, if you choose a PEO services provider in India that also operates or has partnerships in other markets, should your business subsequently expand elsewhere, they will be able to support you.
Employment regulations an India PEO will oversee
The following are some of the employment laws that a PEO services provider in India will take care of.
Note that labor laws and regulations can vary between different states, so the information below is a general guide. Your India PEO will be able to provide accurate information based on where you intend to do business.
Working hours: Indian labor laws changed in 2022, so that, while the maximum working week continues to be 48 hours long, maximum faily hours increased from nine to 12 hours, allowing workers to perform a four-day week while still completing full-time hours.
Overtime: According to Indian labor law, any worker who works beyond the maximum weekly limit should be paid at double their standard rate for the additional hours they work. This is something that your PEO services provider in India will oversee and bill you for.
Personal leave: Under the revised labor code, adult workers are entitled to one day of leave for every 20 days worked, while young workers are entitled to one day of leave for every 15 days worked. Workers can begin to claim leave after being employed for six months. Up to 30 days of leave can be carried forward from one year to the next – a provision that your India PEO will also be charged with overseeing.
Sick leave and casual leave: Sick leave and casual leave – the latter referring to leave that is granted for unforeseen circumstances – will usually be granted for between five and 12 days per year. Your India PEO will be able to advise you on the allowance your employess will be entitled to based on where you are doing business.
Public holidays: There are 14 mandatory public holidays celebrated nationwide in India, while an additional three are chosen at the state level. Additional public holidays may also be celebrated depending on which state you are in, which a PEO services provider in India can provide guidance on.
Terminations and notice periods: There is no standard process for terminating an employee's contract, which will instead generally be laid out in the contract they sign. Notice periods for teminations and resignations among skilled professionals, such as IT workers, will often stand at 90 days.
In many cases, conditions under which termination can be immediate – such as gross misconduct or professional negligence – will be laid out in the contract. Your India PEO will be able to consult with you during the contract drawing up process to guarantee that a document suited to your needs and industry is issued to all employees.
Serviap Global can help if you need an India PEO
At Serviap Global, we assist clients seeking help with recruitment or a PEO services provider in India..
We assist clients looking for international PEO / EOR services or global talent acquisition services in dozens of countries across six continents, counting on a network of trusted partners in markets where we do not work directly.
Contact us today to find out more about how we can assist you.
If you were interested in this article about working with an India PEO, read more of our coverage here.
You can also find out more about us or read about our leadership team.
Contact us