The rise of remote working in recent years and growing availability of global hiring opportunities has made Latin America an increasingly attractive destination for companies from India to seek out talent.
Indian companies in Latin America benefit from the region's expanding pools of skilled professionals, often available at highly competitive rates, while having team members in closer proximity to key markets in North America also offers advantages.
SEE ALSO: Find great headhunters in Latin America in 7 steps
The region is also made attractive thanks to it being home to a growing number of innovation hubs, with startups focused on the likes of the circular economy, digital transformation, e-commerce, fintech, and back-office services. 
In the second half of 2021 alone, global tech hiring in the region increased nearly fourfold, while overall hiring increased 156% between July and December of the same year — a faster rate than in other regions.
Meanwhile, Latin America's strong energy potential, especially in renewables, makes it all the more attractive, in terms of both future costs of doing business and innovation and talent within the industry.
As India's economy continues to grow, driven by an expanding business commuity, many Indian companies have built strong links with major clients in the United States and Canada, while being increasingly able to tap into the hiring opportunities on offer in Latin America.
However, for Indian companies in Latin America looking to expand to new markets, or those seeking to make the leap into the region, knowing what the best option is for hiring top talent can be a sticking point.
Because a range of options are available, each with their own advantages and disadvantages, and choosing which is most suitable will often come down to the immediate needs and goals of the hiring company, as well as their future plans.
At Serviap Global, we offer global hiring solutions in over 100 countries worldwide and assist Indian companies in Latin America with rapid and compliant onboarding of top professionals.
Contact us for more information.
Hiring options for Indian companies in Latin America
To hire staff in Latin America, three of the best options for Indian companies to consider are hiring through an employer of record (EOR), establishing a legal entity to hire directly, or hiring professionals as independent international contractors.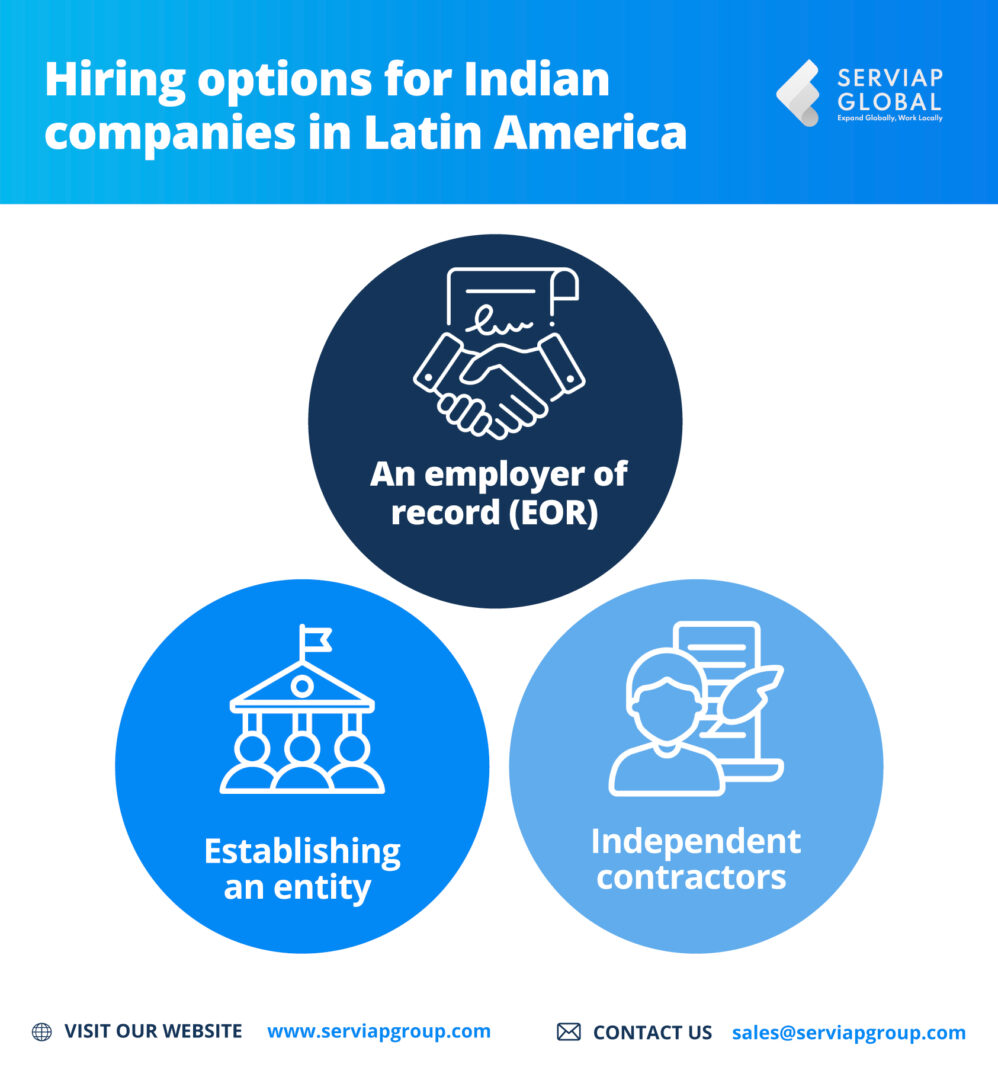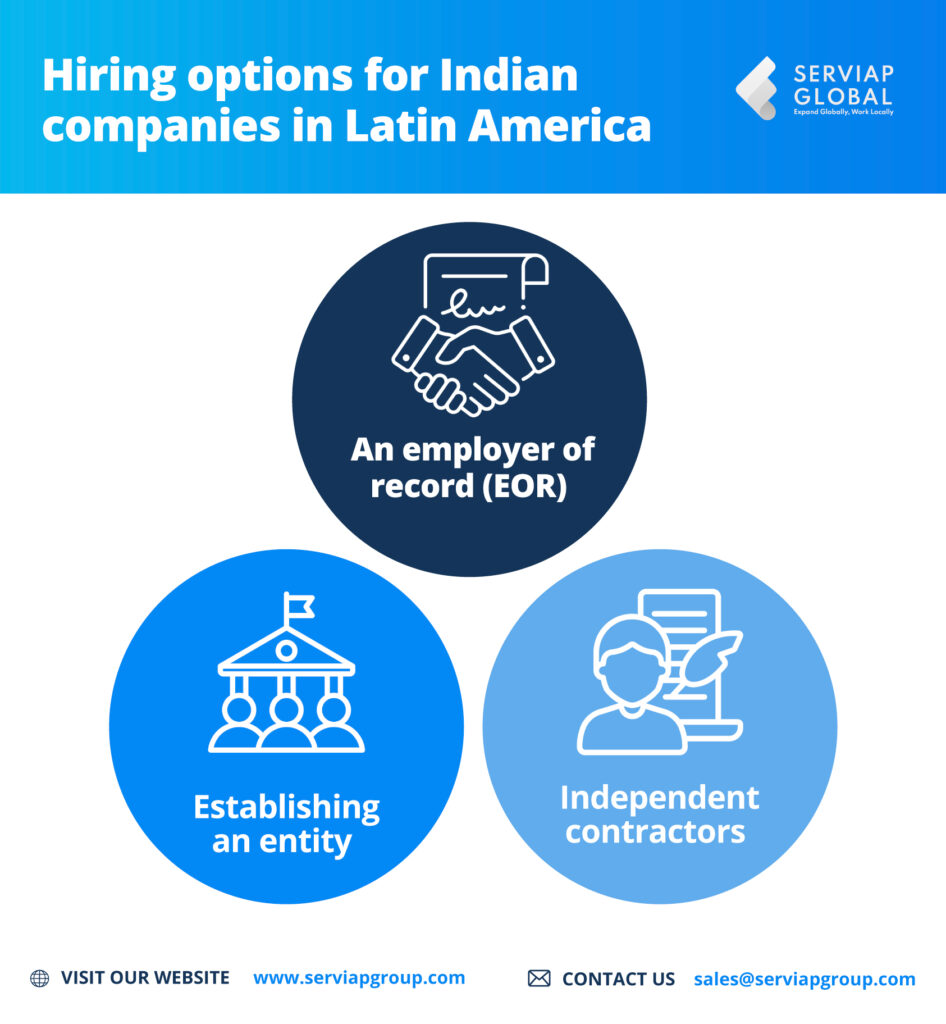 Below, each of those options is considered in greater detail:
Via an employer of record (EOR)
Acquiring the services of an employer of record (EOR) is a great hiring option for Indian companies in Latin America. An EOR is a third party with extensive knowledge of the local market. It is responsible for sourcing, recruiting, and managing human resources on behalf of its clients, which means handling payroll, paying taxes, benefits, and employee turnover.
As a legal employer, an EOR ensures compliance with local regulations, minimizing the risk of unexpected legal problems or possible financial penalties. Thus, Indian companies in Latin America will not have to worry about non-compliance with labor and tax laws in the region.
Also, an EOR has locally registered entities, so its clients will not have to set up their own. In addition to being time-consuming, this process represents the expenditure of many resources for expanding firms, which can be used for other aspects of their international expansion.
SEE ALSO: Employer of record in Mexico: 6 easy steps to rapid, compliant hiring
These employers also have established recruitment networks, so finding the best talent in Latin America and bringing them into an organization in India can take just a few weeks. The EOR will manage these workers but they will report directly to the company. 
To benefit from the services of an EOR, Indian companies in Latin America must find the provider that best suits their needs, define the profiles of the employees they need and let their EOR find the best candidates. Once the staff is hired, the employer will charge a percentage of the monthly payroll, according to a contract with its client.
By establishing an entity
An international expansion project can be short, medium, or long-term. When it is a lengthy plan with a projection towards other nearby markets, the best option is to establish a subsidiary that will take care of all the legal formalities involved in operating from another territory, such as the administration of local workers and the payment of taxes. 
Indian companies in Latin America that choose this hiring option should know that it is also the most viable when they need to add a considerable number of employees to their international teams since a subsidiary will be the best alternative to handle the payroll and manage the human resources of a group of people.
SEE ALSO: Call center outsourcing: 5 great destinations to consider
At the same time, Indian companies in Latin America can establish three types of entities, from a representative agency to a branch office or a foreign subsidiary. Any of the three options will allow them to hire personnel; however, it will depend on the regulations of each country what sort of operations they can carry out. 
Some considerations for establishing an entity in Latin America are minimum numbers of employees, business licenses, bank accounts, payment of additional taxes, and the costs of renting office space and all the expenses this represents. 
Whatever the sector and size of the expanding company, as well as the type of entity you want to open according to your needs, budget, and growth project, it is a time-consuming and costly process and not very friendly if you are looking to start a business quickly in other territories. 
As international independent contractors
Indian companies in Latin America have one more option to add talent to their international teams: as international independent contractors, professionals or companies that provide their services for a specific project or a particular period.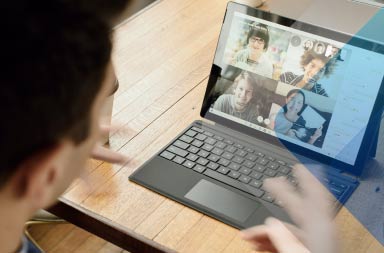 An international independent contractor, also called an IC, is a freelancer who operates independently under an established contract. While they may work full-time, they perform for their own company, which provides services to an employer. 
This type of employee, not being on the payroll of the Indian company, does not receive many of the legal benefits of direct workers, such as insurance and other benefits. However, for this reason, they may demand more for their services than an employee would charge for doing the same work.
One advantage of this employee category is that hiring them is cost-effective, as it saves companies certain expenses. They are also experienced professionals, usually competent and have specialized knowledge, and have flexible schedules, so they can deliver projects quickly. 
However, some disadvantages of hiring an IC are that companies must classify them correctly to avoid legal problems and possible fines. Also, these employees have different legal protections, and overseeing and ensuring the quality of their work is more challenging. 
International independent contractors can be hired through platforms where they offer their services. Still, an IC can also be leasing via an employer of record through their established entities and their extensive knowledge of local regulations. An EOR may hire professionals as contractors or direct employees; in both cases, the worker will report directly to the client.
Serviap Global offers hiring options for Indian companies in Latin America
Serviap Global assists companies with global hiring solutions in over 100 countries worldwide, including international PEO / EOR services, contractor hiring, and recruitment services for direct hiring.
Contact us to learn how we can help you with your global expansion project.
If you are interested in this article on hiring options for Indian companies in Latin America, read more about our coverage.
Contact us