Uruguay is known for its prosperity, low levels of violent crime, and political and economic stability when compared to many other Latin American nations. Those factors, along with the availability of highly skilled professionals, have helped the country emerge as an increasingly popular destination for investing and employing international talent.
For anyone interested in hiring in this South American nation, working with an employer of record can be a great choice. Because an EOR in Uruguay with hire professionals on your behalf, taking care of their payroll and other administrative matters as part of the service.
SEE ALSO: Call center outsourcing: 5 great destinations to consider 
In the event you need assistance finding outstanding candidates for a particuylar role, your EOR in Uruguay will also be able to help you. Because that provider will have an established local recruitment network and expert understanding of the job market, meaning they will be able to offer recruitment as part of services agreement you sign with them.
If you need an EOR in Uruguay, contact us for more information. 
Uruguay: country overview
Uruguay boasts a rich cultural heritage influenced by its history and geographical location. Spanish is the official language, and English is spoken in urban areas and tourist hubs. In the last decade, the country has made rapid improvement in English proficiency and now boasts a level above the world average.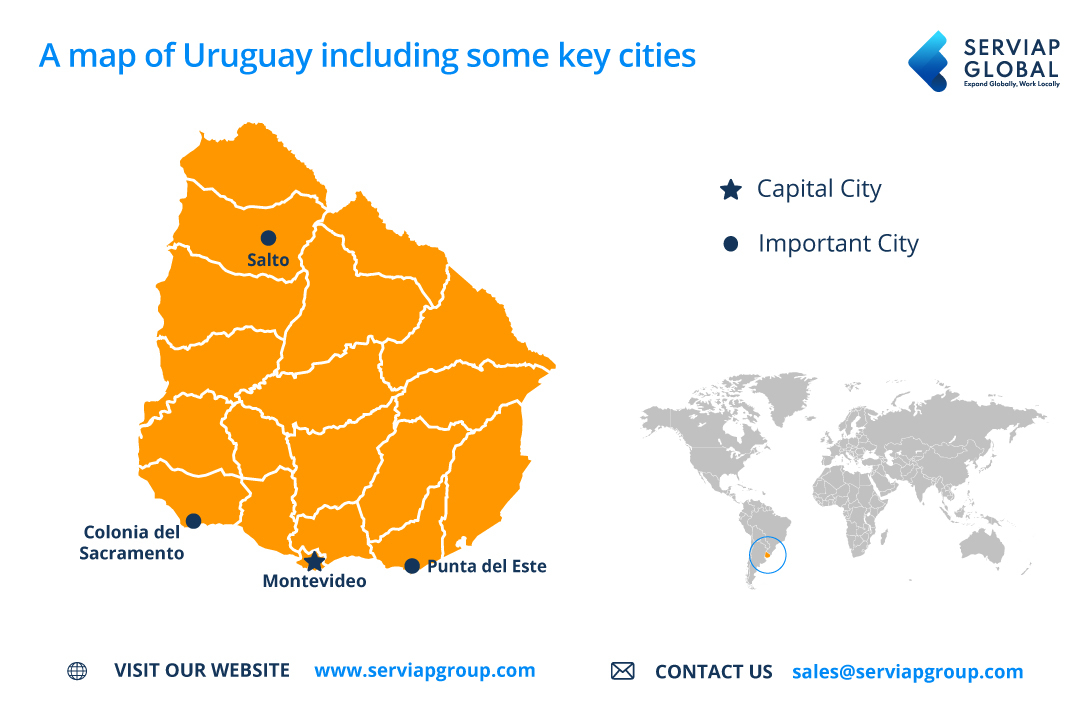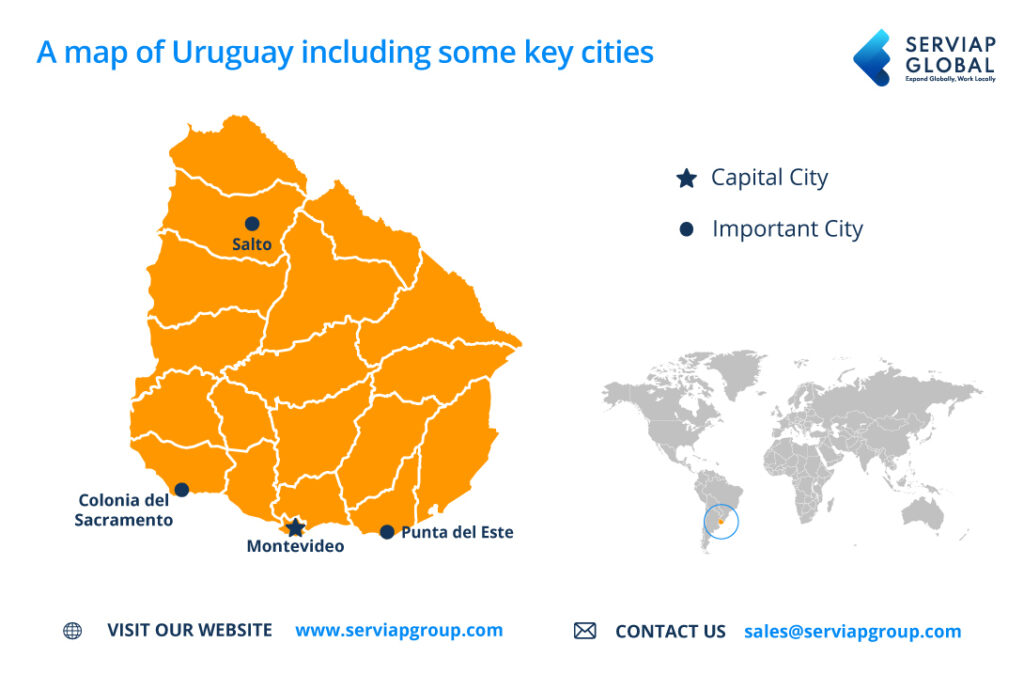 Economically, Uruguay has maintained relative stability since emerging from periods of uncertainty. It ranks 2nd among Latin American countries in the Economic Freedom Index, and its membership in the Southern Common Market (Mercosur) enhances the attractiveness to international investors.
Hiring in Uruguay offers access to a well-educated workforce, such as graduates from prestigious universities like the University of the Republic and ORT University. Four Uruguayan universities feature in the QS Latin America University Rankings.
In recent years, Uruguay has attracted foreign investors, due to the country's emphasis on STEM education and strong tech ecosystem in the capital city of Montevideo. Coupled with its attributes as an orderly and open country, with access to decent infrastructure, Uruguay is an ideal place to test new technologies.
Hiring via an EOR in Uruguay
Employing the services of an EOR in Uruguay offers substantial advantages. The services of an employer of record save the need for foreign companies to establish their own entities in the country, while still having a proper international team.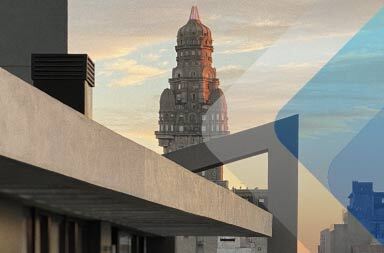 These third parties manage onboarding, payroll, and compliance with local laws, avoiding common legal complications for employers, such as misclassification risk. Additionally, an EOR in Uruguay often offers cost-effective solutions compared to setting up a new entity and hiring local support staff. 
Hiring through an EOR in Uruguay ensures peace of mind, access to local expertise, and faster onboarding of professionals. Companies that have specific candidates in mind or plan to relocate employees to Uruguay can benefit from the EOR's assistance with visa applications.
Moreover, EORs in Uruguay have established recruitment networks and deep knowledge of the local academic institutions and employers, making them invaluable partners in identifying outstanding candidates for various roles. They also understand the work culture, language, and time zone.
Regulations an EOR in Uruguay will oversee
Compliance with local regulations is essential when employing an EOR in Uruguay. Key regulations include:
Employment Contracts: Indefinite employment contracts are most commonly used, but fixed-term and specific task contracts are also options. 
Working hours: You cannot work more than 8 hours a day, nor more than 44 or 48 hours a week, depending on whether you work in commerce or industry.
Salary standards: As of 2023, the minimum wage has been increased to UY$ 21,106 (approx. US$550) per month.
Vacations and public holidays: Employees are entitled to a minimum of 20 days of paid vacations per year, along with 15 official holidays.
Health insurance: Health insurance is mandatory in Uruguay. The employer's payroll tax includes a 5% contribution for health insurance, while employee taxes make up an additional 3% to 8%.
Medical leave: Medical leave is mandatory, and employees are entitled to up to three days of sick leave.
Maternity and paternity leave: Mandatory maternity leave covers 12 weeks on average. Fathers are entitled to three days of paid leave from the date of childbirth.
Taxes: The standard VAT rate is 22%. Employer payroll taxes also include 0.1% for labor re-conversion fund, 7.5% for pension fund, and 0.025% for labor credit guarantee. Meanwhile, employee payroll taxes include 15% for pension fund and 0.1% for labor re-conversion fund.
Alternatives to hiring via an employer of record in Uruguay
While hiring via an EOR in Uruguay is a popular choice for many businesses expanding into the country, alternatives do exist. Setting up an entity and hiring professionals directly is an option for those planning long-term or large-scale operations.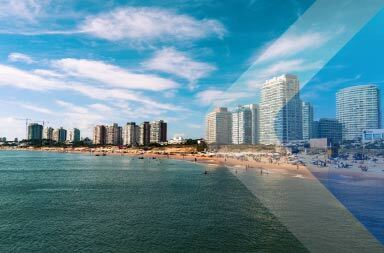 Companies that prefer to hire directly usually already have extensive previous international knowledge. This is key, considering they will have to handle legal intricacies and manage foreign personnel on their own.
However, even in such cases, an EOR in Uruguay can provide standalone recruitment services to assist with direct hires or act as a temporary solution while the company formation process is underway.
Another alternative is hiring international contractors in Uruguay, who operate as freelancers. Among many recruitment models, this approach offers a lot of flexibility, even though it may come with challenges related to contractor misclassification. Employers of record can facilitate contractor hiring and help assess the associated risks.
Serviap Global can help you hire top talent
At Serviap Global, our services include international PEO / EOR services, independent contractor hiring, and global talent acquisition for companies seeking top talent to hire directly. 
We assist clients with global hiring in more than 100 countries worldwide, having started out in Latin America in 2010. Over more than a decade of operations, we have earned a reputation as experts in helping companies recruit talent in emerging markets.   
If you are looking for an EOR in Uruguay or elswehere, contact us to find out more about how we can help you.
Contact us