Bulgaria has seen positive economic development in recent years, as its startup, export, and tourism sectors have grown, helping this eastern European country become a target for investment.
With the economy on a good trajectory and the country home to a growing pools of skilled professionals, hiring via an employer of record in Bulgaria has become increasingly attractive, offering the opportunity to quickly and compliantly tap into local talent.
Because an employer of record (EOR) hires professionals via its own local entity on your behalf, taking care of their payroll and other administrative matters as part of the service, and assuming a significant portion of liability as their official employer.
Those professionals, meanwhile, report directly to you. So when you hire via an employer of record in Bulgaria you effectively have local team members in place, without needing to worry about setting up your own entity or worry about unfamiliar employment regulations.
In the event you need help sourcing candidates for the roles you want to fill, your EOR in Bulgaria will also be able to help, giving you access to established recruitment network and expert knowledge of the local job market.
If you are interested in hiring in Bulgaria, contact us for more information.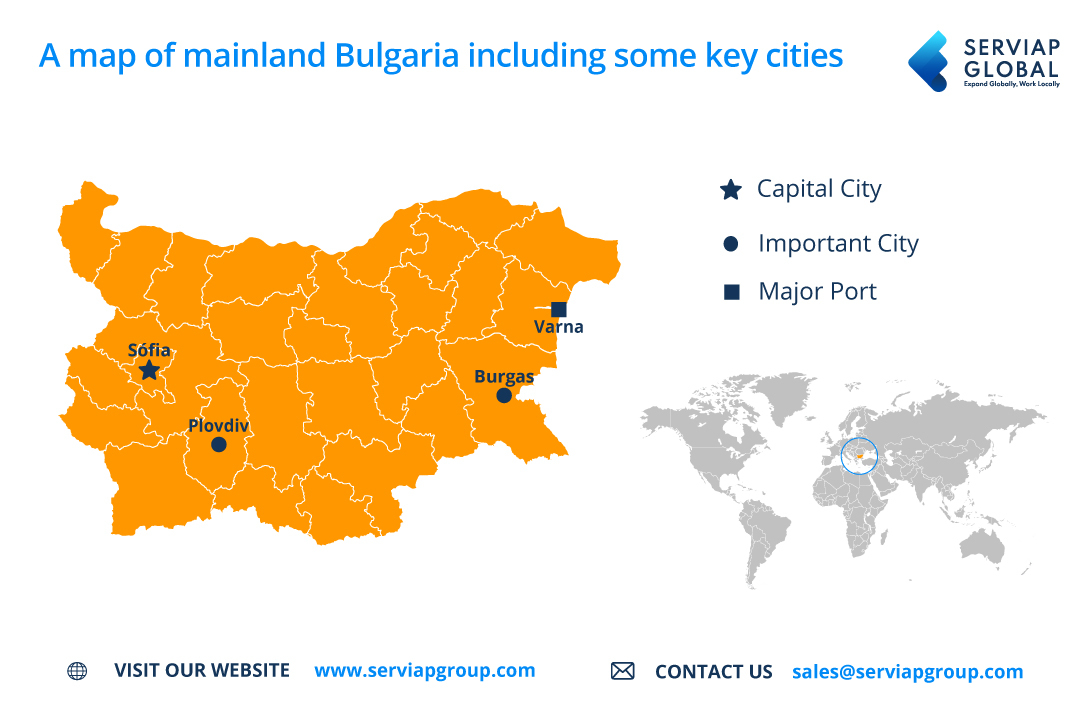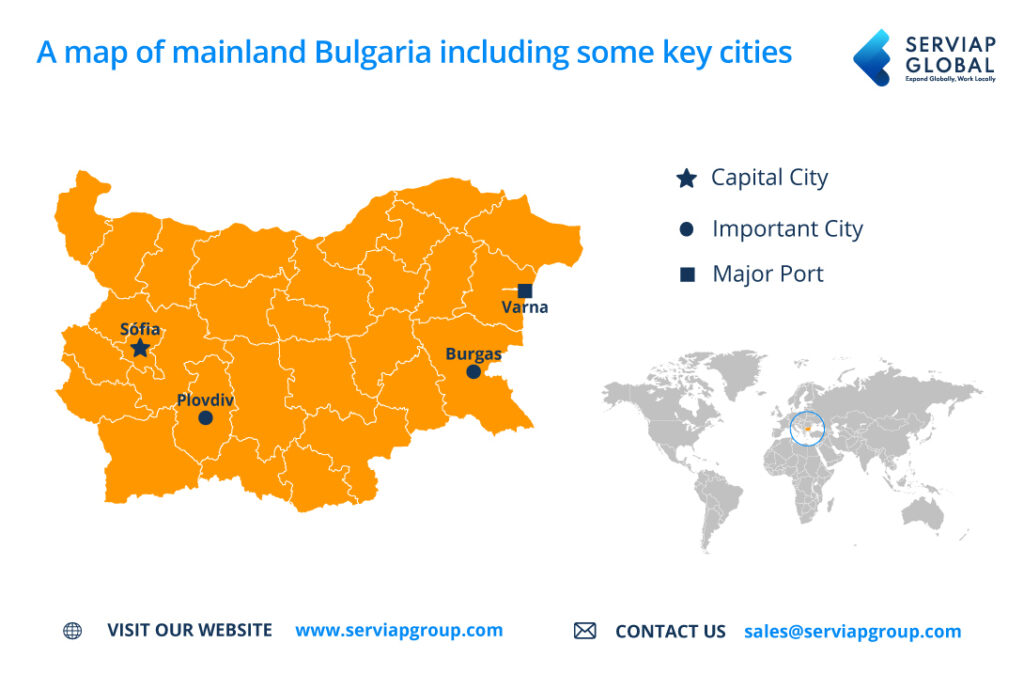 Bulgaria: country overview
Bulgaria is a medium-sized country situated in southeastern Europe. It has a Black Sea coast where many tourist destinations are found, ranging from popular beaches to natural landmarks, and including mountains with great ski resorts. 
The official language is Bulgarian, written in Cyrillic script. Russian, Turkish and English are widely spoken as second languages, the latter especially among younger people and in central areas and tourism hotspots. 
Bulgarian culture is diverse, influenced by its history and geographical location. It has a rich tradition of music, dance, and folklore. Football is the most popular sport and the stars of the 1990s golden generation are still idolised. 
As for economic growth, Bulgaria has shown resilience and a relatively stable financial sector since transitioning from communism in the early 1990s. Key sectors include energy production, services, and tourism.  
Bulgaria has been a member of the European Union (EU) since 2007, which has brought opportunities for funding, market access, and regulatory harmonization.
Hiring in Bulgaria 
In Bulgaria, you can find plenty of top-ranked universities next to some of the biggest international high-education choices. Faculties such as New Bulgarian and Sofia University are respected and well-known in the academic communities as medical, engineering, law schools, and so on. This means you can hire skilled professionals, who will likely speak English as well,as it is a requirement on courses.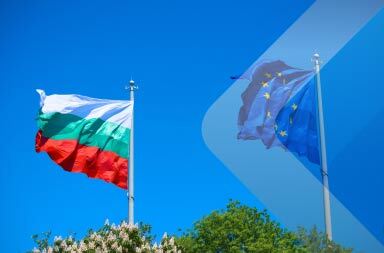 Also, in the past decade, Bulgaria has risen as a major destination for foreign direct investments, especially in its capital city, Sofia. The country boosts thousands of multilingual IT and STEM specialists who are seizing the opportunities that the expanding local startup ecosystem is offering.
The country has been boosting a positive and efficient innovation input to output performance. According to the 2022 Report for the Global Innovation Index, Bulgaria currently holds second place in innovative economies in the upper middle-income countries group, after only China. It is also one out of only five middle-income economies among the top 40 economies for innovation worldwide.
The Bulgarian investment terrain has evolved significantly, with larger funding rounds and greater participation rates as the startup ecosystem becomes more developed and sophisticated. The fields of artificial intelligence, fintech, and health tech stand out. Some other well-developed professional areas include technical skills and marketing talent.
Advantages of hiring via an employer of record in Bulgaria 
An employer of record in Bulgaria will hire professionals on your behalf via its own local entity, meaning you don't need to go through company formation to be able to bring top talent onboard.
The EOR will then also take care of onboarding those professionals, as well as managing their payroll and other administrative matters, all in full compliance with local laws. When the time comes, your employer of record in Bulgaria will also offboard those team members.
Because the EOR is the official employer, it assumes most liability, meaning you can rest safe in the knowledge that you are highly unlikely to face legal issues or financial penalties for non-compliance. The fact that your provider will know the market well means they will be able to guarantee compliance.
While hiring via an employer of record in Bulgaria will obviously come at a fee — which could be a flat fee per person employed or a percentage of each professional's salary — that expense is likely to be significantly less than the costs involved in setting up an entity and hiring the support staff needed to administer your local team.
Even when the cost is comparable, an EOR offers peace of mind, expert local knowledge, and will be able to have professionals onboarded much quicker than if you set up an entity and hired them directly.
Often companies that choose to work with an EOR already have people lined up for roles, or are intending to relocate someone to a new country, in which case the provider will likely also be able to help you with the visa application process.
But in the event you also need assistance with identifying outstanding candidates for the roles you want to fill, your employer of record will have an established recruitment network and will also know of the best local academic institutions and employers to look out for on profiles.
In the event you do opt to access those recruitment services, the EOR will also carry out initial interviews to vet candidates and present you with the strongest selection possible for your own interviews, should you wish to carry them out.
Regulations an EOR in Bulgaria will oversee
Your employer of record in Bulgaria will guarantee compliance with a wide range of local regulations, with some of the key ones being:
Employment contracts: official contracts can be either fixed term or for an indefinite period. They can be signed by both employer and employee in any language.
Working hours: average working week is 40 hours (8 hours/day).
Salary: As of 2023, the average wage is 1,927 Bulgarian Lev per month (approx. US$1,050). 
Vacations and public holidays: minimum of 20 days of paid vacations per year. There are 15 official holidays.
Health insurance: mandatory in Bulgaria. The employer payroll tax includes a 4.8% contribution for health insurance, while employee taxes make up for an additional 3.2%.
Medical leave: Mandatory. Employees are entitled to the benefit after six months of being registered for sickness insurance.
Maternity and paternity leave: Mandatory. Maternity leave covers up to 410 days, beginning 45 days before the due date of child birth. The father is entitled to 15 days of paid leave from the date of childbirth. Adoptive parents are entitled to 365 days leave upon adoption of a child up to 5 years.
Taxes: Income tax comes at a flat rate of 10%. The standard VAT rate is 20%. Employers must also contribute 14% of each employee's salary to a social security fund and 4.8% for healthcare.
Alternatives to hiring via an employer of record in Bulgaria 
One of the main alternatives to hiring via an employer of record in Bulgaria is to set up an entity and hire professionals directly, which will also mean assuming liability for compliance with local regulations. This can be a good idea for businesses that are intending on establishing a large-scale or long-term presence in the country.
However, companies that choose this path may still find that an employer of record in Bulgaria could be of assistance, as in many cases they will offer standalone recruitment services to assist with sourcing direct hires. Hiring via an EOR arrangement could also be a good stop-gap to consider in order to get team members in place while going through the process of company formation.
Another option is hiring international contractors in Bulgaria. These are freelancers operate independently, and while they will charge a premium for their services, they will generally be expected to provide their own tools and equipment, and will not be eligible for certain benefits.  
If you are considering this route, it is important to remember that many countries are cracking down on the misclassification of in-house employees as contractors. In many cases, an EOR will be able to help facilitate contractor hiring, as well as assisting you with assessing your contractor misclassification risk, based on the terms under which those professionals will work. 
Serviap Global can help you with hiring in Bulgaria
At Serviap Global, we assist companies with global hiring solutions in over 100 countries worldwide. Our portfolio includes international PEO / EOR services, as well as contractor hiring and global talent acquisition services to help source direct hires. 
Over more than a decade of doing business, we have emerged from our roots in Mexico to establish an international presence, and are known for our expertise in hiring in emerging markets, including Eastern Europe.
If you are looking to work with an employer of record in Bulgaria, contact us today.
Contact us