Hiring remote international employees has become more attractive in recent years, thanks to the rise of teleworking and the emergence of solutions that allow companies to easily and compliantly recruit overseas talent.
Global hiring is an appealing option for companies looking to strengthen their teams, expand their international footprint, or improve cost-efficiency. With the growth of the likes of employer of record services (EOR), it is particularly easy to execute.
But while there are many clear benefits of hiring remote international employees, a number of concerns must be dealt with to get the most out of it, including effective communication, payment of overseas team members, and managing people working in different time zones.
Contact us if you are interested in hiring remote international employees.
8 important considerations when hiring remote international employees 
Whether you are a startup exploring your first step into international recruitment or a major company seeking to optimize your hiring strategy, it will be important to take the following eight considerations into account: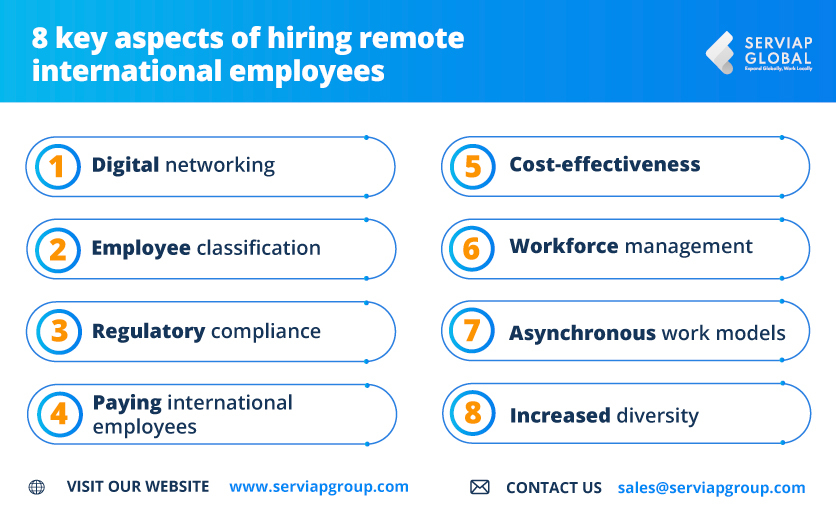 1) Digital networking
Digital networking excels in traditional techniques of recruitment in terms of speed and efficiency. Online platforms provide personalized opportunities for showcasing your brand. The rise of technology and the advent of digital networking have revolutionized and facilitated the way we build these relationships.
This allows companies to hire professionals in new ways, discovering talents that maybe wouldn't be found through traditional methods. However, this comes with its own challenges when you need to navigate through online platforms, so collaborating with a 3rd party who offers recruiting as a service can be of great assistance.
2) Employee classification
In today's job market, many businesses rely on different agreements to complete their teams and fulfill the company's tasks. So, when hiring remote international employees, you can consider the options between full-time workers, fractional hires, part-time employees, and independent freelance contractors.
Moreover, employee classification may differ from country to country. Understanding how to properly contract and manage professionals is essential to avoid penalties and independent contractor misclassification, which is when you classify someone as a freelance contractor when they should be specified as direct employees.
3) Regulatory compliance
Hiring remote international employees can also present challenges when it comes to regulatory compliance. If you plan on managing and recruiting staff directly, you must set up a legal entity in every country of recruitment to serve as your legal representation and adapt your company to regional labor regulations.
This involves a set of laws, tax norms, and requirements. Companies need to navigate these complexities such as minimum wage, insurance, and registration, among other benefits. A good strategy to streamline this process is collaborating with global EOR services, which can offer regional insight and maintain international companies compliance.
4) Paying international employees
Managing international payroll can become a major issue for a company, especially when dealing with multiple currencies and taxes. Each country can have its own determinations for how to pay employees, including average working hours, paid vacations, parental leave and so on.
Payroll management when hiring remote international employees is another process that can be facilitated with an employer of record. An EOR handles payroll, calculations, deductions, and timely payments. They make sure that the employee benefits packages follow local laws. 
5) Cost-effectiveness
One alluring aspect of hiring internationally is the cost advantage. Even though companies have to deal with different local work regulations, they are able to save money in aspects such as office space.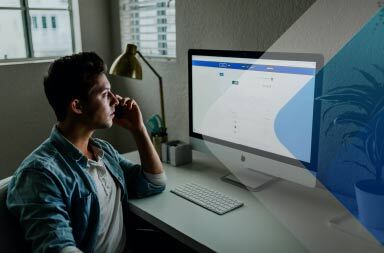 Additionally, companies can access qualified professionals at a fraction of the labor cost due to different currencies and work scenarios, especially by working in emerging markets. Labor costs are typically lower compared to richer countries, allowing businesses to access top talent without straining their budgets.
6) Workforce management
Distributed workforce management can create challenges from the effects of isolation and loneliness when employees work remotely. So, with international teams, it's important to focus on proposing team-building activities and creating valuable links between areas.
Managers can adopt work software that will make daily life and delivery easier, ensuring that all collaborators have the proper equipment to work remotely without complications. Additionally, establishing clear communication by providing regular feedback can encourage international teams and improve engagement.
7) Asynchronous work models
Hiring remote international employees means you will likely work with collaborators from different time zones, which requires adapting your processes to asynchronous working. To adopt it successfully, leaders can promote a self-management culture with clear objectives.
This working model is perfect for companies that want to expand internationally and need to hire the best professionals regardless of their location or schedule. It also allows you to expand your company's coverage of service hours, which can help you attend to different international clients.
8) Increased diversity
Finally, hiring remote international employees allows businesses to tap into new talent pools, increasing diversity and equity. You can collaborate with professionals who bring in additional knowledge in other languages, as well as different perspectives and international networking opportunities.
Furthermore, increased diversity rates in a company usually correlate to higher employee satisfaction and retention. Many studies demonstrate that inclusion and diversity are crucial for employee retention, considering that the majority of workers say their willingness to remain in a workplace depends on inclusion.
Common options for hiring remote international employees
Any company that wants to build an international team by hiring remote employees in other countries has three main options to choose from. The first is directly hiring full-time employees. The business will need a legal entity in each territory and will be responsible for recruitment processes and team management, including on and offboarding.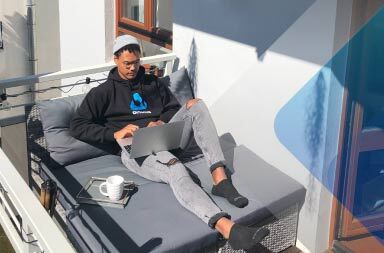 Alternatively, companies can find solutions for hiring remote international employees via an employer of record. These third parties offer staff outsourcing and are specialists in global recruitment with established entities.  In exchange for their services, an EOR usually requires a monthly or a standalone fee.
By working with an EOR, companies do not have to worry about opening an entity or subsidiary. Meanwhile, the provider has experience in the local market, is familiar with labor and tax regulations, and can assist clients with talent acquisition, hiring full-time employees, and processing work permits and visas.  Note that EOR services are sometimes referred to as international PEO.
In opposition to full-time professionals, you can work with international independent contractors, especially when you need specialized skills for short-term projects with quick deadlines. They will provide services directly to you but won't be entitled to the same full-time work benefits. Contractors can be hired directly or through the assistance of employers of record as well.
Serviap Global offers global hiring solutions
At Serviap Global, we have over a decade of experience helping companies with hiring remote international employees. Our portfolio of services includes international PEO / EOR services, contractor hiring, and global talent acquisition for sourcing direct hires. 
Having emerged out of Latin America, we are able to assist companies with rapid, compliant hiring in over 100 countries worldwide, and we are known for our particular expertise with hiring in emerging markets.
Contact us to find out more about how we can assist you.
Contact us