Tapping into the growing pool of professional talent found across Africa can be challenging for anyone unfamiliar with the markets where they are interested in hiring. Unfamiliarity with administative processes, compliance standards, and local job markets all present their own challenges, which can be overcome by working with headhunters in Africa.
Headhunters are individuals or companies that specialize in finding specific profiles that are not always on regular employment platforms. The identification and selection of suitable candidates for a given role can be lengthy and costly, so outsourcing the talent search to a seasoned provider can help speed up the process and improve search results.
Headhunters in Africa — which may also refer to themselves as executive recruiters — have extensive local market knowledge and established recruitment networks. So when a company needs to fill a vacancy with someone with a specialized profile, headhunters will be well placed to help.
SEE ALSO: Call center outsourcing: 5 great destinations to consider
Finding the best talent depends on several factors, such as the company's budget, the availability of professionals in a region, and local laws, which can sometimes be very specific about how contracts should be concluded and the benefits employees must receive.
Africa is the third largest continent, where 54 sovereign states are home to some 1.3 billion inhabitants — or around 15% of the world's population. Demographic growth rates predict that the population will double by 2050, meaning it will continue to grow as a source of professional talent.
Many African nations are already establishing themselves as attractive destinations for the likes of hiring overseas developers or call center outsourcing, with the number of telephone agents in South Africa set to exceed 300,000 in 2023.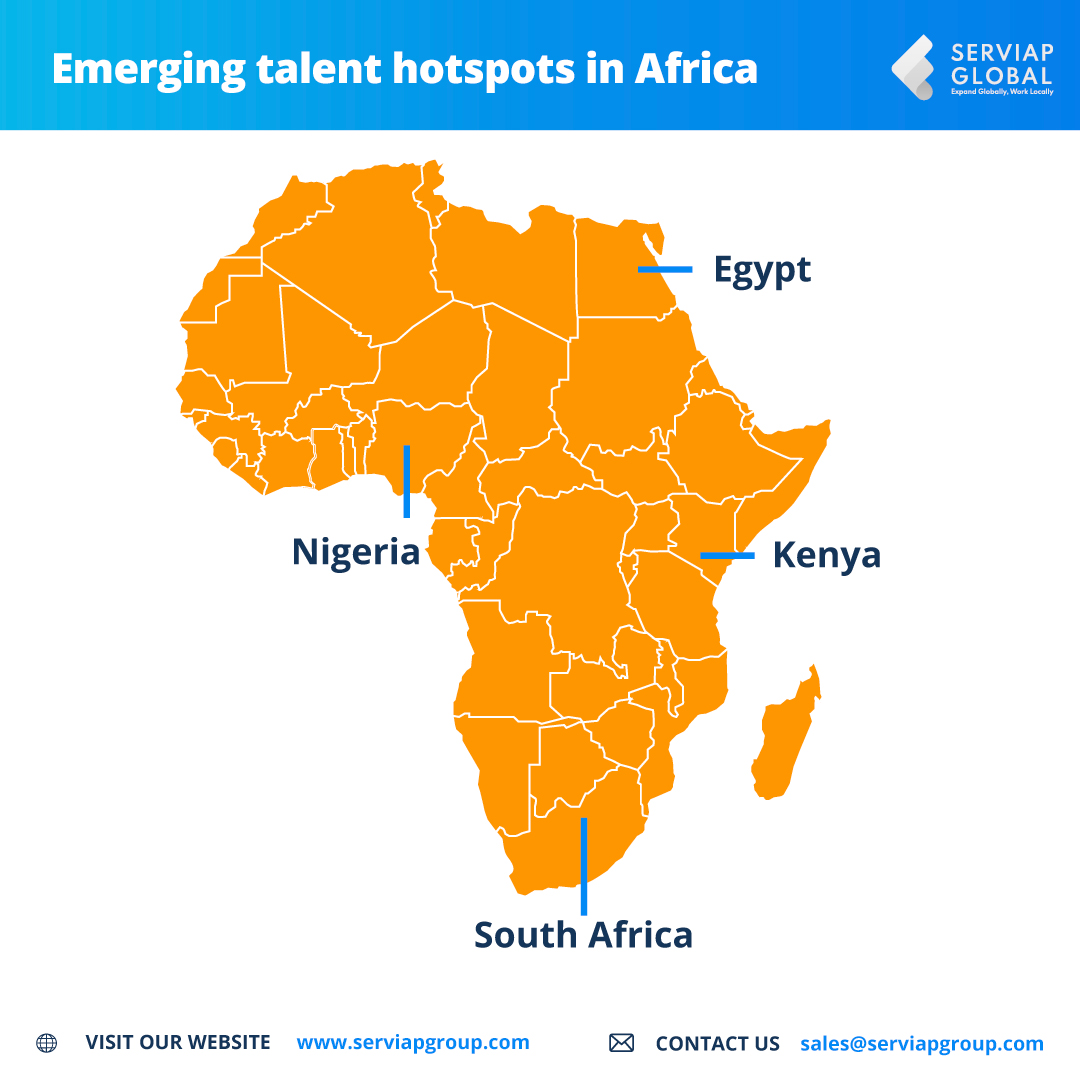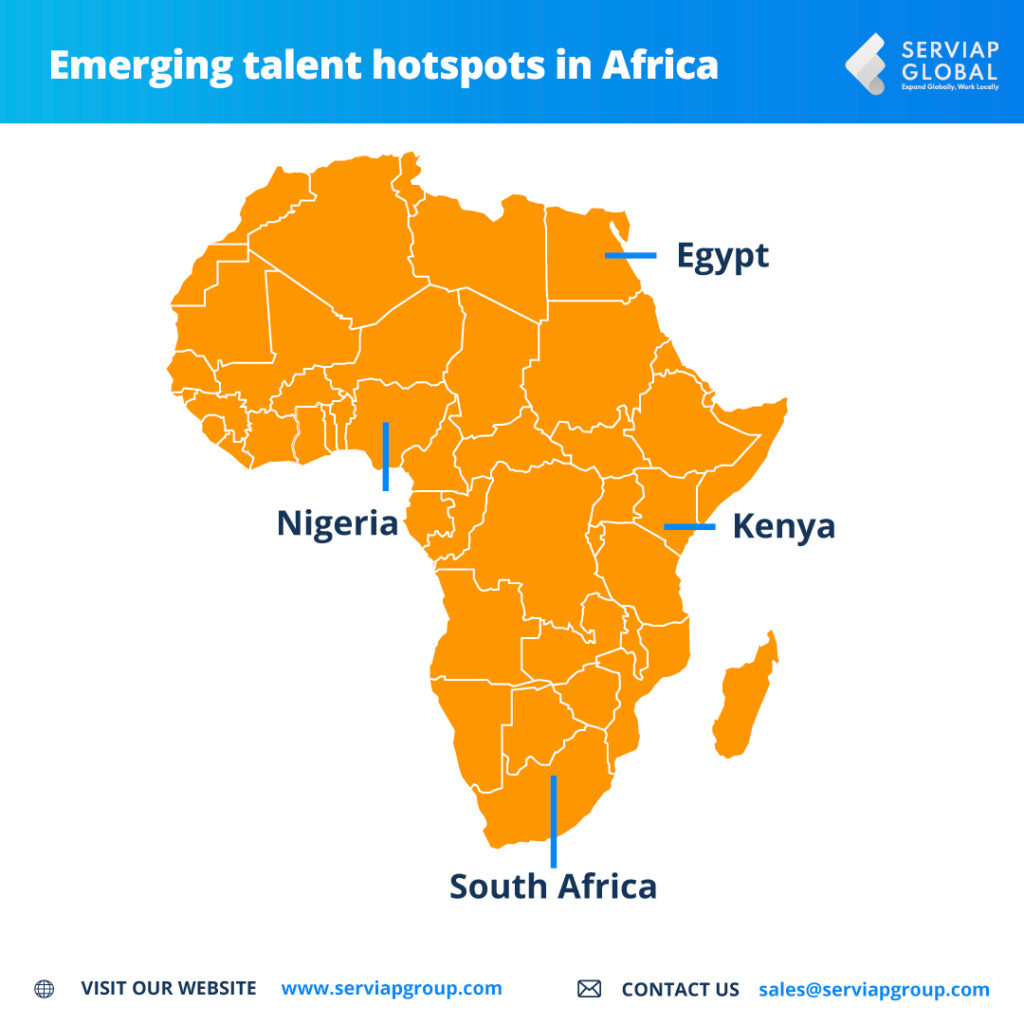 Thanks to their growth and access to professional education, other territories standing out for their growing talent pools — where headhunters in Africa should be able to find strong candidates — include Egypt, Kenya, and Nigeria, to name just a few.
Besides betting on education, improving their health systems, and moving towards a technological future, many companies opt for African talent because of high levels of European languages found in different nations, including English, French, and Portuguese.
The growing uptake of nearshore outsourcing has also contributed to increasingly putting Africa on the radar of Europe-based companies looking for talent working in similar time zones.
If you are interested in hiring in Africa, contact us to find out how we can help you.
What can headhunters in Africa do for you?
Headhunters in Africa work on behalf of companies, be they from the same country where the headhunter is based, or anyhwere else in the world. These recruitment experts are experienced at identifying and recruiting the best talent to fill specific vacancies.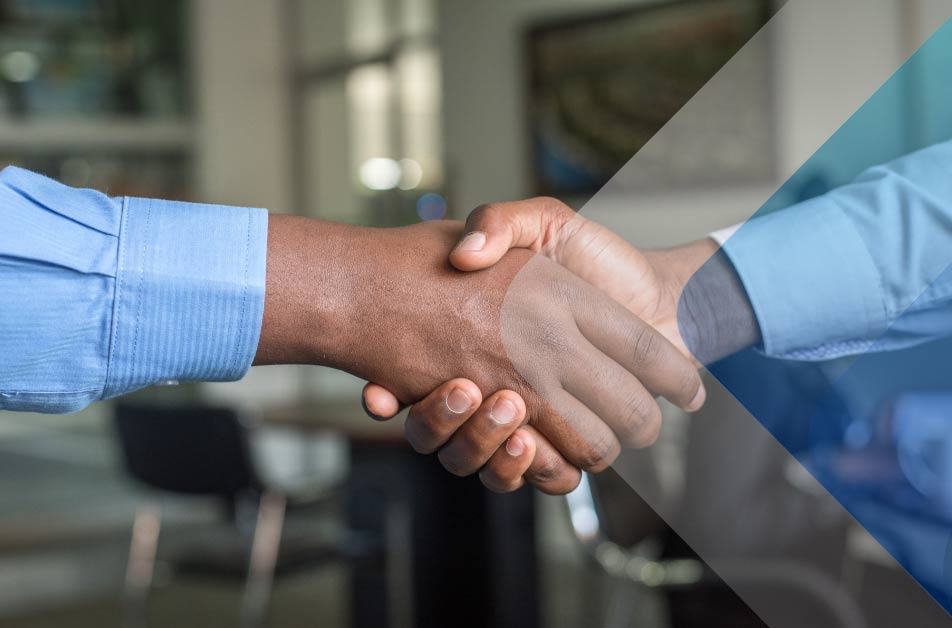 As in other regions, such as Latin America, headhunters in Africa may work on a contingency basis, meaning they will only receive a commission if they successfully place a candidate with a company. 
The compensation headhunters receive for their services is usually based on a percentage of the candidate's first year's salary, offering them strong incentive to find candidates that will excel.
Headhunters in Africa may cover a wide range of industries and countries, or may specialize in specific types of roles or locations. So choosing the right partner to work with may depend not only on your immediate hiring needs, but also on your future expansion plans.
Popular sectors that headhunters in Africa are hired to seek talent in include IT, consulting, engineering, sales, marketing, management, finance, and customer service. 
While headhunters will focus on helping companies find strong candidates for particular roles, they can also form part of the service provided by an employer of record (EOR), which will also hire international talent on behalf of clients.
Differences between headhunters in Africa and an EOR
Headhunters in Africa tend to focus on scouting, identifying, and presenting top talent to the companies that acquire their services. An EOR, on the other hand, acts as a legal employer and assumes full responsibility for recruiting international staff. 
As part of its obligations as an employer, an EOR administers payroll, taxes, benefits, and other human resources functions. At the same time, the client company handle the management and assignment of tasks to its team. 
SEE ALSO: Employer of record in the Ivory Coast: hire in this dynamic economy 
An EOR also differs from a headhunter because it has extensive knowledge of the local market, its consumption habits and facilitates the expansion of its clients, who do not have to create a legal entity to start operations.
While a headhunter specializes in finding personnel to fill a vacancy within an organization, an EOR takes care of local regulatory compliance to avoid legal misunderstandings and possible fines.
As part of a more extensive package of services, employers of record often offer headhunter recruitment in Africa, making it one of the best options for talent searching abroad.
Advantages of working with headhunters in Africa
One advantage of working with headhunters in Africa is the quick access they provide to top talent on the continent, which may not always be found through traditional recruitment channels.
Their extensive knowledge of local markets, consumer habitss, cultures, traditions, and work environments, as well as the type of benefits that need to be offered in order to be competitive in the job market, can also be invaluable. 
Because headhunters will not only seek out talent but also carry out initial interviews, working with them will also help save time and resources that would otherwise be spent on in-house recruitment, allowing hiring companies to focus on more revenue-oriented aspects of the business. 
That also means that working with a headhunter in Africa can also help reduce the risks of a bad hire, because by the time a candidate reaches the client company, they should have been properly vetted.
6 steps to find headhunters in Africa
International companies interested in working with headhunters in Africa to help them source top talent will need to follow these six steps:
1) Define your recruitment needs
Knowing what you need is vital to start your search for headhunters in Africa. Define what sector the expert should specialize in, what level of expertise the candidate you require to add to your international team must have, and if this professional will be hired on a permanent or temporal basis.
2) Search for candidates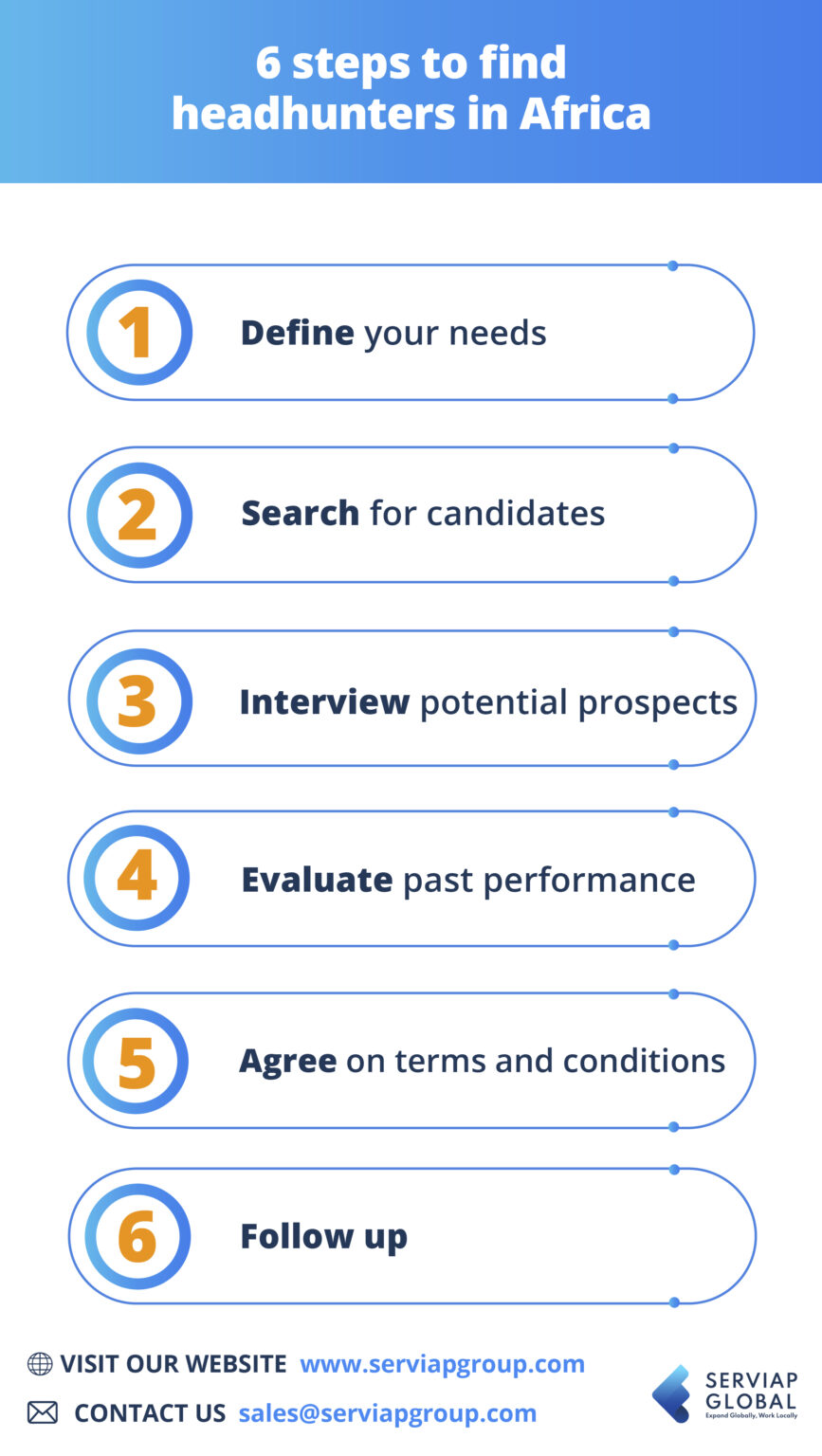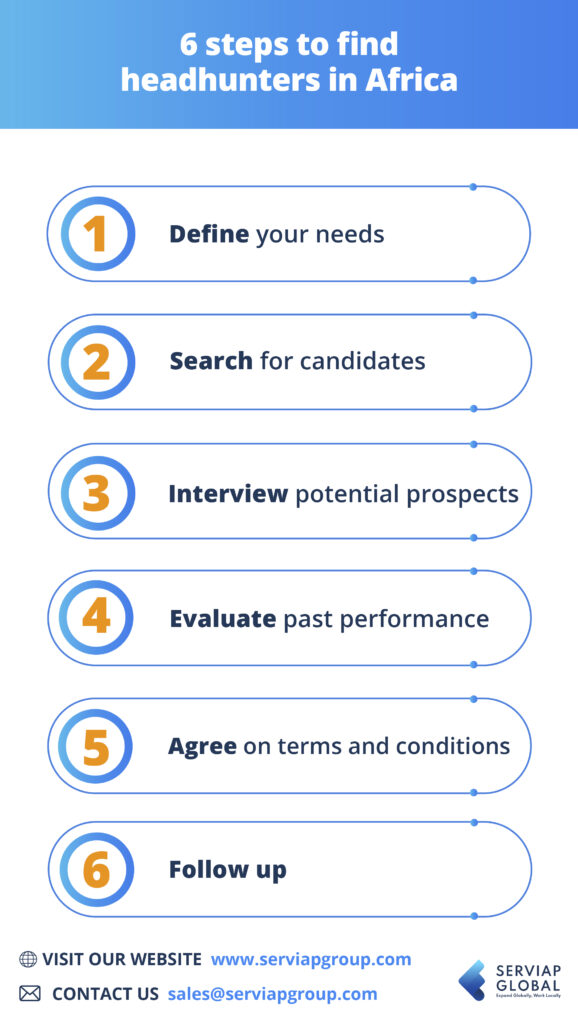 When searching for the best headhunters, use certified portals or other companies in your industry to recommend recruitment experts with experience as headhunters in Africa.
3) Interview potential prospects
After identifying headhunters whose services and track record best suit your business, contact them and set up initial interviews to learn more about their experience in the fields you are working in.
4) Evaluate past performance
Once you have a list of headhunters in Africa that match your budget and hiring needs, check their past performance in placing candidates or reach out to other companies that have relied on their services.
5) Agree on terms and conditions
Finding headhunters in Africa may take time, but once you have the perfect candidate, make sure to establish the terms, conditions, and fees in a contract. This way, you will avoid misunderstandings and future legal problems.
6) Follow up
After both parties sign the contract, the headhunter in Africa will start the search for the top professionals in the continent according to your requirements. As a client, you must follow the progress of this expert until the vacancies you have in your business are filled.
Serviap Global can help find and hire top talent in Africa
At Serviap Global, we assist companies with hiring solutions in more than 100 countries worldwide, acting as an EOR, while also offering contractor hiring and headhunting via our global talent aquisition services.
Whether you have clear idea of the market you want to hire in, or are open to hiring in a number of markets, we can support you and provide you with the guidance you need.
Contact us for more information. 
If you liked this article about headhunters in Africa, read more of our coverage.
Contact us