Expanding a business into the largest economy in Francophone West Africa is possible, especially if you use the services of an employer of record in the Ivory Coast. These companies hire personnel on behalf of their clients quickly, easily, and smoothly, as well as in compliance with the law.
When using global EOR services, firms avoid setting up a local entity, reducing the time and money that can spent on growing their international operations. Additionally, an employer of record in the Ivory Coast will handle the administration of human resources, such as payroll, benefits, insurance, and the eventual leaving of employees.
SEE ALSO: Call center outsourcing: 5 great destinations to consider
By having an established recruitment network and understanding the local labor market, the employer of record in the Ivory Coast will accelerate the acquisition of talent, which will take no more than a couple of weeks. And while this employer will legally hire the professionals, building a distributed workforce will depend directly on the client-company, which is responsible for setting tasks, responsibilities, and schedules.
Companies which procure the services of an employer of record in the Ivory Coast should be aware that an EOR services provider may also refer to themselves as a professional employer organization (PEO). However, while some providers do not distinguishe between them, others draw a clear distinction.
If you are interested in quickly and compliantly hiring via an employer of record in the Ivory Coast, contact us.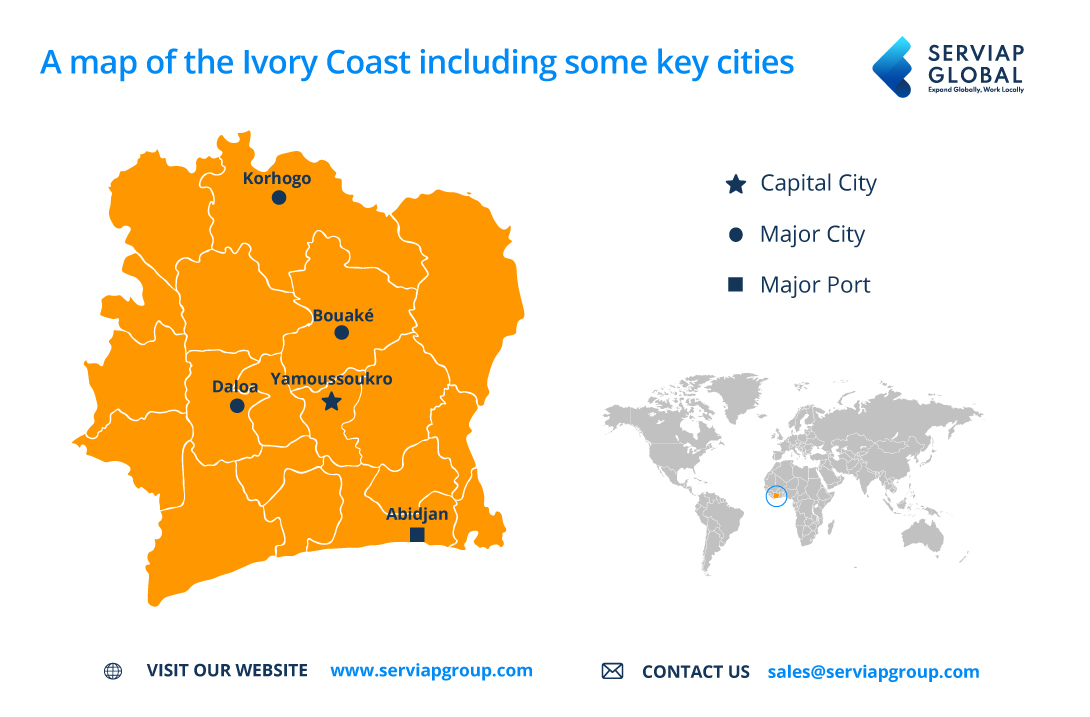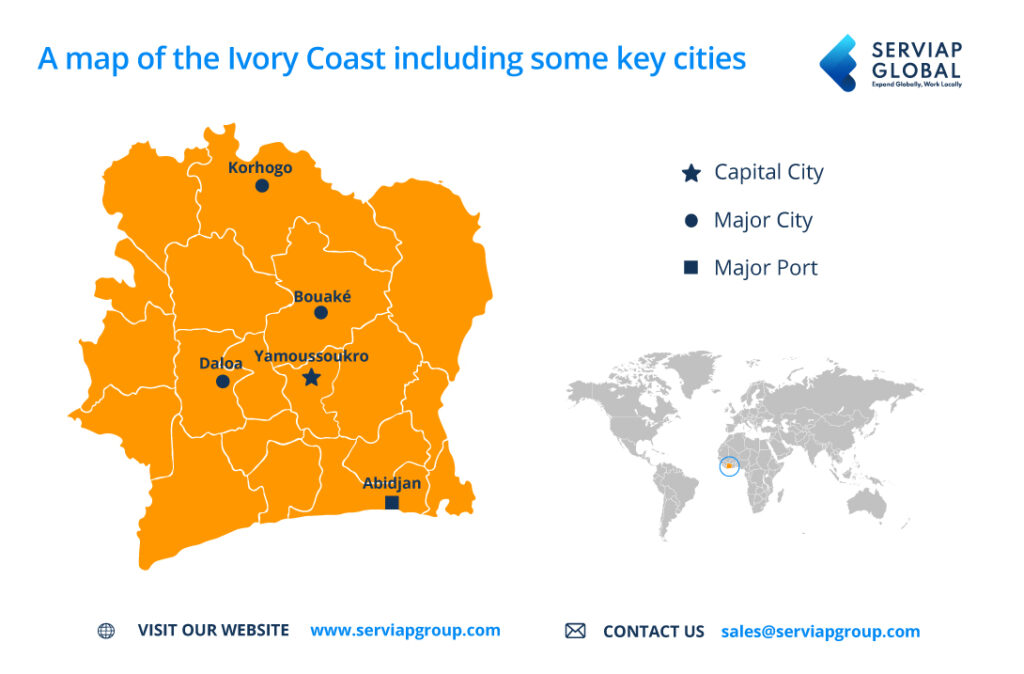 Located on the coast of West Africa, with widely ranging geographic conditions, the Ivory Coast is a resource-rich country. As a result, the economy is heavily dependent on agriculture, which employs almost 70% of Ivorians.
Like many of its neighbors, the Ivory Coast is a member of the West African Economic and Monetary Union (WAEMU), which makes it a key player in the region's economic and financial strength through cooperation.
In addition, the Ivory Coast has promoted government policies that encourage private investment, such as the promotion of local raw materials for domestic consumption and export, high-tech investment, the creation of more favorable financial conditions for small and medium-sized enterprises (SMEs), and the reinforcement of rights in terms of access to education.
Reasons to invest in the Ivory Coast
The Ivory Coast, which is also widely referred to by its French name Côte d'Ivoire, is a country on the West African coast, facing the Gulf of Guinea. The territory comprises four regions: a coastal strip, an equatorial forest, an area of cultivated forests, and the savannah.
According to 2021 data from the World Bank, the Ivory Coast has a population of 22.7 million inhabitants, of which almost half (42.5%) are under 14 years old, giving it a dynamic demographic profile with plenty of room for development.
Yamoussoukro, in the center-south of the territory, is the political capital, while Abidjan, on the edge of the Ébrié Lagoon, is the economic center of the country. Abidjan is the largest West African city after Lagos and also serves as the main port of the country, so it's the most common place to find an employer of record in the Ivory Coast.
The country was an economic powerhouse in West Africa during the 1960s and 1970s, thanks to coffee and cocoa production. There was a financial crisis in the 1980s, from which it took time to recover. Between 2012 and 2021, however, the economy grew by more than 7% annually, the fastest rate of increase on the continent and the fourth fastest in the world. Today, this nation's GDP is $70.04 billion.
The Ivory Coast owes its name to the French, who occupied the area and traded ivory until independence in 1960. In addition to the language, as part of the French legacy, its official currency is the West African franc (CFA).
SEE ALSO: Where and how to hire overseas developers 
Ivory Coast's financial policy is liberal, and investments are welcomed through tax exemptions and legal protection against nationalization. Moreover, unlike some of its regional neighbors, this West African nation is relatively stable and secure, meaning an employer of record in the Ivory Coast will be reliable. 
Agriculture is crucial in Ivory Coast, providing livelihoods for more than half of the labor force and representing about 25% of the GDP in 2015. Cocoa beans, coffee, oil palm, and rubber trees are the territory's primary production goods.
Oil and natural gas reserves are an important source of income for the country, as these resources are mainly exported to the United States and the European Union. This African nation also has significant deposits of diamonds, gold, iron, bauxite, and manganese. In terms of imports, Ivory Coast depends on China, France, and Nigeria, which supply it with machinery, transportation equipment, fuel, and foodstuffs. 
Trade locally and among its UEMOA neighbors, as well as increased tourism, has resulted in one of the densest road networks in sub-Saharan Africa, the second largest port in West Africa, and the modern Félix Houphouët-Boigny International Airport for comprehensive logistical support.
Employer of record in the Ivory Coast: acquire the best talent
Finding, hiring, and managing professionals is easier and faster through a legal employer, such as an employer of record in the Ivory Coast. The new international team members will report to the organization-client as if they were hired directly.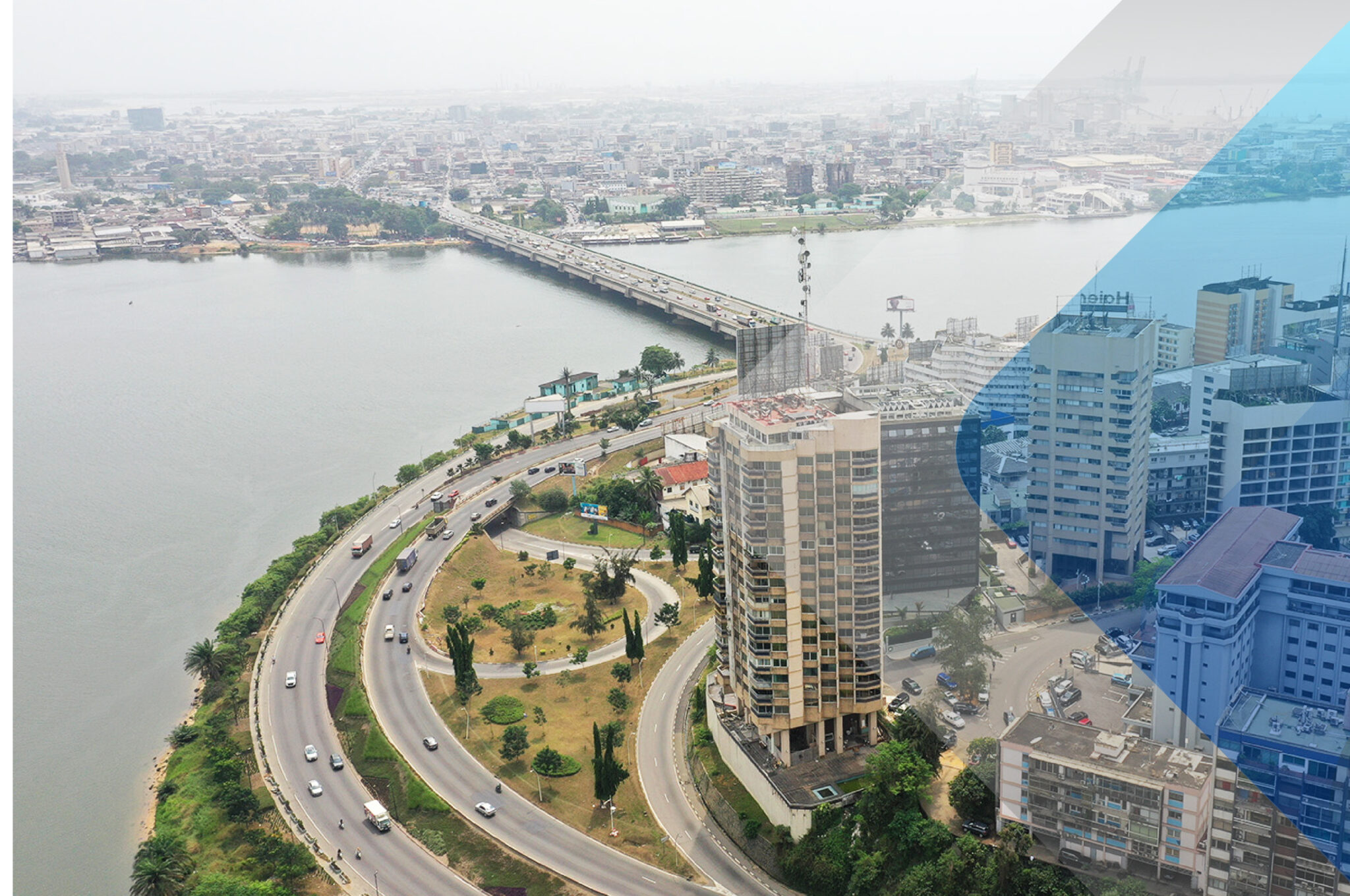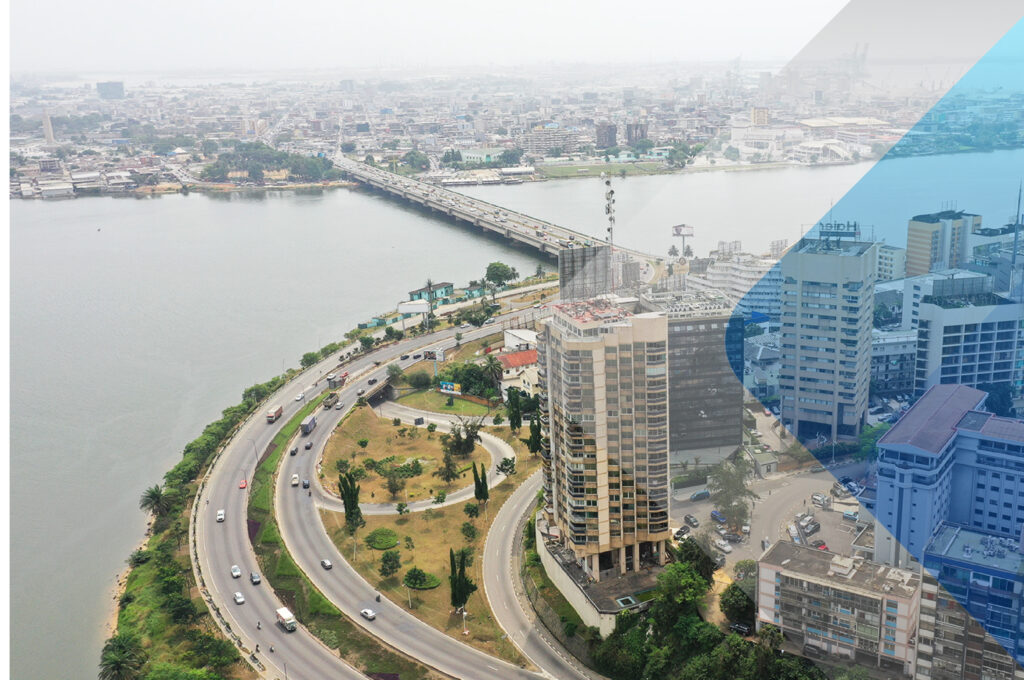 An employer of record in the Ivory Coast will also take care of human resources issues, such as managing the workforce's payroll and handling benefits, leave, health insurance, the eventual departure of employees, and any legal labor issues. 
As an international EOR service provider, an employer of record in the Ivory Coast will charge a fee, which is usually monthly and for each employee hired. This investment is often much less in terms of money, time and stress than the costs of establishing and managing an entity in a new territory.
When hiring local professionals through an employer of record in the Ivory Coast, organizations do not have to worry about compliance with unfamiliar regulations, as these third parties are experts in the field. They thus avoid falling into misunderstandings of the law and possible fines.
SEE ALSO: 7 employee retention strategies to reduce staff turnover
In addition, these legal employers usually have an established network of professionals, so searching for, identifying, and hiring the most suitable candidates to fill specific vacancies is a relatively simple process, depending on the position needed in the company. An employer of record in the Ivory Coast is also likely to understand cultural practices and speak local languages.
In case an organization plans to take its business to other markets in West Africa, working with an employer of record in the Ivory Coast is of great help, as these companies will be able to assist in its further expansion, as they usually have entities in the region.
Employment regulations that an employer of record in the Ivory Coast will handle
An employer of record in the Ivory Coast will take care of the following regulation when hiring professionals on your behalf:
Employment contracts. In the Ivory Coast, contracts are concluded for a fixed or indefinite period. In addition, they may include a probationary period, which must be established in writing and ranges from eight days to three months. When a fixed-term contract is signed, it may be for a maximum of two years but may be renewed as often as necessary.
Working hours. The work week is from Monday to Friday, and the hours worked per week are 40, in eight-hour days. Night shifts usually start at 9:00 p.m. and end at 5:00 a.m. If it is necessary to work overtime or on holidays, the maximum number of hours allowed per week is 15. Overtime pay is also established in the contract and is paid between 15% and 100% of the employee's daily salary.
Salary. In this African territory, the minimum wage varies by profession but is 60,000 CFA francs per month, about US$120. Payroll is usually weekly or monthly, and can be handled by an employer of record in the Ivory Coast.
Vacations and national holidays. According to the Ivorian Labor Law, if you have been with a company for one year, you are entitled to 26 working days of vacation. An employee with the organization for five years is entitled to 27 paid days off. With 10 or more years of seniority, annual leave is 28 working days. Note that there are 13 public holidays during the year.
Sick leave. By law, employers must grant days off to their employees based on a medical certificate. Generally, sick leave is five paid days.
Maternity and paternity leave. Women are entitled to a 14-week maternity leave with full pay. A father is entitled to ten days.
Family leave. Family leave is available in the Ivory Coast and is granted in case of marriage (4 days), relocation (1 day), first communion or baptism of a child (1 day), the wedding of a child or sibling (2 days), death of a partner or immediate family member (5 days), and the death of a parent-in-law (2 days).
Employee severance and terminations. If an employer terminates the employment contract established with its employee, it must pay severance, except in cases of misconduct or gross negligence. The indemnity will depend on the time they were working and the salary received by the employee, but employees with five years will be entitled to 30% of the monthly salary per year of service; with a seniority of between six and 10 years, 35%, and for workers with more than 10 years in an organization, it is 40% of their monthly salary per year.
Contributions. The employer must contribute between 14.45% and 18.45% of the employee's monthly salary for social security (Caisse Nationale de Prevoyance Sociale), work accident and disability, and pension/retirement.
7 steps to hiring professionals via an employer of record in the Ivory Coast
If you want to hire via an employer of record in the Ivory Coast, you will need to follow these seven steps:
1) Find a reputable EOR
To hire professionals in the Ivory Coast, you first need to find a reputable legal employer who understands your expansion needs and fits your budget. Next, check the reputation of the employer of record in the Ivory Coast and sign an agreement setting out the terms, conditions, and fees for the service they will provide. 
2) Define the employee profile
Then, with your employer of record in the Ivory Coast, define the profile of the professional(s) you need. In this process, it is vital to cooperate with the chosen EOR. They will need to gather as much information as possible regarding the vacancy you wish to fill in your organization, such as the candidate's skills, knowledge, and experience.
3)  Complete the pre-screening
Job applications and letters of motivation will not take long to arrive, but your Ivorian EOR will be ready to make a preliminary selection to find the profiles that best meet your established requirements. 
4)  Schedule the initial interviews
Once the complete profiles have been selected, your employer of record in the Ivory Coast will move on to the initial interviews, in which they will probe candidates to verify that they meet the experience and skills listed on their resume and if they meet the requirements of the position.
5)  Perform the in-depth interviews
If selected during the initial round of interviews, candidates will be called for an in-depth interview, either with you or with one of your company's internal recruiters. This step will allow you to understand better their technical knowledge and soft skills, such as leadership, teamwork, and communication.
6) Job offers and contract signing
After selecting the professional(s) who will be part of your company, the employer of record in the Ivory Coast will assume responsibility for the recruitment following local regulations. Once both parties agree on the terms of employment, such as wages, benefits, and working hours, both parties will sign the employment contract. 
7)  Onboard your new team members
While your legal employer takes care of the administrative tasks related to hiring your new collaborators in the Ivory Coast, you can start managing the relationship with your employees, reviewing their duties and responsibilities, coordinating their work team's supply, and making them feel like part of your organization, as part of the employee life cycle.
Serviap Global is an employer of record in the Ivory Coast
For over 12 years, Serviap Global has been assisting clients with international PEO / EOR services, including employer of record in the Ivory Coast. 
We also offer global talent acquisition, making it easier for other companies to directly hire the most qualified professionals without the need to establish an entity in a new territory.
We started out in Mexico before expanded throughout Latin America and then worldwide. Today we are able to assist companies with international hiring in over 100 countries. 
Contact us to find out how we can help you. 
If you want to know how to recruit international talent through an employer of record in the Ivory Coast or other countries, check out the rest of our coverage.
Contact us