If you want to enter the Irish market, which has one of the lowest corporate tax rates in the European Union (EU), an employer of record (EOR) is likely to be your best option. This third party will hire staff on your behalf quickly and easily, so you can operate as soon as you acquire the right talent, a task that your Ireland EOR will also take on.
Contracting the services of an Ireland EOR will relieve you from setting up a local entity, helping you save time and money. In addition, this legal employer will handle your employees' recruitment, payroll, benefits, and eventual termination, so forget about the administrative and compliance headaches associated with international expansion.
SEE ALSO: Call center outsourcing: 5 great destinations to consider
Your Ireland EOR has an established recruitment network and a solid understanding of the local labor market, so accessing the most competent professionals will not be time-consuming. While your EOR will legally recruit these workers, they are directly dependent on you, as you will be in charge of onboarding them, delegating tasks, and making them feel part of your international workforce. 
An Ireland EOR may also be known as a PEO, or Professional Employer Organization, thanks to its co-employment services. Some providers use EOR and PEO interchangeably, but others distinguish between an employer of record vs PEO. 
If you are interested in taking your business into this exciting European territory and taking advantage of the quality workforce it offers, contact us to find out how we can help you.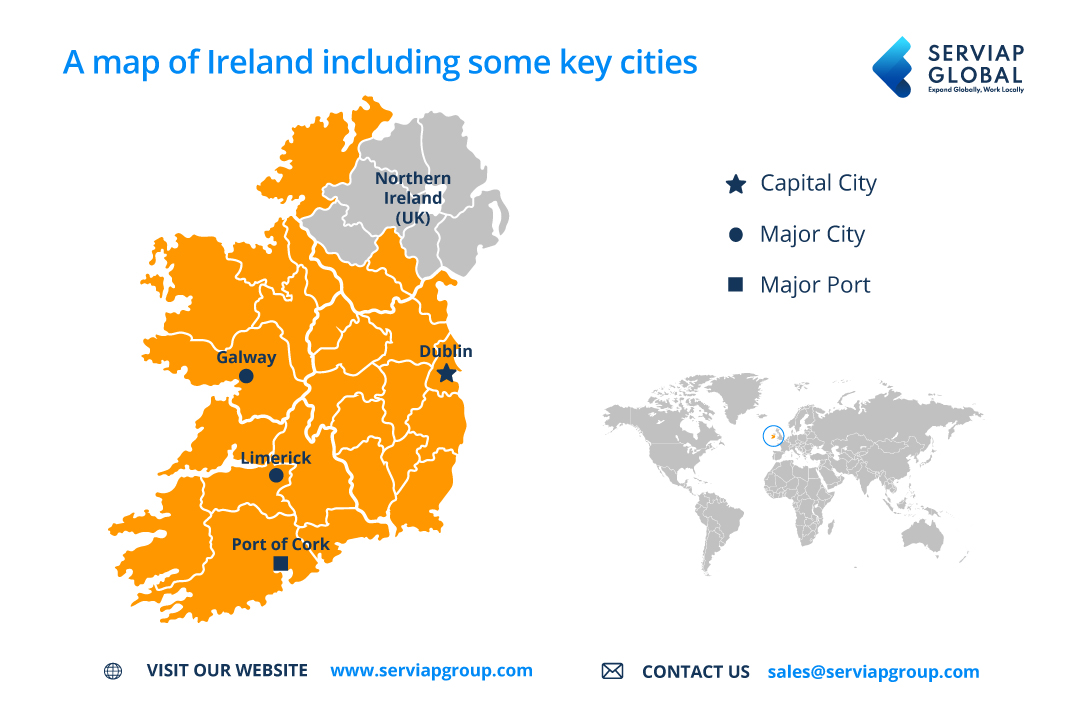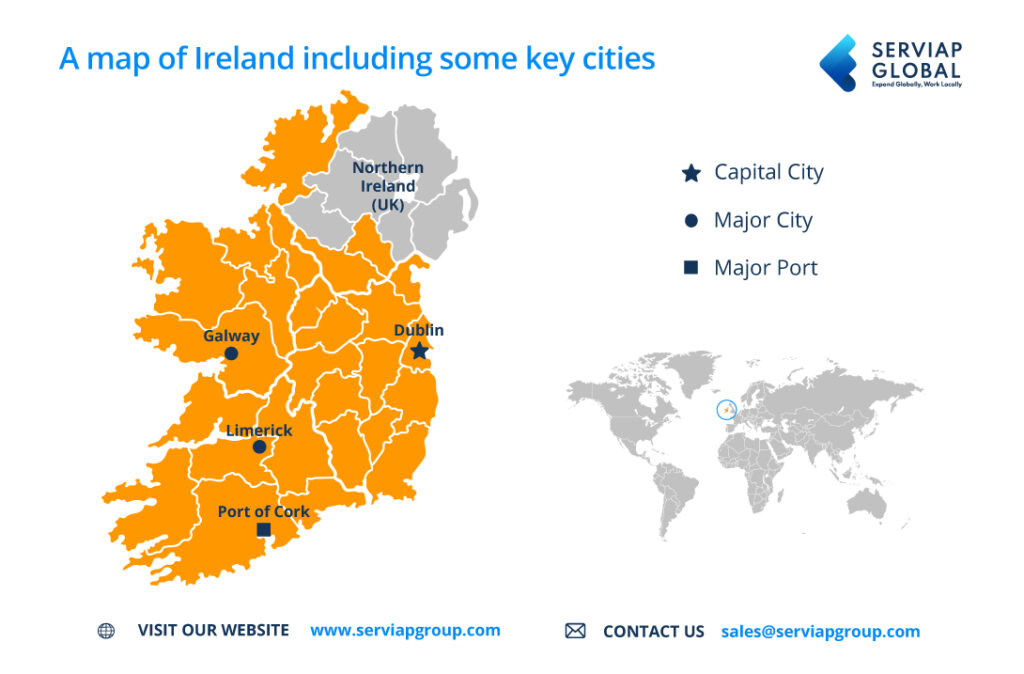 The Republic of Ireland is known for being a welcoming country for new businesses thanks to its favorable tax environment, skilled labor force, population with a high percentage of higher education, and a series of initiatives for SMEs and entrepreneurship promoted by the government. 
In 2021, Ireland was recognized for its exemplary educational model. By consistently driving business growth and innovation in all sectors, it was also ranked as the best country in Europe to start a business. In addition, it is the tenth best European nation to work in, based on the number of people employed, their monthly income, and their level of happiness in the workplace. 
As a member of the EU since 1973, Ireland offers easy access to a market of over 500 million people and boasts modern, well-developed infrastructure. With high-quality telecommunications, transportation, and energy systems, and a multicultural and vibrant modern culture, the Celtic Tiger is set to keep on roaring for decades to come.
Investing in Ireland 
Located on the edge of Europe, the Republic of Ireland is home to an estimated population of 5 million inhabitants. This territory is characterized by a rich folklore and history but has pivoted in recent times to become one of Europe's most dynamic economies. In Ireland, the official languages are Irish and English, while its official currency is the euro. Three-fifths of the population is urban, and Roman Catholicism is the predominant religion.
By 2020, according to European Union data, the most important sectors of the Irish economy were industry (38.3 %), information and communication (17.4 %), public administration, defense, education, health, and social services (10.5 %). High technology, tourism, and other service industries are also central to the Irish economy.
SEE ALSO: Hire great international independent contractors
Intra-EU trade accounts for 41% of Irish exports, mainly to Belgium and Germany, while extra-EU exports are dominated by the United States (30%). As for imports, 38% come from EU member states, such as France and Germany, with other imports often coming from the UK (27%) and the USA (13%).
Based on the most recent data from the World Bank, Ireland's GDP in 2022 was US$504.18 billion, representing an annual growth of 13.6% over 2021. Government policies, promoted through entities such as IDA Ireland and Enterprise Ireland, have favored foreign investment to the point that it represents 16.1% of GDP. 
Establishing a company in this country is relatively easy and is done through the Companies Registration Office. Besides, entry to this market allows you to be part of the EU, access trade and customs agreements between Ireland and other non-EU countries, easy distribution of goods and services, and, above all, take advantage of one of the lowest corporate tax rates in Europe, less than 12.50% after deductions.
As a capital and financial center with a population of young, English-speaking, well-educated workers, Dublin is home to many of America's technology giants, such as Google, Facebook, LinkedIn, Adobe, and Twitter. It also hosts international banks, including Citibank and Bank of America Merrill Lynch, and health insurers like AXA Insurance.
Cork, Ireland's second-largest city, is distinguished by its major shopping centers that blend modernity and art, but above all by its pharmaceutical industry. Pfizer, Novartis, and Eli Lilly are among the most important laboratories. Plus, the metropolitan area is home to more than a quarter of the country's total population.
Why hire professionals via an Ireland EOR
Taking your business to any international level represents several challenges and bureaucratic procedures. However, if you want to minimize the risks and hire the best local talent fast, uncomplicated, and compliant with municipal and federal regulations, do it through an Ireland EOR. 
One of the advantages of acquiring the services of an Ireland EOR is that they have locally registered entities, so you won't need to set up your own. This process can take not only a lot of time but money – resources you can use in other aspects of your international expansion. 
By acting as your legal employer, this third party will help you find and hire the best-qualified employees through their recruitment networks. It will also assume all the legal responsibilities of acquiring talent in another country, such as payroll, tax withholding, benefits, and the eventual turnover of employees.
SEE ALSO: 7 employee retention strategies to reduce staff turnover
For many companies, foreign laws are a barrier to their international growth, as a misunderstanding could lead to non-compliance and fines. For this reason, partnering with a local regulatory expert, such as an Ireland EOR, eliminates the risk of unexpected legal difficulties or potential financial penalties. 
Working with an Ireland EOR is a constant win-win. While this service provider manages your human resources in the country, you have control over your employees: you are responsible for their onboarding, setting their activities and workloads, and other responsibilities they acquire as part of your distributed workforce. 
It will depend on the agreement you have established with your Ireland EOR, but this employer will charge a monthly fee for each employee hired. In addition, they will provide you with the reports you request, and you will have access to all the accounting of the charges made to you.
Employment regulations your Ireland EOR will handle
According to the Department of Enterprise, Trade and Employment, these are the labor standards that your Ireland EOR will be responsible for:
Employment contracts: in Ireland, EOR contracts are like all others – generally open-ended, written in English and/or Irish and must include all the details of the employment relationship to be established, such as the position, the compensation, the employee's responsibilities, their rights and the salary, which is set in euros. It is also common practice for the parties to enter into collective bargaining agreements, especially in companies with union presence.
Salary: although the cost of living in cities such as Dublin can be high, salaries in Ireland are above the European average. The minimum wage varies by age, profession, and the sector to which the worker belongs, but in 2023 it is €1,909 per month, about 2,000 US dollars.
Working hours: according to the Organization of Working Time Act, the working week in Ireland is 40 hours spread over five days, subject to certain exceptions, such as not exceeding 48 hours per week. However, the average working time may be less and differs in specific sectors. 
Vacation and national holidays: the same law indicates that employees are entitled to four work weeks of annual vacation (20 days). Also, any employee who has worked for at least eight months is entitled to an uninterrupted leave of two weeks. Public holidays in this country are Christmas, St. Stephen's Day, St. Patrick's Day, Easter Monday, the first Monday in May, the first Monday in June, the first Monday in August, the last Monday in October, and New Year's Day.
Sick leave: no legislation regulates absence through illness, and employers have no legal obligation to pay employees while they are absent due to sickness. However, each company establishes clauses regarding sick leave in its labor contracts.
Maternity and paternity leave: mothers are entitled to 14 weeks of maternity leave, of which at least two weeks must be taken before delivery. This period can be extended to 26 weeks. Fathers are also entitled to 14 weeks of parental leave for each child born or adopted.
Employee severance and terminations: in Ireland, EOR employees must be given a minimum of one week's notice, as with all other workers. When an employee is dismissed, they are generally entitled to a severance payment of one week's pay plus two weeks for each year of service.
Health insurance: as a member of the European Union, Ireland offers public health care to all its citizens. Still, some employers provide private insurance to their workers as part of the benefits of working within their organization.
Tax laws: contributions to the country's social security scheme (PRSI) are 4% of employees' wages and 8.5% to 10.75% for employers. Additionally, corporate income tax is usually 12.5% but can vary between different types of companies and their earnings.
Equality: the Equal Employment Act promotes equal pay for men and women and prohibits discrimination based on gender, marital status, family status, sexual orientation, religious belief, age, race, and disability.
How to hire professionals via an Ireland EOR in 7 steps
To hire professionals via an Ireland EOR, follow these steps:
1) Find the Ireland EOR that best suit your employment needs
Before starting your talent search in any territory, you must hire a reputable legal employer that fits your expansion needs and budget. You must research and check this third party's reputation, experience, and track record. 
Once you have found the perfect EOR, sign an agreement that establishes the terms and conditions of the services they will provide you with, such as the number of employees they will hire, the monthly or payroll fee you will have to pay, the functions you need to cover and the duration of the contracts.
2) Define your employee's profile
Thanks to its high percentage of an educated population and skilled workforce, Ireland offers expanding companies diverse professionals in various sectors. To access the best talent, first, define the employee profile you want to hire in this territory. 
Depending on your business objectives in Ireland, EOR service providers can help you with the job description and all the characteristics the ideal candidate should have. These legal employers have established recruitment networks, where they will post the vacancy until they find the most competent profiles.
3) Preliminary screening
When a vacancy is well written, specifying the knowledge, experience, and power skills that this professional must have, in addition to establishing the salary range and benefits that will be offered as an employee of your company, job applications will arrive quickly. 
By that time, your legal employer will be ready to evaluate and discard the applications that do not meet the established requirements and will select the complete ones according to your agreement. Once the most robust profiles have been identified, your Ireland EOR will schedule the initial interviews.
4) Schedule the initial interviews
The first round of interviews will begin once your Ireland EOR has shared with you their shortlist of the strongest profiles and you have made some comments on the most attractive candidates to fill the position you have within your organization. 
These interviews are usually short and are conducted over the phone and in one or more languages to test the candidate's level of proficiency in a specific language. Ireland EOR companies may conduct interviews in Irish or English, the two official languages.
5) Let the in-depth interviews begin
To better evaluate the finalists, your trusted employer will give way to in-depth interviews, an indispensable tool in the selection process. This can be done via video-conferencing tools, which will also tell you how comfortable the candidates are with technology.
As a future employer, you can conduct these remote meetings to find out if the candidates shortlisted by your Ireland EOR meet the established requirements. Remember that your legal employer will help you throughout the selection process, but you decide who you add to your international talent team.
6) Job offers and contract signing
After selecting the professional whose profile best suits your expansion needs in the Emerald Isle, your Ireland EOR will assume full responsibility for hiring following local labor regulations.
The contract will establish the conditions of employment, such as salaries, benefits, and working hours. Once both parties are in agreement, the contract must be signed. To end the recruitment process for professionals in Ireland EOR processes finish by informing unsuccessful candidates.
7) Onboard and manage your new team members
If you want to onboard your employees as quickly as possible and start working with them, your Ireland EOR will take care of the administrative tasks related to recruitment, such as payroll management. 
You, as the employer, will have to manage the relationship with your employees, review their duties and responsibilities, and coordinate the supply of any equipment they need to perform their duties.
Serviap Global provides Ireland EOR services
At Serviap Global, we assist clients with international PEO / EOR services in over 100 territories, such as our Ireland EOR. We also offer global talent acquisition, making it easier for other companies to recruit directly without establishing an entity in the target market. 
We are a family-owned company with roots in Mexico, where we started operations more than 12 years ago and later expanded to Latin America and the rest of the world. Our regional experience, the excellence in our service, and the personalized treatment we give our clients have made us one of the references in the EOR market.
Contact us to learn how we can help you with recruitment and talent acquisition in Ireland.
If this article about Ireland EOR services interests you, read more of our coverage. Or read more about us as a company.
Contact us