Hiring staff through an employer of record in Malaysia is a great option for anyone who wants to keep their market entry agile, or would prefer to avoid dealing with local regulations.
Because an employer of record – or EOR – hires staff on your behalf, employing them through their own local entity, while taking care of their payroll and other administrative and compliance issues.
Those workers, meanwhile, report directly to you. So you enjoy all the benefits of having a local team in place, without needing to worry about setting up your own entity or get to grips with unfamiliar legislation.
SEE ALSO: EOR in the Philippines – hire via an employer of record
That means, when you hire via an EOR in Malaysia, your entry into the market is completed as soon as you find the people you need to fill the roles you have available.
That is something an employer of record in Malaysia will also be able to help with, because as part of their services package, they will offer recruitment services to help you find the best local talent.
Note that an EOR in Malaysia may also be known to as a professional employer organization (PEO), while their services may be referred to as employee leasing.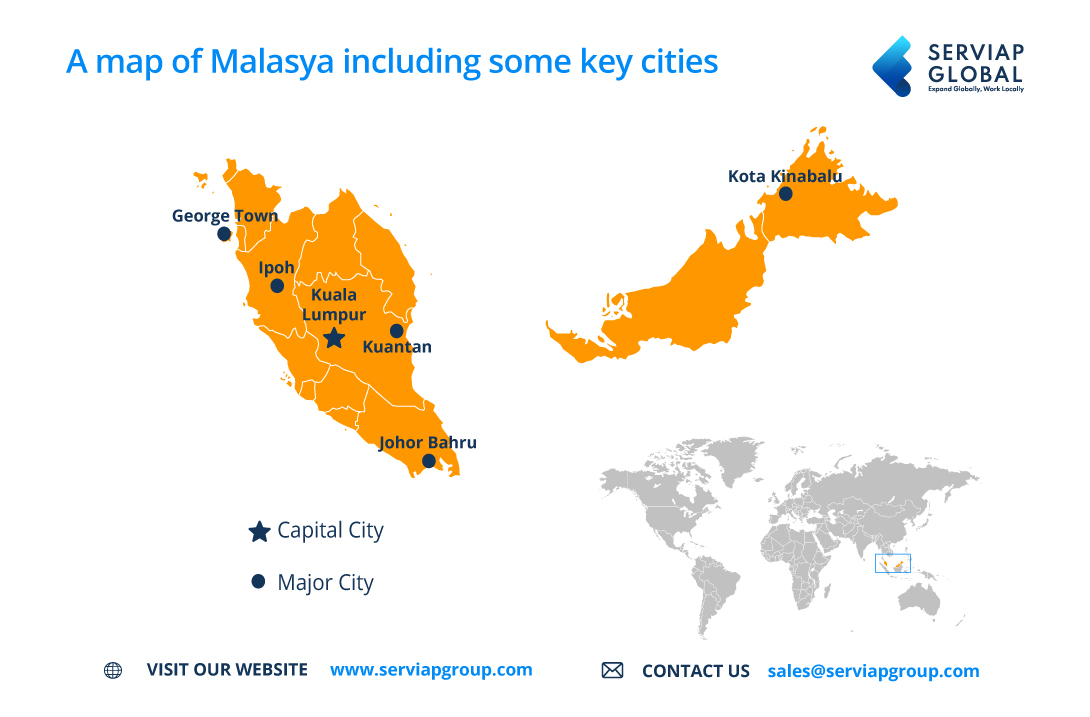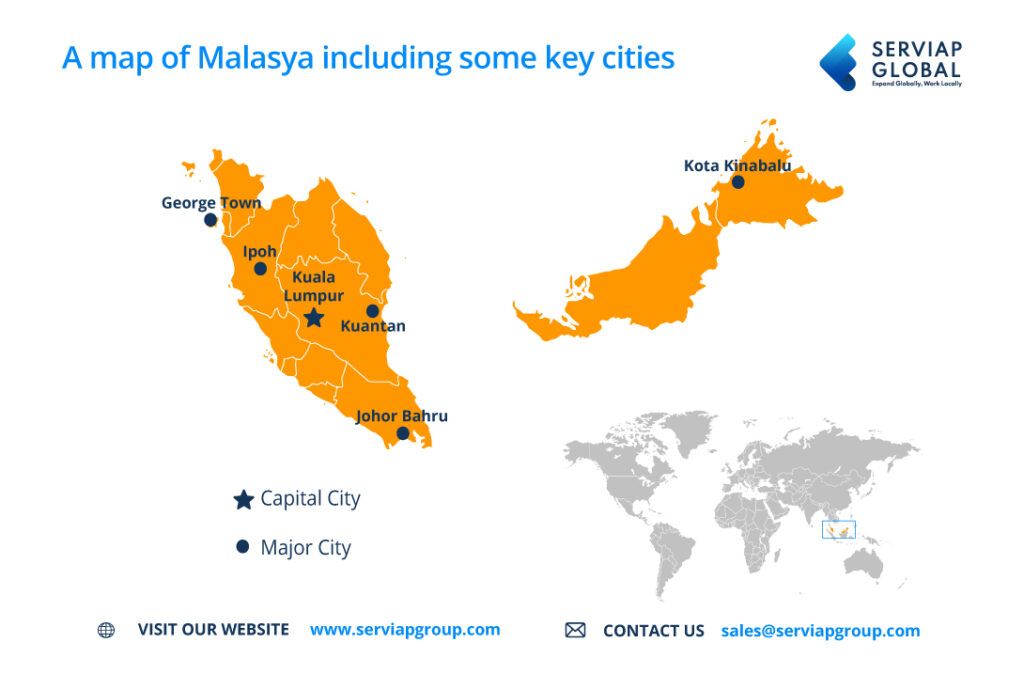 Malaysia's economy has grown significantly since the turn of the century, with GDP increasing from $72.17 billion in 1998 to $372.7 billion in 2021, according to World Bank data (all figures in USD unless otherwise stated).
The country has seen a corresponding rise in prosperity in that period, based on gross national income (GNI), which rose from $3,640 per capita in 1998 to $10,930 in 2021.
That places Malaysia as the higher end of upper-middle income nations, according to World Bank classifications, and makes it one of the most prosperous nations in Southeast Asia.
While the country experienced a significant drop in foreign direct investment (FDI) in 2020, during the worst of the COVID-19 pandemic, it subsequently saw FDI bounce back, with 2021 seeing the highest levels of foreign investment in the country for a decade.
That was driven by a massive increase in FDI into manufacturing, while foreign investment in services bounced back to pre-pandemic levels.
Manufacturing accounts for close to 40% of GDP, with the country home to huge integrated circuit and semiconductor production industries. Agriculture, meanwhile, generates almost 10% of GDP, with palm oil and rubber both key exports.
More than 50% of GDP is generated by the services sector, with the country producing large numbers of skilled workers from a variety of disciplines.
According to a report from the country's ministry of education, almost 50% of new graduates in 2020 earned degrees in STEM subjects.
Malaysia is a particularly attractive destination for seeking out skilled workers and other highly educated professionals, because it has one of the highest levels of English proficiency in Asia, only exceeded by Singapore and the Philippines.
If you are looking to hire people via an employer of record in Malaysia, Serviap Global can help you. Contact us today for more information.
What is an employer of record in Malaysia?
An employer of record in Malaysia will hire staff on your behalf, taking care of every aspect of the recruitment process and the administration of those staff.
That includes compliance with all relevant local laws, managing payroll, overseeing timekeeping, and dealing with a range of complicated administrative issues.
An EOR in Malaysia will also have an established recruitment network and keen understanding of the local job market, including awareness of the best educational institutions and local employers to keep an eye out for on candidate profiles.
Generally, when you hire staff through an employer of record in Malaysia, you are charged a fee per employee, which is added to the monthly payroll billing.
Those fees will usually work out to be less costly than going through the process of forming a local company and establishing a team, including support staff.
Even when the cost ends up being comparable, hiring through an employer of record in Malaysia is still a much more convenient process, as well as being faster – in terms of the speed with which you can both enter and leave the market.
On the other hand, hiring through an EOR in Malaysia can also be a great precursor to making a deeper commitment to the market by setting up an entity and hiring staff directly.
Not only does it offer the advantage of the provider offering you guidance and insight into the market, but once you do set up more permanently, that same provider may be able to support you with recruitment, as well as with expansion into other markets.
Regulations an EOR in Malaysia will oversee
Your employer of record in Malaysia will take responsibility for guaranteeing that all of the following employment regulations are properly applied:
Maximum hours: The Employment (Amendment) Act – 2022 established a maximum 45 hours working week in Malaysia, with a full day of made up of eight hours, and nobody being allowed to work more than four hours of overtime on a single day.
Minimum wage: As of May 2022, the minimum wage in Malaysia was set at 1,500 Malaysian Ringgit (approximately $319) per month.
Paid leave: In Malaysia employees are entitled to eight days of paid time off per year once they have served for a full year with the same company. After two years of service, that allowance rises to 12 days of paid vacation per year, and after five years of service it rises to 16 days.
Sick leave: In Malaysia, paid sick leave is similarly based on length of service, with employees eligible for 18 days of sick leave per year once they have worked for two years, and 22 days per year once they have served more than five years. In the event of hospitalization, employees are entitled to up to 60 days of paid sick leave. Note that paid sick leave always need to be ordered by a registered doctor.
Parenthood leave: New legislation passed in 2022 means that from 2023 maternity leave will stand at 98 days (up from 60 days), while paternity leave will be introduced into law for the first time, with new fathers granted seven consecutive days (which will usually equate to five working days) of paid leave.
Serviap Global can be your employer of record in Malaysia
At Serviap Global, we assist clients with recruitment and EOR services in dozens of countries across six continents. If you are in need of an employer of record in Malaysia, we can help you.
We have offices in key markets and trusted partners in many more, where we offer both international PEO / EOR services and global talent acquisition services. Wherever you are seeking to hire, we are ready to help.
Contact us today to find out more about how we can assist you.
If you were interested in this article about hiring staff through an employer of record in Malaysia, read more of our content here.
Or read more about us as a company, as well as about our leadership team.
Contact us