With the rise of remote working seen in recent years, effective distributed workforce management has become an essential concern for many organizations operating internationally.
Distributed workforce management is the process of overseeing and coordinating a team that is geographically dispersed. Compared to traditional, office-based management, it requires new strategies, policies, and technologies to facilitate collaboration, communication, and productivity among remote team members.
Additionally, distributed workforce management involves creating a supportive and inclusive work culture. This includes fostering trust and autonomy among colleagues and promoting a healthy workplace, which can seem at first harder to do in the digital world than traditional office environments.
SEE ALSO: Call center outsourcing: 5 great destinations to consider
However, if you can make it work, the trend of remote working highlights an interesting shift for companies hiring new talent. According to consultancy firm Gartner, employees are mostly in favor of virtualization. In addition, new research shows that flexibility is key to increasing productivity.
If you are interested in hiring internationally without needing to set up a foreign entity, contact us to find out how we can assist you.
Challenges and opportunities of managing a distributed workforce
Companies are now able to hire top talent from different locations around the world and expand globally. This practice allows employers to reduce office space, eliminate commuting time and increase employee retention rates. It also means you have to consider distributed workforce management.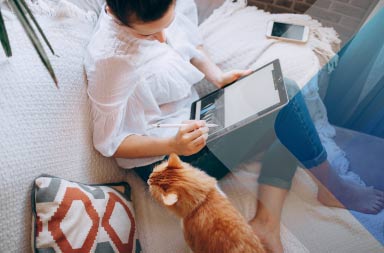 The team can be made entirely of remote workers, or, occasionally, have people working from different international headquarters. This can mean that employees are spread out over many countries and increases the diversity of culture, background, and knowledge among collaborators.
Frequently, members of the same team will work in an assortment of different time zones, speak various languages and abide by varied local labor regulations. Along with issues such as cybersecurity threats and maintaining employee engagement, these can be hard for distributed workforce management.
SEE ALSO: International independent contractor misclassification: know your risk
However, these challenges can easily be turned into opportunities. For example, having people from different locations and time zones can help your company attain wider coverage and provide service for longer periods of the day.
An effective distributed workforce management should be able to develop clear communication and foster collaboration between remote colleagues. It is important to focus on empowerment and autonomy, as well as keeping habits of performance measurement and accountability.
8 tips for efficient distributed workforce management 
By implementing the following eight tips, your distributed workforce management should be more effective:
1) Hire top talent from the start
One of the biggest advantages of distributed workforce management is the ability to select the most diverse and innovative staff, as you're not limited to your local area.
So, from the beginning, take the time to find the team that best corresponds to your skill needs. Thankfully, the process of hiring international employees can be simplified through the services of an EOR.
2) Get the right tech
Productive distributed workforce management is only possible with investment in remote-friendly culture practices. It is crucial to adopt work software that will make communication and delivery easier. There are many to choose from, so shop around before making this decision.
You should also assure that all collaborators have the proper equipment to work remotely without complications, supplying it yourself if necessary. This applies as much to hardware as to software, and may even extend to furniture like chairs and desks.
3) Adapt to time zone differences
Your company must adapt its schedule to different time zones. Asynchronous working is an increasingly popular model for businesses looking for international expansion and innovation, even if it tends to reduce real-time communications and short-term goals.
The key is to maintain an organized distribution of tasks among collaborators, taking advantage of time zone differences. By minimizing the problems and playing to the strengths, this can become a cornerstone of your customer service as you offer longer support hours to customers.
4) Set clear expectations with the team
Use distributed workforce management to keep the team focused on established objectives by setting goals that take into consideration the company's ambition, as well as the personal conditions of each worker.
Set clear directions on communication methods, work hours, project processes, due dates, and the tools to use. These intentions can be both individual and team-based, maintaining a fair environment. The key thing is to make sure that everyone stays focused on productivity, even if they're in physically remote places.
5) Establish clear communication 
In a physical office environment you may well say that your door is always open, and that's no different virtually. Rather than face to face, it could be done via messaging software, often less formal and more friendly than email. Be available for video calls if employees want to speak that way.
Provide regular feedback to team members, so people know you're there for support if they have problems. On networking platforms and during networking events, publicly acknowledge efforts and promote work-life balance. You might lead by example, sending messages when you take breaks to encourage others to do the same.
6) Schedule regular meetings
You need to guarantee efficient communication between colleagues when working with employees remotely so that no information gets lost. In such cases, scheduling regular meetings may be more necessary than for single-space workforces, as there will be less informal communication.
On the other hand, don't forget to make sure that all meetings are essential, so you avoid wasting time and risking burnout. A lot of people enjoy and value the freedom and flexibility of remote working, and fixed-time meetings interrupt that.
7) Invest in team-building activities
Employees can feel the effects of isolation and loneliness when they work remotely. So, it's a good idea to increase overall satisfaction by proposing fun activities. Making them interdepartmental will help to build the valuable links between areas that organically develop in traditional workplaces.
SEE ALSO: 5 great remote team building activities to boost morale
Beyond regular meetings, effective distributed workforce management knows how to promote fun activities to keep relations closer and not so formal. This is partly replacing the informal chats such as watercooler conversations that take place in physical office spaces.
8) Plan for scalability
Finally, efficient distributed workforce management will hopefully lead to a thriving and successful workplace. So, make sure to plan for scalability. As your global team evolves, develop strategies that accommodate future expansion.
Remember to share progress with all collaborators, as remote workers may find it harder to see company growth. Finally, make sure that you have a clear system set up to receive new employees and integrate them rapidly through activities like the team building suggested above.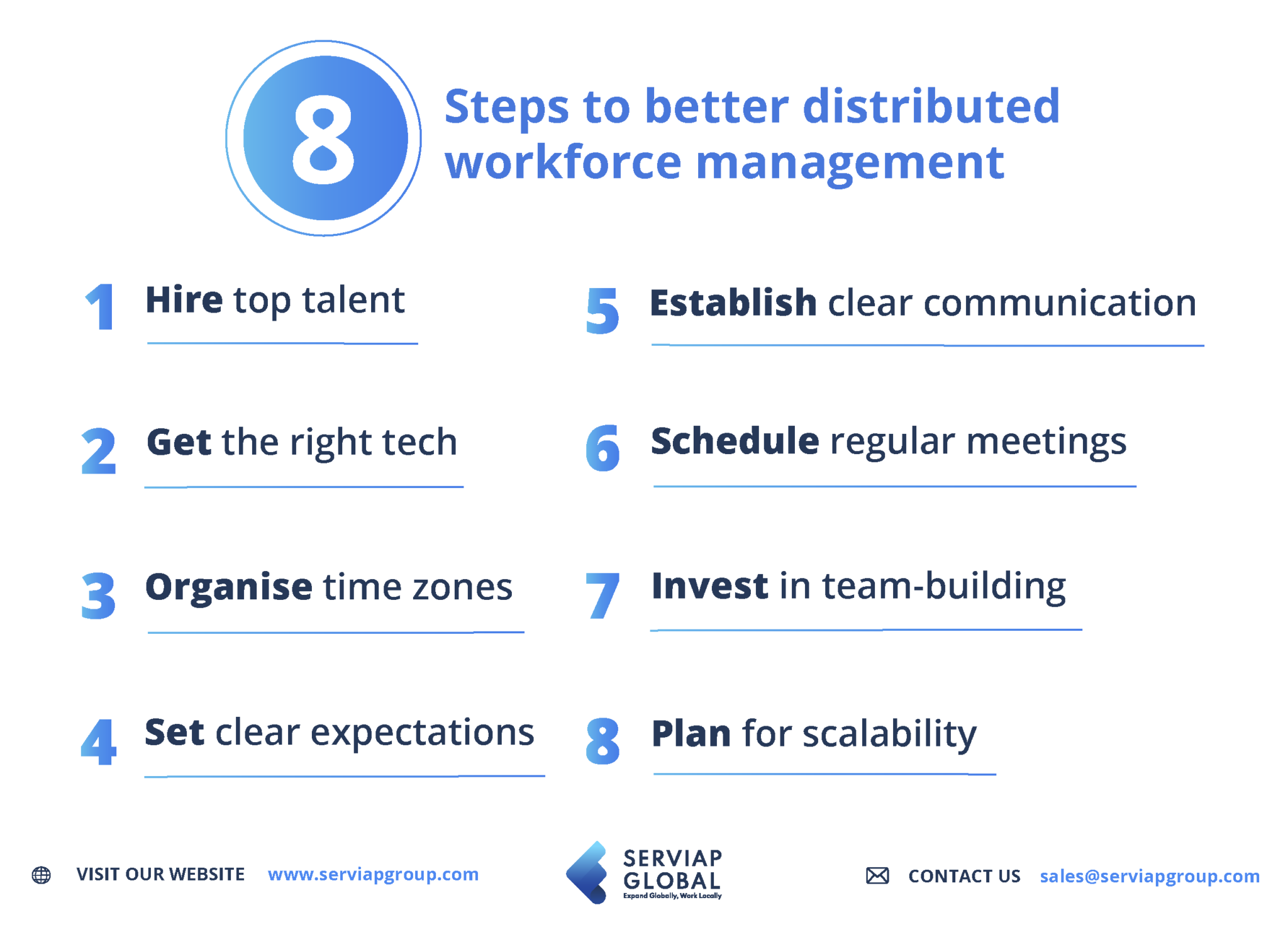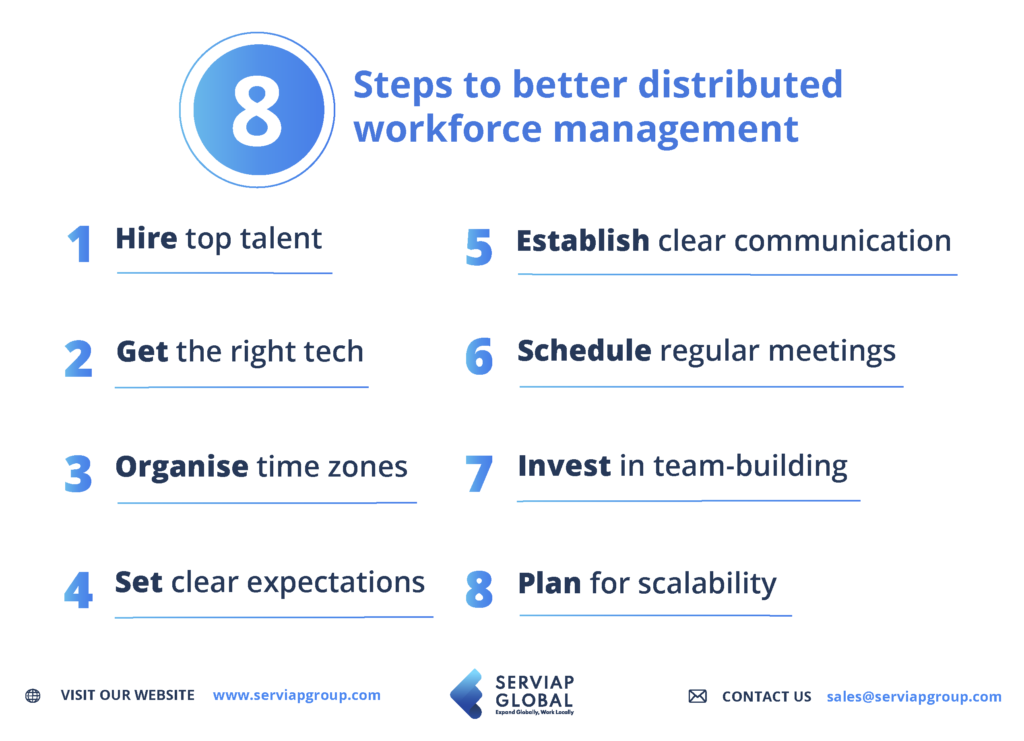 How an EOR can help with distributed workforce management
One great option for facilitating distributed workforce management is using an EOR. A good employer of record will collaborate with you using its local expertise to hire, manage, pay, or even offboard team members on your behalf.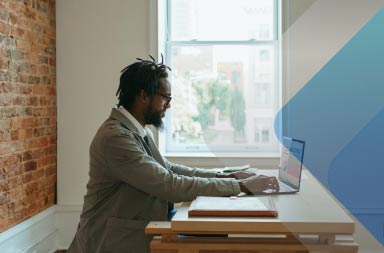 Once you select your EOR provider, you will have a better recruitment network to acquire top talent in the region and understand local legislation. An employer of record can help you with a preliminary screening of candidates and feedback, collaborating to create the best team.
Through an EOR, you can establish an overseas presence without needing to set up a local legal entity in the jurisdiction where those employees are based. This makes it easier for you to hire people in different markets while being able to focus on developing the most effective distributed workforce management.
Serviap Global can help you with distributed workforce management
At Serviap Global we have been offering global hiring solutions and supporting companies with their distributed workforce management for over a decade.
Our services include international PEO / EOR services, international independent contractor hiring, and global talent acquisition to help source direct hires.
Contact us to discover how we can assist you in recruiting international employees and maintaining a practical distributed workforce management.
Or you can read more about us and our leadership team.
Contact us