Hiring employees is an often complex process through which HR professionals identify top candidates to fill a vacancy according to an organization's budget and needs. To simplify and automate the search for personnel, AI recruiting tools offer solutions that streamline the hiring and onboarding processes.
Artificial intelligence in hiring refers to a set of technologies that enable computers to perform various advanced functions based on machine and deep learning to analyze data, make predictions and recommendations, categorize objects, and assist in decision-making, among other things. 
SEE ALSO: Call center outsourcing: 5 great destinations to consider
AI recruiting tools can be used on almost every step of the process of sourcing and hiring professionals, from creating and posting a vacancy to automatically selecting candidates, conducting sifts of profiles, and managing communication with them.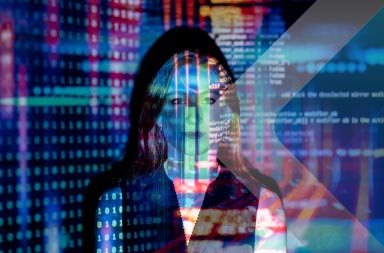 Depending on an organization's needs, these software solutions can apply filters to help find the best prospects based on their knowledge, skills, and experience. That in turn can leave HR professionals to focus on other aspects of their jobs, or complement their own manual searches.
When AI recruiting tools are implemented to fill vacancies, recruitment decisions can be more reliably based on the candidate's merits, skills, and capabilities, with computers avoiding any common unconscious human biases related to the likes of gender, age, or ethnicity.
If you are interested in hiring international employees quickly, compliantlky, and without the need to set up a foreign entity, contact us to find out more about how we can help you.
How AI recruiting tools can help HR departments
The implementation of AI recruiting tools in the HR department already has many benefits and many more are likely to be discovered. Understanding how this new technology works can deliver instant results for forward-thinking companies.
While these AI recruiting tools are relatively new, the massive strides being made in a short space of time mean that they will undoubtedly become ever more important in coming years. As with many recent technological developments, learning and adapting will be key to future success.
Faster recruitment process
Sometimes, organizations have unexpected employee departures, so the HR department needs to fill these vacancies quickly. The recruitment process can be more streamlined using AI recruiting tools, as these software solutions automate search, screening, and interview scheduling. By saving time, recruiters can focus on other tasks, like onboarding future employees.
Improves data analysis
AI recruitment tools not only automate processes but also provide valuable data to recruiters, who, in the future, can use it to reduce resources and risks related to hiring. Some metrics obtained are candidate engagement, time and cost of hire, as well as employee skills, experience, and preferences. Analyzing this information will help recruiters identify patterns, trends and improve their processes.
Upgrade candidate experience
Candidate experience during the hiring process is vital, so it pays to choose AI recruiting tools that, as much as possible, treat stakeholders as humans, not just another piece of data. From information on the steps of the selection process to real-time communication, these tools should offer personalized attention and make prospective employees feel valued by an organization. 
Reduces bias in the hiring process
Today, organizations are working to have more diverse and inclusive teams with gender equity and free of discrimination. Therefore, to avoid gender, age, origin, or preference biases, HR departments use AI recruitment tools, as these software solutions can identify the best candidates to fill a vacancy even without knowing their name and only based on information such as their experience and skills.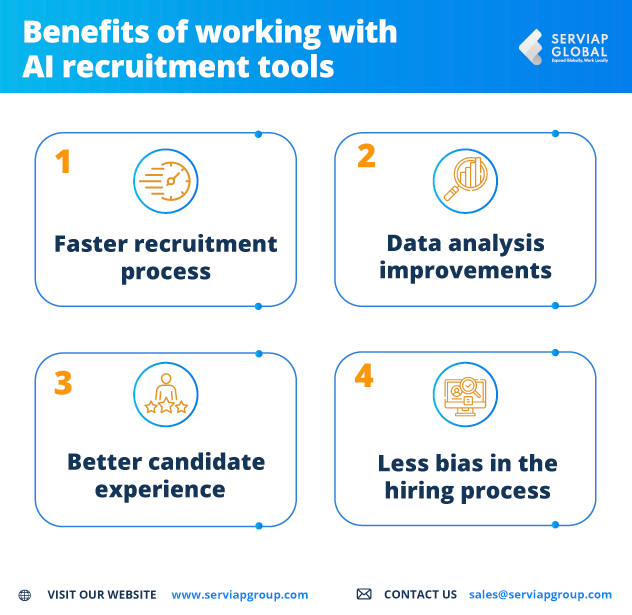 How to choose the best AI recruiting tools for you
Thanks to its high demand in recent years, more and more developers are offering AI recruiting tools, but before choosing one, take into account the following considerations: 
Integration. The best AI recruiting tools not only facilitate the onboarding process but also integrate themselves with other systems used within the HR department, such as databases and more. 
Accuracy. AI recruiting tools must have high accuracy when identifying and evaluating candidates, so recruiters should indicate all the requirements that participants must have, such as years of experience and education. 
User-friendly interface. The recruiting team and applicants must be able to navigate quickly and smoothly in AI recruitment tools. Therefore, HR departments should look for intuitive software solutions that do not hinder workflows.
Support. When choosing AI recruiting tools, recruiters should consider that they are intuitive and easy to use and offer support to the HR department and candidates, such as training, documentation, and channels to answer any questions.
Personalization. There may be dozens of AI recruitment tools to facilitate any company's selection process. Still, if an HR department plans to incorporate them into its processes, it is best to choose those customized to meet specific needs.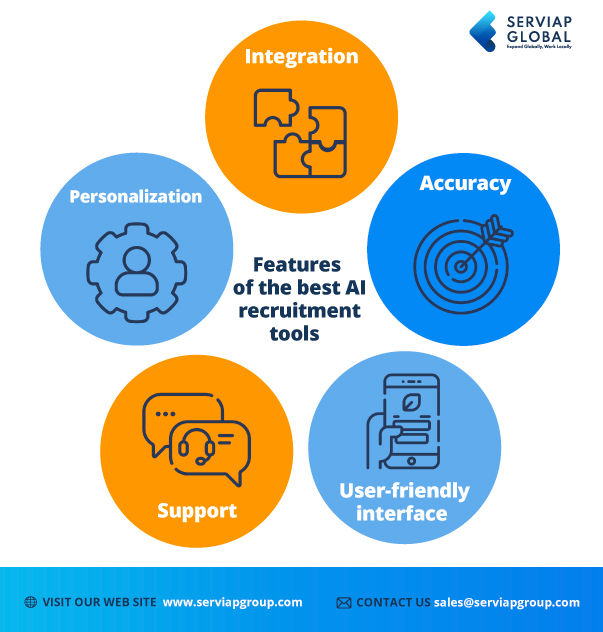 Top AI recruitment tools to meet different needs
HR departments have a myriad of AI recruitment tools at their disposal, from those that specialize in streamlining processes to those that offer detailed reports on the selection process. Some of the most popular include:
Skillate (to speed up recruitment process).This decision-making engine has advanced features that guarantee not only a smooth but also a fast recruitment process. The candidate search is performed through in-depth data analysis to screen resumes to find the best fit for a vacancy. Additionally, it helps to describe positions creatively to attract the best talent.
Manatal (to improve data analysis).This recruitment software was designed for HR teams, recruitment agencies, and headhunters, so it offers a variety of functions that help improve data analysis during the recruitment process. For example, its customizable platform allows job offers to be compared across more than 2,500 channels and enriches candidate profiles with data from LinkedIn and other social networks for more accurate recommendations. 
Arya (to upgrade candidate experience). This intelligent recruiting solution uses a "holistic, multidimensional approach" to connect real people with real jobs. To upgrade candidate experience, it selects prospects who are most likely to succeed in a hiring process. Leoforce, the company behind the software, launched Arya to meet the needs of anyone in a job, regardless of business type, industry, hiring volume, or budget.
X0PA AI (to reduce bias). This B2B SaaS (software as a service) platform supplies HR departments with candidates based on skills, previous jobs and recommendations, attrition, and performance prediction. It also fully automates the entire hiring process: from job posting to interview scheduling and follow-up emails.
Serviap Global helps with global recruiting and talent acquisition
At Serviap Global, we assist companies with international PEO / EOR services and also provide global talent acquisition solutions to help companies source talent to hire directly. 
We started out in Mexico in 2010, before expanding throughout Latin America, where we are known for our unrivaled regional expertise. We subsequently grew beyond the region, so that today we can assist companies in over 100 countries across Africa, Asia, Europe, and the rest of North America. 
Contact us to find out how we can help you hire top international talent.
If you liked this article about AI recruitment tools, check out the rest of our coverage.
You can also try out the Serviap Global salary paycheck calculator to get an idea of costs involved in hiring in different countries.
Contact us