The growth and evolution of the Chinese market in recent decades has seen it become a popular destination for foreign investment. Today, with many companies seeking skilled talent in this rapidly developing economy, using PEO services in China to hire local professionals is a popular option.
A professional employer organization (PEO) hires staff on behalf of a client. While those employees report directly to the client, the provider handles their onboarding, payroll, administration, and eventual offboarding.
That means the client does not have to worry about unfamiliar regulations related to hiring and retaining staff, while enjoying the benefits of effectively having people in the country working for them directly. Where needed, a PEO in China can also assist with the recruitment of those staff, identifying strong candidates for any given role to present to the client.
Note that a provider of PEO services in China might also be referred to as an employer of record, while the service is sometimes called employee leasing.
SEE ALSO: 6 proven PEO employee leasing benefits
While China emerged as a major global hub for manufacturing in the 1990s, the rapid development of its economy has seen it develop an increasingly large internal consumer market, with a fast-growing middle class that is a source of highly skilled and other professional talent.
In 2010, when China overtook Japan to become the second largest economy in the world by GDP, less than 35% of the country's active labor force worked in the services sector, according to World Bank figures. However, by 2021 that figure had leapt to almost 50%.
In a mark of the country's shifting economy, while the proportion of people working in industry has stayed relatively consistent, hovering below 30% for most of the period between 2010 and 2021, the proportion of people employed in agriculture dropped significantly.
Today, figures published by the World Bank show that the country is home to an estimated 200 million highly skilled workers, among an economically active population of around 792 million people.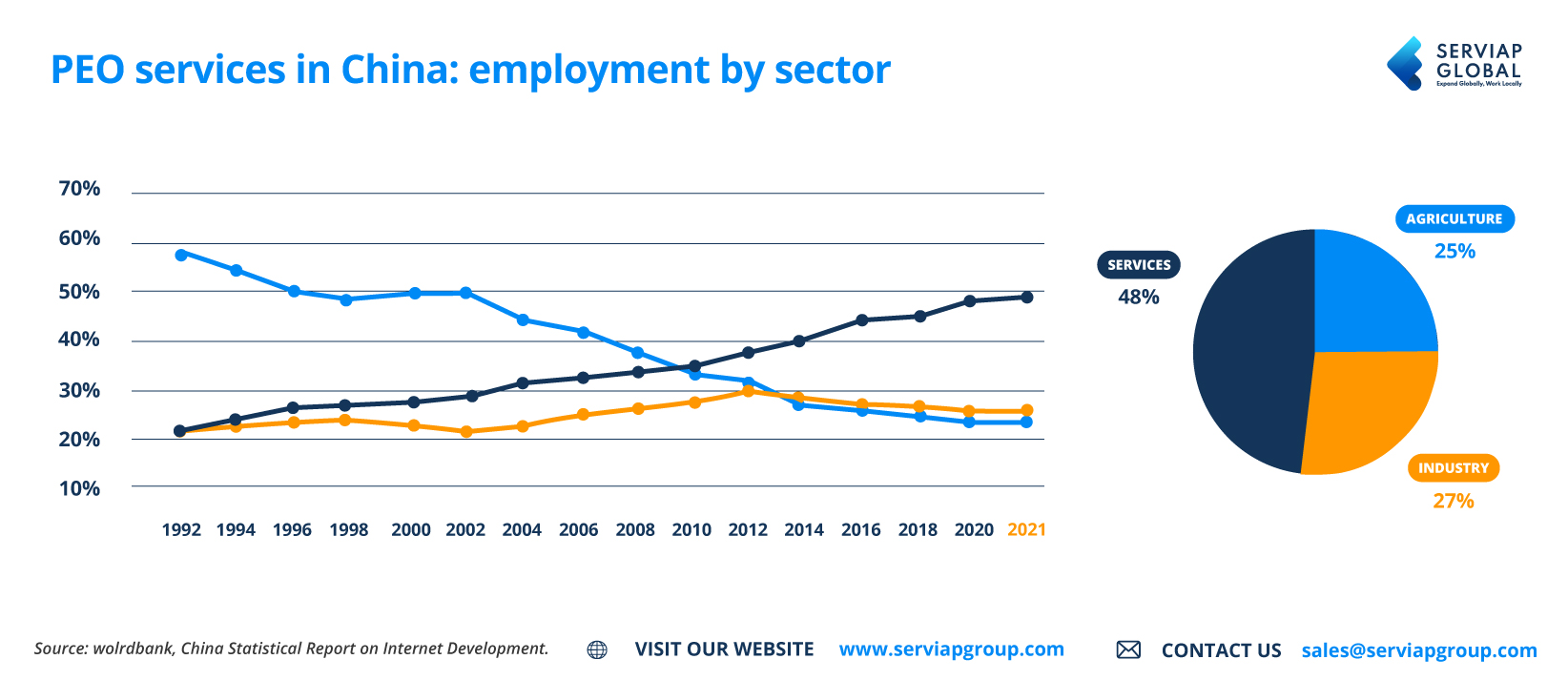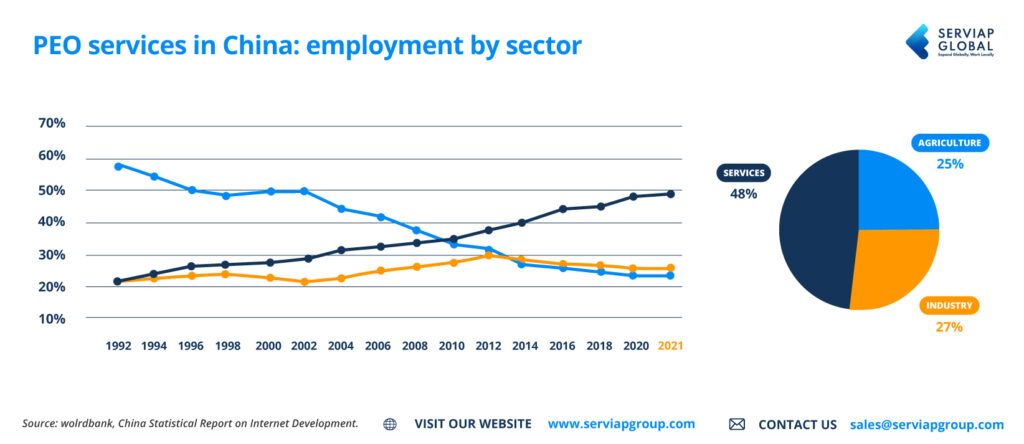 According to data published by Gensler, only around 1% of professionals work entirely remotely – a significantly lower proportion than is seen in Australia, the United Kingdom, or the United States. However, approximately 87% of professionasl work via some sort of hybrid arrangement.
That means only around 12% of professionals work full-time in an office — less than half the proportion seen in Australia, the United Kingdom, and the United States, and under a third of the proportion seen in France.
Among Chinese professionals, remote and hybrid work arrangements are generally favored, meaning that employers who can offer such schedules are able to attract strong candidates.
That puts international companies using a provider of PEO services in China in a strong position when they hire the likes of consultants, sales executives, tech workers, and other skilled and professional employees, because it will often be on a remote or hybrid basis.
SEE ALSO: China country guide
It is important to note that using PEO services in China can also be a good option for anyone seeking to set up manufacturing and other industrial operations in the country, with the same compliance and convenience benefits on offer to anyone who chooses such an arrangement.
If you are interested in hiring via a PEO in China, contact us today to find out more about how we can support you doing business in this massive and developing economy.
What to expect when using PEO services in China
A provider of PEO services in China contracts employees on behalf of clients, providing support in every aspect of the recruitment and employment of those staff.
That includes using their established recruitment network to find the best local talent, as well as handling the onboarding and ongoing administration of any candidates who are selected. As well as their payroll, that will include the likes of benefits, compensation, timekeeping, and holidays.
Your PEO in China will obviously charge a fee, which will usually be on a per-employee basis and charged monthly as part of the billing for payroll costs. Those fees will generally end up being less costly than the process of registering a local legal entity and support staff in order to hire staff directly.
Even when the costs work out to be comparable, PEO services in China offer much greater convenience, with no need for the client to try to get to grips with unfamiliar regulations or worry about potential compliance issues arising.
It will also be a much faster process, with a PEO in China likely to be able to identify candidates and onboard those selected in a matter of weeks – depending on the number of people being employed and their profile.
Another key benefit of using PEO services in China is the flexibility of being able to easily increase or decrease the number of employees hired. While, if you work with a PEO in China that also provides such services in other countries, they will similarly be able to support you should you later seek to expand into another new market.
Beyond all of this, working with a PEO in China is particularly popular because it comes with the guarantee of compliance with all local regulations and avoidance of possible legal inconveniences or financial penalties that can result from non-compliance.
Employment regulations that a PEO in China will implement
Your PEO in China will make sure a range of employment regulations are properly implemented, including:
Hours: Under Chinese law the maximum working week is generally 44 hours long, based on eight-hour days. Your provider of PEO services in China will also guarantee that the daily maximum of three hours overtime is not exceeded.
Salary: While it is unlikely that professionals you employ through a PEO in China will be earning the minimum wage, other types of employees, such as manufacturing or agricultural workers, may do. It is worth noting that minimum salaries differ by region, with the highest monthly minimum wage of RMB 2,590 (approximately US $360 at time of publication) found in Shanghai, while the lowest monthly minimum of RMB 1,340 (approximately US $190) found in Anhui.
Bonuses: While there is no statutory obligation to offer bonuses in China, you may find that you will need to offer incentives to attract top talent. This is something your provider of PEO services in China will be able to advise you on, as well as implement once such an agreement is established.
Leave: Your PEO in China will record and manage paid leave among employees they hire on your behalf, which will total five days of leave per year for anyone who has provided at least one year of continuous service. That allowance increases to 10 days of leave per year once an employee has served for 10 years, and 15 days of leave per year once they have served for 20 years.
Sickness: Employees can be entitled to between three months and two years of paid sick leave, depending how many years they have provided of continuous service to their employer. Understanding how much paid sick leave employees are eligible for is something a provider of PEO services in China will be able to provide guidance on.
Alternatives to using PEO services in China
The main alternative to using PEO services in China is to actually set up a legal entity and employ staff directly. This can be more time consuming and costly in the setup phase. However, if you are committed to a long term presence in the market and comfortable dealing with local regulations, it can be a good option.
In some cases, companies planning on making such a commitment will still hire via a PEO in China to start with, because it allows them to get started in the market while going through the company formation process.
In other cases, it can serve as a precursor to a deeper commitment, with the client benefiting from the market insight they will get from a provider of PEO services in China ahead of deciding on whether to establish a legal entity.
Even in the case that a company does choose to establish themselves permanently in the market, that does not necessarily mean that a PEO in China will not be of use.
Because in many cases providers of PEO services in China will also offer recruitment as a standalone service, meaning that it is still possible to tap into their expert understanding of the job market and the recruitment network their will have developed over years of operating there.
Serviap Global provides PEO services in China
At Serviap Global, we assist clients seeking PEO services in China, as well as offering recruitment services for clients seeking direct hires.
Our global presence covers dozens of countries across six continents, with offices in key markets and trusted partners in many more, so anywhere you need international PEO / EOR services or global talent acquisition services, we can support you.
Contact us today to find out more.
Or read more about us as a company, as well as about our leadership team.
Contact us