If you considering entering the fast-growing Salvadoran market, hiring staff through a professional employer organization (PEO) could be your best choice. Because a PEO in El Salvador will seek and recruit people on your behalf, meaning you can have a team in place without needing a local entity.
Once hired, those staff will report directly to you, while your PEO in El Salvador will take care of their onboarding, payroll, and eventual offboarding, as well as guaranteeing adherence to all relevant regulations – eliminating a major source of compliance risk.
Note that a provider of PEO services is often called an employer of record (EOR) and may also be referred to as a PEO payroll company in El Salvador. Another name commonly used for the service is employee leasing.
SEE ALSO: 6 proven PEO employee leasing benefits
Hiring through a PEO is an increasingly popular choice, which saw a significant growth in uptake during the COVID-19 pandemic, as businesses sought a more cost effective and less risky way of tapping into overseas talent pools.
By 2020, the global PEO market was valued at over $52 billion, and is predicted to grow to more than double that size by 2028 (all figures in USD).
While hiring through a PEO in El Salvador is often seen as an alternative to establishing a local entity, it can also serve as a precursor to making a deeper commitment.
Because it offers the chance to get to know the local market better before going through company formation and establishing a more permanent presence.
For those who only intend to have a temporary presence, such as in the case of recruiting a team to execute a particular project, hiring via a PEO in El Salvador offers the flexibility of being able to quickly end or extend that activity, without having to get to grips with an unfamiliar regulatory regime.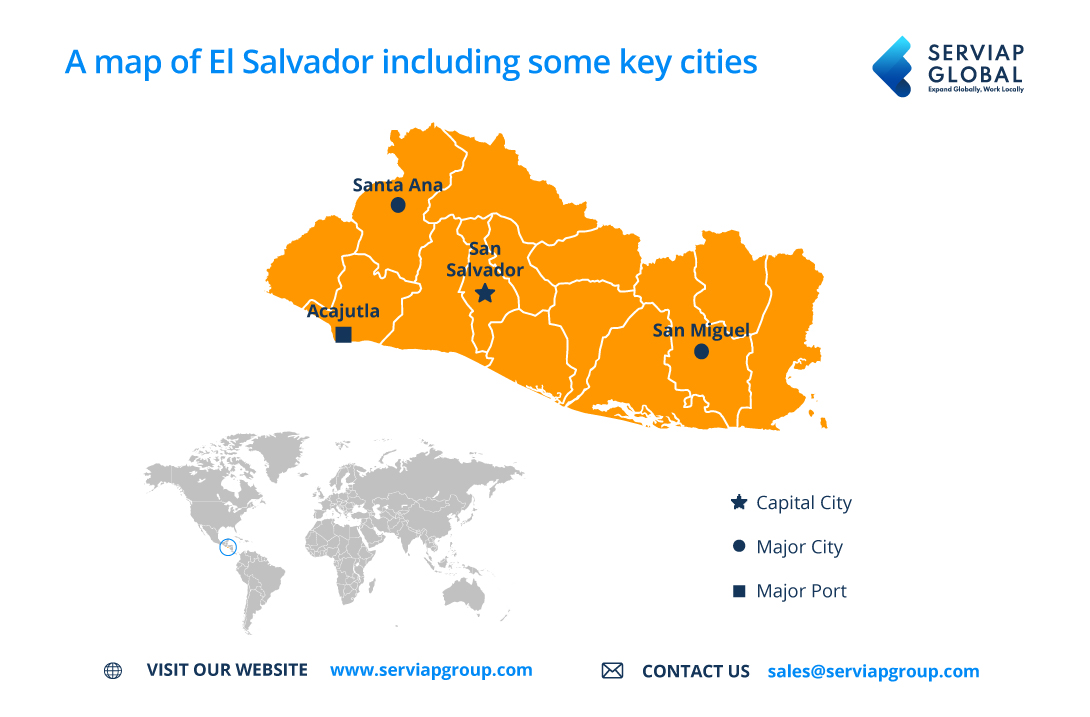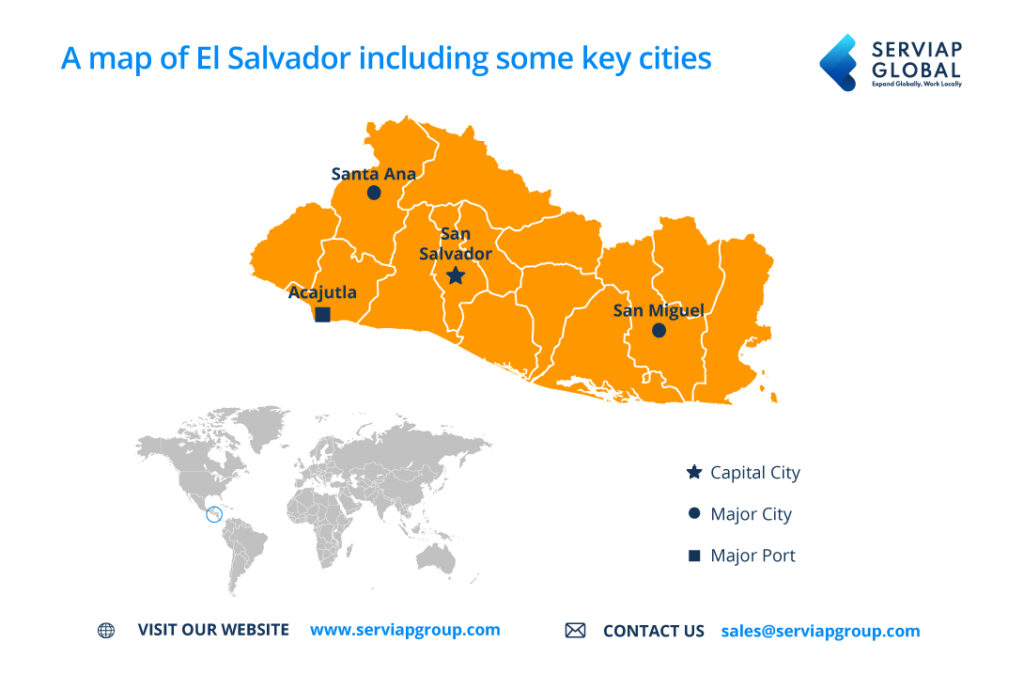 PEO in El Salvador offers quick entry to growing market
El Salvador has made international headlines over recent years, thanks in part to the government of President Nayib Bukulele pushing through the legalization of cryptocurrency Bitcoin, which became legal tender in late 2021.
However, the attention it has received, fueled by doubts and concerns expressed within the global financial community, has shrouded the fact that over recent years the country's economy has performed well, making hiring through a professional employer organization in El Salvador increasingly attractive.
According to World Bank data, the country has seen rapid and almost unbroken growth in GDP since the early 1990s, with the only annual declines registered during moments of major global economic turmoil in 2009 and 2020.
Poverty, meanwhile, has tumbled over recent decades, while prosperity – as measured by GDP per capita – has increased significantly to reach $4,408.5 per capita, pushing El Salvador into "upper-middle income" status, according to World Bank classifications.
While El Salvador is known historically for its agricultural output – particularly coffee and sugar – the sector only accounts for around 5% of GDP.
It's well-established industrial sector, meanwhile, contributes approximately a quarter of GDP, with garment production being a particularly important part of the manufacturing economy, while electrical and plastic goods are also important exports.
The country's services sector, however, is the most significant, generating roughly 60% of GDP. That includes a fast-growing tech sector, which is likely to be boosted by interest shown in the country by tech investors due to the legalization of Bitcoin.
For anyone considering doing business in the country or hiring via a PEO in El Salvador, another major draw is the fact that it is so close to the United States.
So not only are workers working in similar time zones, and operations in the country are easy to visit and monitor, but any goods being produced in El Salvador can quickly make it to markets by land or sea.
Meanwhile, the country's dollarized economy means that companies from the US, or which carry out business in US dollars, do not need to worry about losses associated with currency conversions when transferring funds in and out of the country.
What will a professional employer organization in El Salvador do for you?
When you hire local staff through a PEO in El Salvador, not only does the provider act as their official employer in the eyes of local authorities, but they can also assist you in searching for the best talent to fill the roles you need.
Because a professional employer organization in El Salvador will have a well-established recruitment network, as well as expert knowledge of the best educational and professional experience to look for on candidate profiles.
Once the workers you need are identified, your PEO in El Salvador will provide all of the paperwork needed, including employment contracts based on your needs and local laws, and will handle all aspects of registering them in front of local authorities, onboarding them, and overseeing their payroll.
As part of the services agreement you are offered, a professional employer organization in El Salvador will also provide you with a guarantee that local regulations will be properly adhered to.
Hiring through a PEO in El Salvador will involve a cost, which will generally be a monthly fee for each employee hired on your behalf, charged along with their payroll, as well as some other administrative fees.
Those costs will generally be considerably lower than going through the process of setting up and running a local entity, as well as not involving the significant initial outlay that comes with company formation.
Hiring via a PEO in El Salvador will also be considerably more convenient, as well as quicker.
If you are contracting staff through a professional employer organization as a precursor to making a deeper commitment and setting up your own entity to hire local people, you may also find the provider can continue help you.
Because in many cases, a PEO in El Salvador will offer standalone recruitment services and will be able to support you in seeking out direct hires.
Moreover, if you are planning on expanding into other new markets in the future and work with a provider that has an international presence, they may also be able to support you with PEO services or recruitment elsewhere.
Employment regulations a PEO in El Salvador will take care of
The following employment-related regulations will be taken care of for you by a PEO in El Salvador:
Contracts: Your professional employer organization in El Salvador will help draw up contracts for your employees, with the two main types of contracts issued to workers being indefinite-term employment contracts and fixed-term employment contracts.
Working hours: The standard working week in El Salvador is 44 hours long, based on working five and a half working days – each being eight hours long. For night workers, whose standard hours fall between 19.00 and 06.00 the following day, the standard week is reduced to 39 hours, based on seven-hour shifts.
Overtime: Under Salvadoran law, any hours done beyond the maximum weekly limit should be paid at double their standard. This is something that your PEO in El Salvador will oversee and bill you for.
Personal leave: After a full year of employment – during which at least 200 days of work have been completed – an employee is entitled to 15 days of paid vacation leave, which must be paid ahead of the leave being taken at a rate of 130% of their normal salary. In the event that a worker's accommodation and food is provided as part of their job, they are entitled to an additional 25% of vacation leave pay.
Sick leave: Employees are entitled to sick leave at 75% of normal pay based on their length of service and when signed off by a registered doctor, with employees who have served for over 12 months entitled to up to 60 days of sick leave.
Parenthood leave: Maternity leave in El Salvador is 12 weeks long, with new months required to take at least half of that after the birth of the child (based on a due date established by a doctor). New fathers are entitled to three days of paternity leave, which must be taken within 15 days of the birth or adoption of a child.
Public holidays: Your PEO in El Salvador will be able to advise you when to expect employees to be unavailable due to public holidays, of which there are usually 10 or 11 per year that fall on weekdays, as well as some holidays observed in specific regions.
Terminations: Once an employee has served their probation period, which will usually last 30 days and during which they can be dismissed without notice, they must be guilty of one or another offence laid out in the Salvadoran labor code in order to be dismissed with just cause. In the event no such offence has been committed, they will be entitled to 15 days of pay for every year of service if dismissed without just cause.
Notice periods: Under Salvadoran law, most employees are not required to give notice of their decision to leave their role, however they must provide written notification of their decision to leave. For employees in senior or specialized roles, a 30-day notice period of their intention to resign may be required. Your PEO in El Salvador will be able to provide guidance on which sorts of roles this provision applies to.
Serviap Global can be your PEO in El Salvador
At Serviap Global, we assist clients with recruitment and PEO services in dozens of countries across six continents. If you are looking to hire staff through a professional employer organization in El Salvador, we can help.
Whether you need us to hire staff on your behalf with international PEO / EOR services, or need our global talent acquisition services to help you find direct hires, we are ready to support you.
Contact us today to find out more about how we can assist you.
Or find out more about us and read about our leadership team.
Contact us