Virtual working has become popular in recent years, bringing many advantages, but also several challenges. For managers and supervisors, coordinating distributed workforces presents different demands compared to working in-person, and having good leadership in remote working is become increasingly important for companies to reach their organizational goals.
Leadership is the ability of an individual to guide and inspire others, whether within an organization, society, or team. When working remotely, it plays a key role in the success and direction of a company, as leaders must set achievable goals and provide their collaborators with the knowledge and tools necessary to reach them.
SEE ALSO: Call center outsourcing: 5 great destinations to consider
Beyond knowing how to communicate the mission, vision, and objectives of the company to coordinate remote teams, you must not forget that leadership in remote working affects the whole company. There can be challenges to overcome, such as promoting a positive relationship between remote work and mental health.
A leader also has the option to subcontract a third party, such as an employer of record (EOR), to handle part of their company's human resources. Thus, while the EOR finds and hires qualified personnel following local regulations, the leader can concentrate on managing the staff.
Innate leaders have these skills naturally, but it is also possible for anyone to develop them or improve the ones they struggle with the most. We've come up with eight top tips to improve your leadership in remote working and coordinate distributed teams with fewer complications.
8 tips to improve your leadership in remote working
If you want to improve your leadership in remote working, follow these recommendations: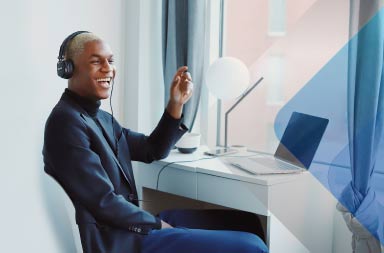 1) Communicate effectively
Communication skills are indispensable in any aspect of life, as they help people relate to one another well. In a work environment, communicating effectively is vital, especially when working in a hybrid or completely virtual mode where you don't see people face-to-face.
A leader, being at the head of a group of individuals with a common purpose, must be able to get their ideas across quickly and efficiently. Make sure that direct messages and emails have a clear purpose and an appropriate tone – avoid the temptation to make jokes that may not be understood, for example.
When necessary, take the time to schedule video calls so you can communicate corporeally as well as through text. In addition, being clear, empathetic and an active listener will also help any team coordinator or supervisor to improve their leadership in remote working.
2) Have a work plan
When you are in charge of a team, following a work plan is essential and this is no different when thinking about leadership in remote working. Whether weekly, monthly, or yearly, planning your activities will help you better organize your employees, especially when they work from home and have different schedules or time zones.
Asynchronous working is not easy for everyone to manage, but you can turn this into a major boon with the right plan. Think about how workflow might be best organized with people who are on different working hours. A worker in Europe might be able to check something produced six hours earlier by an Asia-based colleague.
To operate remotely with minimum complication, taking the time to create a work plan is indispensable, as it will facilitate a leader's future responsibilities, such as coordinating team members, knowing what everyone is doing, the deadline of their assignments, which are the most important tasks and if the objectives are being achieved. 
3) Use tech well
Technological tools are essential to improve leadership in remote working because knowing which ones are the most helpful and using them to the fullest will not only improve communication between the leader and their collaborators but will also facilitate all work processes.
There is a difference between understanding the basic elements of a system and knowing how to best use it. Most platforms offer in-depth familiarization courses – take advantage of this. Many people don't, so end up using only a fraction of the potential the tech allows them.
To guide a team to success, a good leader will know how to use a range of tech, from email to video call applications and the most popular communication and collaboration platforms. Don't get complacent and be alert to new options that could streamline your operating procedures.
4) Be flexible
The virtual office is synonymous with flexibility, and leadership in remote working must also be so, from allowing employees to set the schedules that best suit them to understanding that many perform better when they work by objectives and not with a fixed timetable.
Being a flexible leader does not mean being soft but rather understanding that team members may solve the same task at different times and under different conditions. They may often intersperse their workday with other personal activities, such as taking their children to school, caring for other family members or going to a doctor's appointment.
This is where earlier points about planning and communication come in. The key is to set deadlines and be clear about processes. Make sure everyone knows that while the precise hours might be flexible, the work still needs to get done at some point.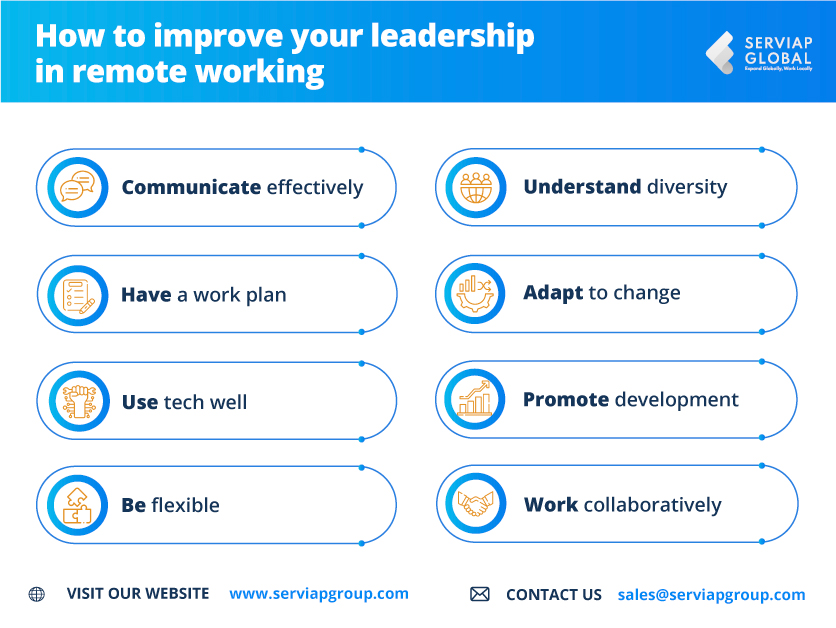 5) Understand diversity
Today, international recruitment is easier than it was a few years ago. Additionally, it has created increasingly diverse teams, with people from different backgrounds, cultures, and traditions who often do not even share the same mother tongue and use a shared second language to communicate.  Sensitive leadership in remote working needs to account for this.
Understanding these differences as a team leader or employer will help you create inclusive and harmonious work environments and take advantage of all the perspectives your employees can bring to improve processes or grow your business. Different eyes see different things, and a team member from another background may inject new dynamism to established norms.
Make sure that you keep things neutral and consider how to act in a culturally sensitive manner. You may want to check something privately with certain people ahead of a group announcement. Remember to include everyone proactively – people may be shy or even nervous about mentioning cultural differences.
6) Adapt to change
Adapting to change is a skill that helps people manage when issues arise with achieving particular objectives or solving a problem. This competency is critical when leading a remote team, especially with the recent massive employee turnover and the adoption of processes to improve teleworking.
Progress often comes via change and facing constant challenges, so to improve leadership in remote working, it is essential to have this ability, both professionally and personally. It will lead you to acquire new skills, be flexible and guide your team to success. When a leader adapts to change and demonstrates it, it is also easier for the people they work with to do so. 
Adaptability may involve short term measures such as what to do if there are internet problems, but it may also come with switches between platforms or picking up workers in a new territory and having to align to new hours, new personalities and possibly a new culture.
7) Promote development
Improving leadership in remote working is not only about knowing how to guide a group of people operating from home to achieve the company's goals but also about encouraging personal development among these collaborators.
While traditional office environments are easy places to promote and deliver ongoing training, this can be more difficult via video calls and virtual meetings. You may need to proactively suggest courses and opportunities to your team or sign up yourself and encourage others to join. This doesn't necessarily have to be related directly to their professional roles either.
Today, many employees are looking for jobs that permit them to balance their work life with their personal needs, so the leader must ensure that they can carry out other types of activities, from those that have to do with improving their physical and mental health to taking training courses or workshops.
8) Work collaboratively
Although online working can feel much more individual and atomized, you are still part of a team. As leader, there is a responsibility to recognize this and remind everyone of their part to play in the process. Make sure you delegate tasks where necessary and ask for help. This helps flatten the structure of the team as well as making everyone feel more valued.
While working within your team will take the lion's share of your time, it will also be necessaryto work with peers who lead other teams. If you're looking to improve your leadership in remote working, it is not only necessary to collaborate with other leaders inside your organization but also outside. 
For example, relying on a third party, such as an employer of record (EOR), to take on specific responsibilities for managing your organization's human resources or talent acquisition will allow you to focus on successfully leading your team and business.
Serviap Global can help you hire internationally
Serviap Global assists companies with global hiring solutions in over 100 countries worldwide, including international PEO / EOR services, contractor hiring, and global talent acquisition to help source direct hires. 
Contact us to learn how we can help you expand your team internationally without needing to set up a foreign entity.
If you liked this article on leadership in remote working, check out the rest of our coverage.
You can also try out the Serviap Global salary paycheck calculator to get an idea of costs involved in hiring in different countries.
Contact us