As remote work becomes more popular, companies are increasingly collaborating with a provider, such as an international recruitment agency, to help them identify and hire the best talent worldwide.
International recruitment agencies use their expert understanding of foreign job markets to help companies find and onboard skilled overseas professionals to fill vacancies. In the event the hiring company is unsure of the best destinations to look for the people they need, an international recruitment agency will also be able to offer advice on where best to consider looking.
While a big part of that decision will be based on the availability of talent, other factors that an international recruitment agency will take into account are the salary expectations of relevant professionals in different markets, as well as the cost-to-employer burden that the hiring company must assume.
SEE ALSO: Call center outsourcing: 5 great destinations to consider 
As well as helping companies find the talent they need, an international recruitment agency provides a platform for highly-skilled professionals to find and apply for prestigious roles with international firms. In some cases, an international recruitment provider will also be able to employ international professionals on behalf of other companies and oversee their payroll.
Such an arrangement is known as employer of record (EOR) services, but may also be referred to as international professional employer organization (international PEO) services. As well as managing the payroll of the professonals on behalf of other countries, an EOR assumes most liabilities associated with being an employer, eliminating a source of compliance risk for the hiring company.
In addition, the hiring company does not need to establish a legal entity in the country where the professionals are based, because they will officially be employed through the EOR's own entity. Meaning the hiring process can be verey quick — sometimes taking just a matter of days. 
Contact us to learn more about our international recruitment services.
4 benefits an international recruitment agency offers
Before choosing an international recruitment agency for hiring global talent, companies interested in working with foreign remote employees should consider the following points: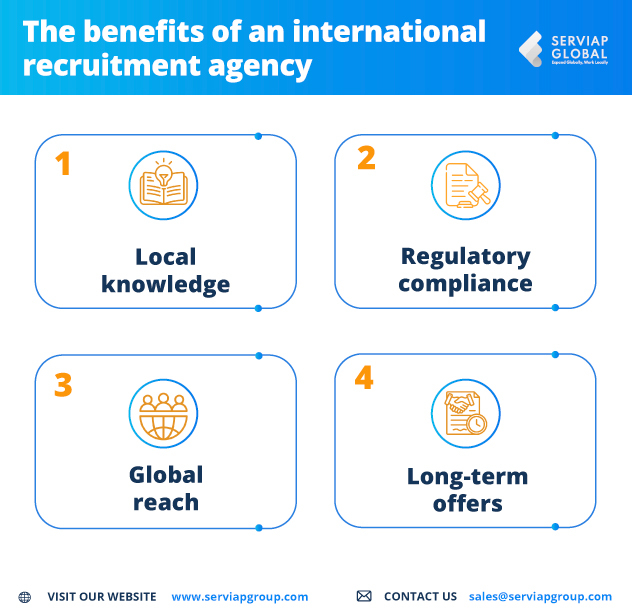 1) Local market knowledge 
An international recruitment agency must understand the needs of its clients in order to provide valuable solutions. That's why they have extensive knowledge of the local market or markets where expansion companies are considering recruiting.
In addition to offering local networks of specialized professionals, an international recruitment agency will understand labor and tax regulations. It should also be up to date on aspects such as local business culture and which fields of work have the most recent graduates and other skilled professionals.
2) Regulatory compliance 
Because of their extensive knowledge of the local market, an international recruitment agency can assure each client that it will comply with immigration procedures and any regulations related to personnel acquisition in the target country.
Any company with a global mobility project, whether moving employees around the world or recruiting in other markets, will want to adhere to the laws of each region. To avoid potential fines, it will look to work with an international recruitment agency to help minimize any risks associated with creating a distributed workforce.
3) Experience with mobilizing people 
An international recruitment agency should also have experience in mobilizing staff in case its clients need to relocate part of their team or require people hired through this provider to move to their headquarters or any territory for a seasonal period.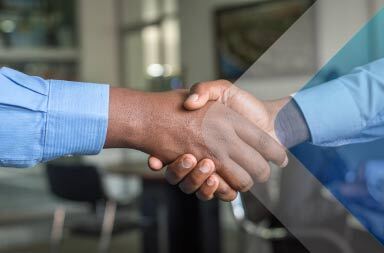 As part of the employee mobility expertise, the international recruitment agency must arrange accommodation, transportation, and other services if the worker needs to change residence. Above all, it must organize any necessary work permits and/or visas for employees to offer their services.
4) Global reach 
For the collaboration between business owners and an international recruitment agency to be most successful, the provider must have a global reach and be able to offer diverse recruitment solutions in more than one territory or region.
For example, an international recruitment agency must provide nearshoring services if its client wants to hire close to home, and offshoring if it wants to explore more distant but potential countries, such as hiring internationally in emerging markets.
Using EOR services for international recruitment 
An international recruitment agency can help expanding companies find professionals away from home, but an EOR's services are even more complete: not only does it search for professionals on behalf of its clients, but it assumes all legal responsibility as an employer, manages human resources and prevents its clients from having to open a local entity
Advantages of working with an EOR 
There are many advantages of working with an EOR to hire internationally, with some of the most important being:
Cost-benefits 
A key advantage of working with an EOR for international recruitment is that these providers have established entities in each territory where they offer services. Thus, their clients do not have to invest significant time and resources to open subsidiaries or representative offices. 
In the event of a long-term expansion plan and the need for an in-house entity to start operations, the EOR can help companies find the local professionals best suited to their needs while firms establish themselves in the target market.
Specialized knowledge
An EOR has in-depth knowledge of the local market where it offers services. This ranges from recruitment and tax issues to larger social matters such as traditions, the way of doing business, and anything that can help its clients succeed with their expansion to a new territory. 
The more an EOR knows about the local market and the characteristics of its workforce, the more accurate its candidate search will be in helping clients quickly onboard new international team members.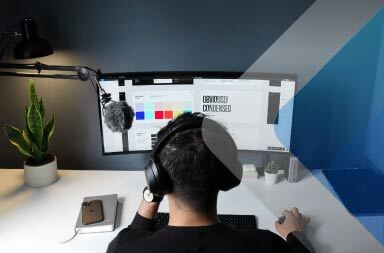 Regulatory compliance 
As an official employer, the EOR assumes all legal responsibility for overseas recruitment, which helps minimize non-compliance risks, like independent contractor misclassification. Unlike an international recruitment agency, it will provide ongoing compliancy support.
The EOR will also be up to date on the types of contracts it can sign with employees, working hours, minimum wages, whether an annual bonus must be offered in the territory and the percentage to be granted, vacations, and any local labor law specifications.
Global coverage 
More companies worldwide have embraced remote work for its various benefits on staff morale and cost savings. They relied on outsourcing professionals via specialized companies to facilitate collaboration with employees. This often started locally, but many businesses then realized there was no need to limit themselves to the domestic recruitment market.
While a growing number of international recruitment providers exist, only a few companies have a truly global reach. Serviap Global, for example, has extensive coverage, offering services in more than 100 countries, from global powers to developing economies. 
Serviap Global offers global hiring solutions 
At Serviap Global, we assist companies with global hiring solutions in over 100 countries qorldwide, including international PEO / EOR services, contractor hiring, and global talent acquisition to identify candidates for direct hiring. 
We started in Latin America in 2010 before expanding internationally, and today we are recognized for our expertise in sourcing highly skilled professionals from emerging markets. 
Contact us to learn how we can help you.
If you were interested in this article on hiring via an international recruitment agency, check out the rest of our coverage.
Contact us