Developing and properly implementing a global talent acquisition strategy can be crucial to getting the most out of international hiring. 
A successful global talent acquisition strategy will be based on the company's recruitment needs and available resources, and will require consideration of the most suitable hiring arrangement to be used, as well as ideal location(s) for recruiting international team members.
SEE ALSO: Call center outsourcing: 5 great destinations to consider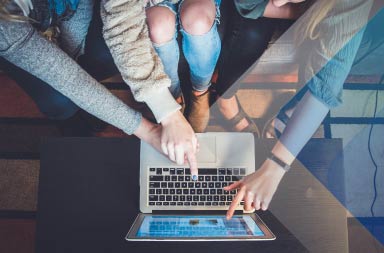 By designing a global talent acquisition strategy according to the company's expansion project, it will be easier to find professionals with specific skills and knowledge and incorporate them into the team as soon as possible.
When drafting a global talent acquisition strategy, one of the first things companies must define is if they intend to set up a foreign entity through which to hire talent directly, or if they prefer to avoid that complication, while reducing their liability, by working with an employer of record (EOR), or hiring international independent contractors. Note that EOR services are sometimes referred to as international PEO. 
Whichever option for hiring international employees suits you best, some key steps are included below that organizations can follow when planning their strategy. 
If you are looking to quickly and compliantly hire international professionals without needing to set up a foreign entity, contact us.
Hiring options for a global talent acquisition strategy
When companies have a long-term international expansion project and a comfortable budget, setting up an entity in the target market is the best hiring option for their global talent acquisition strategy. 
A subsidiary will handle all the legal formalities in moving part of the operations to another territory. It is also the best route when the global talent acquisition strategy seeks to bring in a significant number of employees. 
Whether it is a representative agency, a branch office, or a foreign subsidiary, any of the three options will manage the human resources of a group and the corresponding tax payments.
Establishing a subsidiary requires a considerable investment of resources and can take a time. Therefore, companies that require a quick solution for their international expansion may opt for the services of an employer of record (EOR).
Hiring via an EOR
An EOR is a third party provider that hires professionals for you through its own international entites, or those of its poartners. An EOR has extensive knowledge of local job markets and can help with finding and recruiting talent, as well as managing their payroll. 
Working with an EOR to execute a global talent acquisition strategy offers the guarantee of compliance with local regulations, as well as limited risk to the hiring company, because the EOR assumes full legal responsibility. That means there is not possibility of unexpected legal problems or financial penalties affecting the client company. 
An EOR will not only handle payroll, but also general administration and periodic reporting related to the professionals it hires for clients, including tax payments, benefits, and paid time off. In return, the EOR will charge a monthly fee per-employee, which may be a flat fee or may be a percentage of their salary.
While some EORs will be focused on providing services in a particular country or region, others will have a braocder reach, and choosing which EOR to partner with will likely depend on the company's expansion plans and related global talent acquisition strategy.
International contractors
An international independent contractor is a worker or a group that collaborates for a specific project or period. Although they may also work full-time, they do so for their own company, which provides services to an employer. 
The contractor, not on the company payroll, does not receive many of the legal benefits of employees, but they have different legal protections and may be paid slightly more than a full-time worker performing the same activities. 
These professionals bring experience in executing a project, are usually competent, have specialized knowledge, and keep flexible schedules. Yet, misclassification of these workers can lead to legal problems and possible fines. In addition, monitoring and ensuring the quality of their work is more complicated.
If you are interested in hiring international contractors, an EOR may still be able so support you, with many providers supporting contractor recruitment and hiring.
5 key steps in a global talent acquisition strategy
A global talent acquisition strategy provides flexibility, diversity, and knowledge of other markets for successful expansion. Here are some key steps to create your own: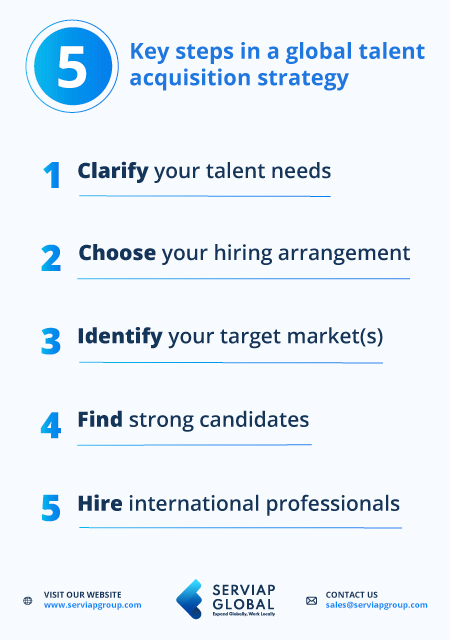 1) Clarify your talent needs
Designing a global talent acquisition strategy starts with specifying what kind of professionals and how many you need as part of your expansion project. This way, you can ensure that the right people join your international pool and achieve your organizational objectives with fewer complications. 
To clarify your staffing needs, you must analyze your current workforce to identify your team's strengths and weaknesses, know what roles you require and create an outsourcing plan if your business growth is slower or faster than expected.
2) Choose your hiring arrangement
Once you define the type of professionals, their skills and expertise, and how many you need, the second step in your global talent acquisition strategy will be choosing the recruitment plan that best suits your objectives: establishing an entity, through an EOR or as international independent contractors. 
Although time-consuming, opening an entity is ideal for a long-term project with numerous employees. In the meantime, you can enjoy the services of an EOR, which not only expedites the insertion into a new market but can also legally hire direct employees or international contractors. This, in the long run, will help you save resources and forget about the administrative tasks of having a team abroad.
3) Identify your target market(s)
Before starting your search for candidates, having a global talent acquisition strategy will help you identify potential markets where your products or services may be more attractive, the workforce more accessible, and the potential for future expansion into nearby territories. 
While you can conduct your market analysis, a third party can also help you in this regard. An EOR, for example, has extensive knowledge of the local market, labor and tax laws, cultural differences, the education level of the population, and what they specialize in, among other data essential to your global talent acquisition strategy.
4) Find strong candidates
Knowing the situation in your industry, how it has changed over time, the competition, as well as the supply of candidates internationally will help you design your global talent acquisition strategy and define where you can find the best professionals.
The strongest candidates may be close to home and share specific characteristics with you, such as native language or time zones, so that nearshoring may be your best option for expansion. However, it is also possible to find highly competent professionals in more distant territories with potential, so that offshoring would be your way. Again, your decision will depend on your business project, needs, and budget.
5) Hire international professionals
The final phase of your global talent acquisition strategy is recruiting professionals. If you do this through your own entity, remember that it will take time, can be costly, and you will need to understand local regulations. So even if you decide to open an entity, you can outsource your human resources management to an employer of record and focus on growing your business. 
Whether you need direct employees or independent contractors, with the help of an EOR, you can define profiles, conduct interviews, follow up with the best-qualified candidates, make attractive job offers, sign contracts, and have them on board in a matter of weeks.
Serviap Global suppports global hiring
At Serviap Global, we support international PEO / EOR services and contractor hiring in over 100 countries worldwide. We also provide global talent acquisition services to assist companies with finding candidates to hire directly.
Contact us to learn how we can help you develop and execute your global talent acquisition strategy.
Or get an idea of costs involved in hiring talent in different countries by using our free paycheck calculator.
Contact us