Working with headhunters in Latin America is recommended if you are looking to quickly hire top professionals in the region.
Seasoned headhunters in Latin America will have an established recruitment network and a strong understanding of the regional job market, meaning they will be able to help you identify the best destination for recruiting for any role you are seeking to fill, if you don't already have one in mind.
That decision will be based on both the availability of suitable talent and the favourability of the local regulatory regime, taking into account things like cost to employer, public holidays, paid time off allowances, and statutory bonuses.
You can get an idea of costs to employer in different markets using the Serviap Global payroll calculator.
Latin America is becoming an increasingly attractive destination for hiring, thanks in part to the growth of nearshore outsourcing, which involves companies outsourcing to a nearby country or region rather than to a more distant location.
SEE ALSO: 4 major advantages of nearshoring worth considering
Another factor that makes hiring in Latin America attractive is the growing availability of talent, with many countries taking concerted steps to promote tech and startup ecosystems, including with the promotion of STEM subjects at university. That has made a number of countries attractive places to hire overseas developers.
Improvements in English levels, particulalry among younger generations, have helped make several countries particularly popular destinations for US and Canadian companies to set up call centers.
Meanwhile, a growing interest in investing and engaging with the region from emerging powers such as China and India, along with the increasing competitiveness of salaries in Latin America compared to the likes of Asia and Eastern Europe, have also helped boost interest in hiring in the region.
If you are interested in hiring in Latin America, contact us to find out how we can assist you.
What will headhunters in Latin America do for you?
Headhunters in Latin America are professional recruitment specialists who work on behalf of a company to identify and recruit top talent for open positions. Headhunters typically have a deep understanding of the local job market and industry trends, and they leverage their networks and expertise to identify and attract high-quality candidates.
Headhunters in Latin America may work on a contingency basis, meaning that they are only paid if they are successful in placing a candidate with a company. They typically earn a commission based on a percentage of the candidate's first-year salary. This incentivizes headhunters to find the best possible candidates for their clients.
Headhunters in Latin America may specialize in particular industries or job functions, and they may have expertise in recruiting for specific roles, such as executive-level positions or technical positions requiring specialized skills.
While dedicated headhunters in Latin America will exclusively focus on helping companies find candidates, a similar service will also be offered by an employer of record (EOR), which is essentially a provider that hires international professionals on behalf of other companies.
What is the difference between an EOR and a headhunter?
An EOR and a headhunter are distinct types of providers that support companies in different ways, though an EOR does offer similar services to a headhunter as part of a broader package of services.
While headhunters in Latin America will generally focus on identifying strong candidates for roles and presenting them to the company doing the hiring, an EOR acts as the legal employer for international employees.
That includes taking on responsibility for payroll, taxes, benefits, and other HR functions, while the client company retains day-to-day management and direction of the employees. An EOR can help companies expand their operations in new markets or countries without the need to establish a legal entity, reducing the time and resources required to set up a new operation.
So if you are interested in recruiting in Latin America but would rather avoiud setting up a legal entity to do so, hiring through an EOR could be a good choice. and one that a growing number of companies are making.
Because as well as providing the recruitment services of headhunters in Latin America, they will also be able to onboard and manage the payroll and administration of those progessionals, who will report directly to you.
Some key advantages of using headhunters in Latin America
Using headhunters in Latin America offers many advantages, including: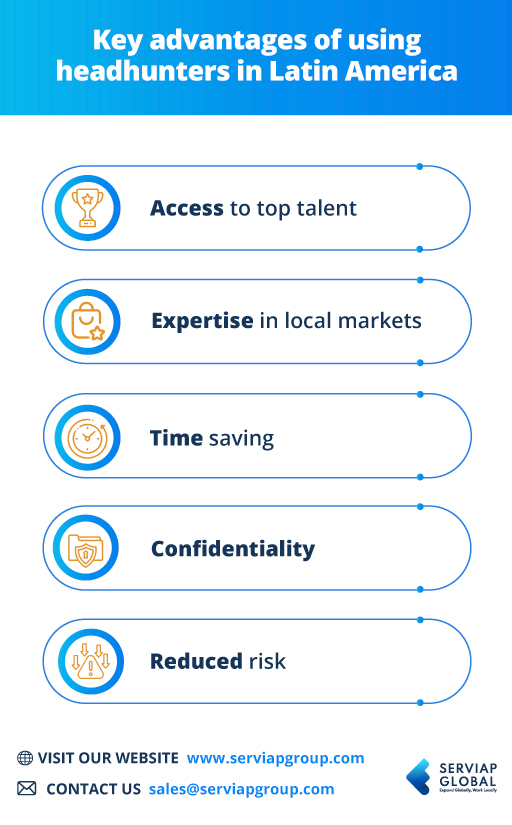 Access to top talent: Headhunters have a wide network of contacts and can reach out to candidates who are not actively looking for new opportunities. This can help companies access top talent that may not be available through traditional recruitment channels.
Expertise in local markets: Headhunters have extensive knowledge of the local job market, including compensation trends, cultural nuances, and regulatory requirements. This can help companies navigate the local landscape and ensure that they are competitive in terms of compensation and benefits.
Time savings: Headhunters can handle the initial stages of the recruitment process, such as screening resumes and conducting initial interviews. This can save companies time and resources, allowing them to focus on other aspects of their business.
Confidentiality: Headhunters can maintain confidentiality throughout the recruitment process, protecting both the company and the candidate's privacy.
Reduced risk: Headhunters can help mitigate the risk of a bad hire by thoroughly vetting candidates and ensuring that they are a good fit for the company culture and job requirements.
How to find headhunters in Latin America?
Finding good headhunters in Latin America can be challenging, but here are some steps you can take to increase your chances of finding the right one:
1) Define your needs and expectations
Before you start your search, define what you're looking for in a headhunter. What industry do you work in? What kind of positions are you trying to fill? What level of experience do you need in a candidate? Knowing what you need will help you narrow down your search.
2) Ask for referrals
Reach out to your network and ask if they can recommend any good headhunters. Ask specifically if they have worked with any headhunters in Latin America and if they had a positive experience.
3) Research online
Look for headhunters in Latin America on professional networking websites, such as LinkedIn. You can also search for firms that specialize in headhunting in your industry.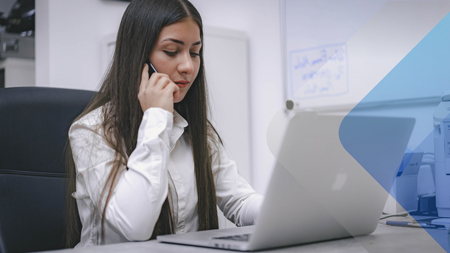 4) Check for credentials
Look for headhunters who are certified by reputable organizations, such as the Association of Executive Search and Leadership Consultants (AESC). This ensures that they have met certain standards and adhere to ethical guidelines.
5) Interview potential headhunters
Once you have a list of potential headhunters, set up a meeting or phone call to discuss your needs and ask them about their experience, process, and success rate. Make sure you feel comfortable with them and that they understand your needs.
6) Evaluate the track record of headhunters in Latin America
Ask for references and check the headhunter's track record in placing candidates in similar positions to what you're looking for. You want to work with someone who has a successful track record in finding qualified candidates.
7) Agree on terms and fees
Once you have chosen a headhunter, make sure you agree on terms and fees upfront. This will help avoid any misunderstandings down the road.
Serviap Global can help you find and hire top talent in Latin America
At Serviap Global, we assist companies with EOR services in over 100 countries, as well as providing standalone global talent acquisition services to support companies in the recruitment of direct hires.
If you are interested in hiring great professionals in Latin America, we can provide you with guidance on the best destinations to find strong candidates, as well as hire them on your behalf if needed.
We started out in Mexico in 2010, before expanding throughout Latin America and becoming known as experts in the region. Our growth continued beyond the Americas, and today we are able to assist companies in over 100 countries worldwide.
Contact us to find out more. Or schedule a call with one of our consultants.
If you were interested in this article about headhunters in Latin America, check out more of our coverage. Or read more about us.
Contact us
Contact us